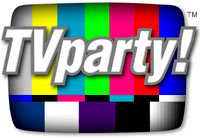 - Smothers Brothers Comedy Hour
- Smothers Brothers 1970's Show
- Smothers Brothers Show
- 1980s & '90s
- CBS censor notes for The Smothers Brothers Comedy Hour
---
Other Notable
Smothers Shows: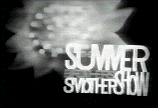 The Summer Brothers Smothers Show was the summer replacement series for 'The Smothers Brothers Comedy Hour' in 1968.
The host was Glen Campbell, who got his own show in early 1969 - The Glen Campbell Goodtime Hour, with many of the same writers and production personnel as the Smother's shows.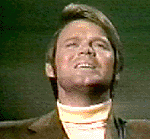 On September 13, 1970 a variety special called Just Friends was broadcast, featuring a reunion of CBS Smothers Brothers Comedy Hour regulars - everyone but Tommy and Dick. The show was hosted by John Hartford and Jennifer Warnes and featured Pat Paulsen as the first astronaut on Mars, Mason Williams doing "Classical Gas", Kenny Rogers and the First Edition and Officer Judy (Bob Einstein).
The Smothers Brothers were guests when the Television Academy saluted 25 years of television in 1972.
Soon after 'The Smothers Brothers Show' was cancelled in 1975, the Smothers hosted 'The Tonight Show with Johnny Carson'.
It was very cool, an extention of their variety series - their guests were Hoyt Axton, Pat Paulsen, Minnie Riperton, George Carlin and Don Novello.
In 1980, NBC presented The Tom and Dick Smothers Brothers Special, featuring guests Pat Paulsen and Glen Campbell.
TV on DVD
Holiday Specials on DVD
TV Commercials on DVD
TV Shows on BLU-RAY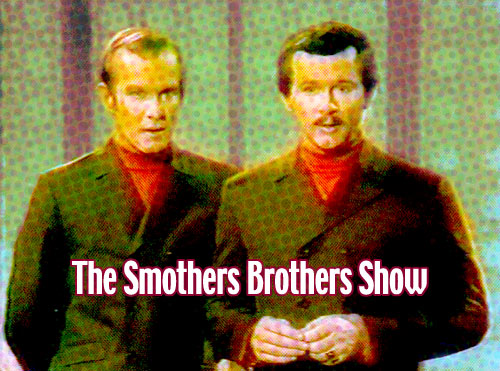 part two: THE SEVENTIES / PART ONE HERE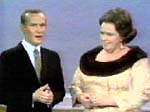 In July-September, 1970, 'The Smothers Summer Show' was mounted on ABC. The alphabet network (and the brothers) hoped they could pick up where everyone left off, eleven episodes were ordered but ratings were light from the beginning.
Bold experiments were tried, including some mellow shows with no studio audience. "They really didn't care," Tommy Smothers said about working with ABC. "They're not interested in new shows. They're not conditioned that way. One young writer said to me in amazement 'How could you possibly do a show without an audience?'" One series highlight was a short film by Academy Award winning designer Saul Bass.
It was hoped that the Wednesday night series would catch on and ABC would exercise its option to renew the show in January, but the show was no match for Hawaii Five-0 on CBS. It didn't help that the Smothers show followed another variety hour, one hosted by the Everly Brothers. The audience was brothered out by the time the Smothers came on at ten.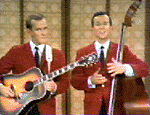 Tommy Smothers had this to say about the Smothers Brothers Summer Show in The Saturday Review: "We compromised. Everybody knew the situation. The network wanted the same kind of stand-up variety show - but without the satire. The budget was low, the network's concept was singers and dancers. There was no fun in it anymore; our momentum was broken. I was embarrassed to see the early shows but the network liked them."
The last episode of the series was a rousing show with guests Edwin Hawkins Singers ("Oh Happy Day"), John Denver and Pat Paulsen singing "There's no Business like Show Business" as the cast members said goodbye.
In 1971, the syndicated half-hour 'Tom Smothers Organic Prime-Time Space Ride' came and went, unable to get enough stations signed up to be financially viable. The Smothers won their lawsuit against CBS, but they were rarely seen on television after that point - in fact the duo was broken up for a time. Tommy Smothers appeared as as a guest on other variety shows, while Dick Smothers concentrated on his passion, stock car racing.

In 1974, NBC went to Carol Burnett's producer (and husband) Joe Hamilton and offered him a show for any star he wanted to work with. Hamilton chose The Smothers Brothers. After all, the brothers were a solid top-twenty hit when the plug was pulled on CBS just five years earlier, and the highly-rated 'Sonny and Cher Comedy Hour' (also on CBS) was created almost entirely by the Smothers Brothers' former writers and producers.
Hamilton promised there would be no controversy this time, that the new series would have more in common with 'The Carol Burnett Show' than with the original 'Smothers Brothers Comedy Hour'.
So at 8:00 on January 13, 1975, a tame and bland 'The Smothers Brothers Show' debuted. "Yes, I did check my convictions at the studio door", Tommy Smothers admitted to TV Guide, "We had lost our platform. This was the only way we could get it back." The match of producer and stars was not a good one, Hamilton stripped them of controversy and spontaneity.
Because of high anticipation, the series debuted at number 4, proving the audience was ready for the return of the Smothers Brothers. Unfortunately, Joe Hamilton had suceeded in his quest - the NBC Smothers show was standard 'Carol Burnett Show' fare, circa 1975 (Burnett's show ended in 1978).
With worn out comedy sketches and lame guests like gossip columnist Rona Barrett singing "That Old Feeling", it's not hard to guess why numbers quickly slid into the mid-forties. Dick Smothers said it best, "Our trouble is we're 1960's WASPs with a reputation as political satirists with nothing left to satirize."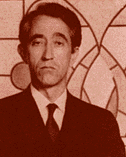 With little to lose, NBC let Tommy Smothers take over as producer of the last four shows left in their thirteen week contract and these programs were excellent, maybe the finest variety hours produced during the Seventies. Don Novello, Steve Martin, Bob Einstein and Pat Paulsen joined the Smothers as regulars for those last shows.

The episodes produced by Tommy Smothers featured an all-music show with Arlo Guthrie, Don McLean, Kris Kristoferson and Rita Coolidge, a psychedelic episode with guests Ringo Starr and Lily Tomlin, and a reunion special of old series regulars Mason Williams, John Hartford and Leigh French (with 'Share a little more tea with Goldie').
The reunion episode caused a bit of controversy with numerous references to pot-smoking and religion. In fact, one of the punchlines in the 'Tea with Goldie' sketch was censored because of a pot reference. The reunion show had a couple of skits where Bob Einstein reprised his Officer Judy character, this time meeting biblical figures played by Tommy Smothers, and that probably drew letters as well. None of the controversy helped the ratings significantly.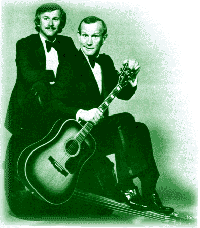 Despite the critical praise heaped on those last few productions, the May 26th episode was the last. If the Smothers had been allowed to continue, they possibly could have done what no other prime-time variety show was able to do up to that point - appeal to the growing young, hip, jaded twenty-something audience that would discover 'Saturday Night Live' just a few months (and a few hours) later on the same network.
PART III:
THE EIGHTIES AND NINETIES
---
- Smothers Brothers Comedy Hour
- Smothers Brothers 1970's Show
- Smothers Brothers Show - 1980s & '90s
- CBS Censor notes for The Smothers Brothers Comedy Hour