'TVparty is hands down the best site on the Web for classic TV.'
- Discovery Channel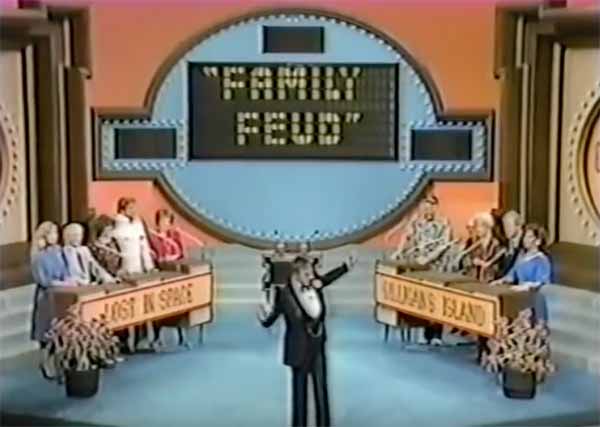 Family Feud: Gilligan's Island vs Lost in Space

Back in the 1980s, daytime's #1 game show, Family Feud, was earning big ratings with specials that pitted cast members from classic TV shows against each other.
May 13, 1983, host Richard Dawson welcomed Alan Hale, Jr., Jim Backus, Natalie Schafer, Russell Johnson, and Dawn Wells from Gilligan's Island to go head to head against Lost in Space stars June Lockhart, Guy Williams, Angela Cartwright, Bob May, and Marta Kristen. If you're wondering who Bob May was, he was the guy inside the Robot suit.
Notably missing were the actors that portrayed Gilligan, Dr. Smith and Will Robinson but how great is it that Mr. and Mrs. Howell were reunited? Although Jim Backus remained seated and seemed weak and a bit confused, he was 70 years old. He seemed a bit like the cartoon character he voiced, Mr. Magoo.
This was week two of Family Feud's 'All-Time Favorites' that included cast members from Batman, Brady Bunch, Petticoat Junction, Leave It To Beaver, Hawaiian Eye and, oddly, Your Hit Parade.

Now watch the cast of Batman go up against the cast of Lost In Space. The two shows were filmed very close to one another on the 20th Century Fox lot. Lee Meriwether, Catwoman in the 1966 Batman movie and Egghead aka Vincent Price represents the guest villains.
Post-Modern Sitcoms / Actors That Wrote Books / Bill Cosby - WTF?!? / Top Ten Sitcoms of the 1970s / Lucy Interviewed by Barbara Walters / Valerie Harper Cancer / Dallas vs Eight is Enough / 1974 MAD Magazine TV Special - Never Aired! / Partridge Family and Brady Bunch at Kings Island theme park 1972-73 / Jack Benny's Last Tonight Show 1974 / Luke Perry's Last Role / Richard Dreyfuss vs Bill Murray / Tennessee Williams 1972 Interview / Ed Asner Interview / Norm Macdonald vs OJ Simpson / Tony Kornheiser Interview / Freddy's Nightmares TV Series / Awful 1990s TV Shows / The Funniest Comebacks in Talk Show History / Was Sonny Bono Murdered? / Robin Williams' Mrs. Doubtfire Screen Tests / Robert Downey Jr Asks for Forgiveness for Mel Gibson / Hank Williams: The Show He Never Gave / Judy Garland vs Liz Taylor / Emmy Award Multiple Winners / Nathaniel Taylor aka Rollo Lawson / Anthony Zuiker: Mr. CSI / Jimmy & Cher / Diana Muldaur: A Viewer's History / Uncle Andy's Funhouse / Bea Arthur vs Betty White / Skidoo: Worst All-Star Comedy Ever? / Every Marvel Cartoon Opening Theme From 1966 - Present / When Stars Play Themselves / My Pen Pal is in the Pen, Pal / Small Roles Big Performances / Barbara Hall / Stars Before They Were Famous / Stars Before They Were Famous 2 / Stars Before They Were Famous 3 / A Better Classic TV Network / Bill Paxton / Who Was the Black Daliah? / How Frasier Was Created / Music Videos / Chitty Chitty Bang Bang - Behind the Scenes / Shirley Jones Interview / What We Lost When We Lost VHS / When Hit TV Shows Return / Commercials Starring Sopranos Cast Members / Shows Nobody Remembers But Me 4 / Shows Nobody Remembers But Me 1 / Bryan Cranston Interview / FREE streaming movie service you didn't know you have / The Great Cable TV Migration / Sportscaster Woody Durham / Movie Posters and the documentary 24x36 /Chris Robinson /Dallas Reboot /David Letterman /Auditioning For Game Shows in the 80s /Ghosts of Cable TV past / Honey Boo Boo - WTF?!? / Steven Bochco Tribute / Ian Abercrombie / Joe Franklin / John Nettles / Gotham / Family Fued: Gilligan's Island vs Lost In Space / Jon Cryer / Jon Stewart / Lana Wood / David Letterman / Matt Bomer / Molly Ringwald / Morgan Brittany / Music Rights for TV Shows / Neilsen Ratings / Norman Lloyd / Not Your Dad's TV / TV Series Reunions / Rich Little / Special Bulletin with George Clooney / Howard Stern VS Jamie Foxx / Top Ten Action Movies / 2013 Emmy Awards / 2010 Celebrity Deaths

Steve Harvey: What's the last thing
you stuck your finger in?
Contestant: My wife, Steve.
Steve Harvey: Woooo!