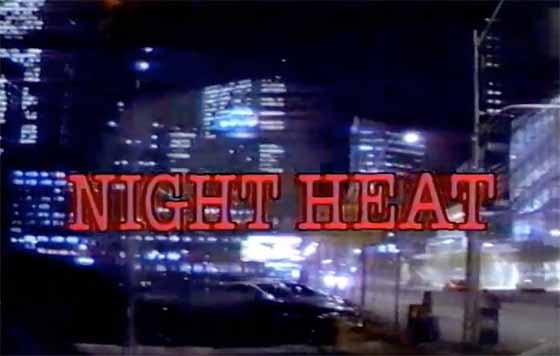 "NIGHT HEAT": It Came from Canada!
by Cary O'Dell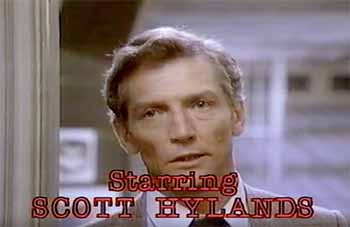 Before there was Colbert,... before there was Letterman,… in fact, before there was even "Pat Sajak" and his short-lived late-night talk show, CBS attempted to lure audiences away from the legendary Johnny Carson on his venerable NBC "Tonight Show" via a number of programming options.
For year before even Sajak, on CBS late night, the network aired a lot of repeats of various CBS primetime hits and a lot of more traditional "late show"-type Hollywood movies as well as some British series imports like "The New Avengers." In the 1981-82, they even tried a late-night soap opera. It was titled "Behind the Screen" and featured, among others, Mel Ferrer and a very young Janine Turner.
After "Screen" ended, the net returned to the movies.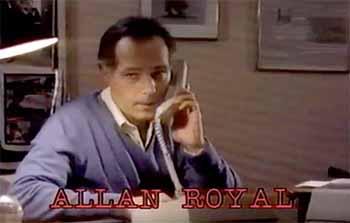 Finally, from 1985 to late 1988, CBS tried augmenting the repeats by importing some programs from our neighbors to the north. From various Canadian providers and networks, CBS aired four detective- and crime-oriented programs: "Adderly," "Diamonds," "Hot Shots" and "Night Heat."
Though "Adderly" would develop a cult following—and later be re-aired on basic cable—the most successful of this quartet of shows was the gritty and noir-ish "Night Heat." It would be part of CBS's late night line-up the longest and, in fact, was so popular at one time that the network even bumped it up, for a time, into its primetime schedule.
Though the series was produced in Canada and starred two Canadian-born actors, its creator was from the US. Actually, the creator, Sonny Grosso was a former New York City cop—his career had served as part of the inspiration for the film "The French Connection."
After retiring from the force, Grosso moved into TV and film production. From 1979 to 2009, he produced well over two dozen films, made-for-TV movies and series. He passed away in January of 2020.
About in the middle of his producing career there was "Night Heat."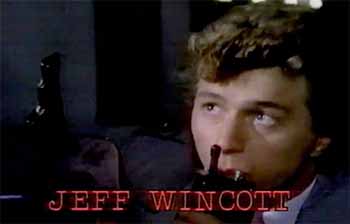 In many ways, the series was a pretty straight-forward cop drama. Shot in Toronto, the series was set in a generic North American city. (When shooting outside, the Toronto streets often had to be "dirtied" up by the show's production crew members to make them look rougher and more menacing.) The show was centered on a slightly mismatched detective team--one, a slightly older, slightly grizzled veteran on the force, Detective Kevin "O.B." O'Brien (played by Scott Hylands) and his younger, cocky partner, Detective Frank Giambone (played Jeff Wincott). The show also employed a narrator-type character, Tom J. Kirkwood (played by Allan Royal). Kirkwood was a local newspaperman whose column, titled "Night Heat," detailed the work of the duo and was used as something of a framing device.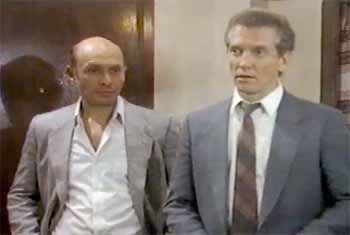 Though the basic set-up of the show might have been somewhat pedestrian, many aspects of the series were quite unique.
During its short sojourn into American primetime, "Night Heat" became only the second Canadian-produced series to be contemporaneously aired on Canadian and US network TV. (The first, for you trivia buffs, was a very short-lived--two months--anthology show titled "Encounter" that aired, live from Canada, over ABC in 1958. And, no, I had never heard of it either.)
Second, the show, to match its title and the give it its distinctive look, was almost always shot at night. Part of this was to craft a different looking series but part of it was also a matter of economics. It was far cheaper to shoot the show on real-life streets than build sets and it was much easier to find empty streets (or close off streets) after dark.
Shooting at night wasn't the show's only cost-cutting measure that assisted in its overall appearance. Unlike most TV programs that are shot on 35mm film, "Night Heat" was shot on 16mm. This saved a lot of dollars but also allowed the show to be shot with more hand-held devices/cameras which resulted in a lot of on-air close-ups and some pretty good action sequences.
All these cost-cutting measures made the show much easier to produce and certainly much more cost-effective. Each installment of "Night" could be made for about $500,000 (US), half of what an episode of "Miami Vice" was costing at that time.
"Night Heat" began in Canada, over its national CTV channel, in 1984 and started being imported into the US, over CBS, the following year. Up north, the show became a hit, soon becoming one of that country's top ten programs. In 1986 and again in 1987, it won the Gemini Award (Canada's Emmy) for Best Dramatic Program.
One year prior is when CBS and the US of A came calling.
Due to its quality, uniqueness and/or the presence of the young Wincott--who became something of a heartthrob--of the foursome of shows that CBS brought in for its late-nigh lineup, "Night Heat" broke out of the pack and started garnering the biggest viewing numbers of the four. Often it pulled in as much as 20% of the viewing audience at that hour and, in some major markets, even bested Johnny Carson's numbers!
Not surprisingly then that CBS eventually decided--in May of 1987--to bump the show all the way up to their primetime line-up, a rare move not only for a foreign-made series but also for one that had its origins steeped in late-night.
Hence, for six weeks (May through August of '87), CBS aired episodes of "Night" on Thursday nights in its 10 to 11pm timeslot. Night heat indeed!
Whether this time shift was meant to be permanent by the US network or was done to try to gain new viewers for "Night" to bring back to its normal late-night slot is not known. What is known is that after that primetime run, "Heat" went back to after hours on CBS and continued on for two more years.
As mentioned, "Night Heat" was pretty traditional and straightforward in its format and story-telling. That might have been some of its appeal to audiences on both sides of the border—there were no gimmicks here. Furthermore, though the partnership between "O.B." and Giambone was (for TV) a somewhat traditional mentor-student relationship, the two were not seen as being bickering or always at loggerheads. That sort of relationship—odd at that time on TV in cop and detective shows (think "Moonlighting," etc.—might, too, have been seen as refreshing by many viewers.
"Night Heat" was still going strong in Canada and would be on for another full season up there before it finally came to an end in 1990 after 96 completed episodes. But "Heat's" final season was never seen in the US—at least not over CBS. In 1989, CBS was wanting to up its late night game and signed "Wheel of Fortune's" beloved host Pat Sajak to challenge Carson in the late-night talk arena.
"The Pat Sajak" show ran five nights a week beginning in January 1989, hence leaving no room for "Heat" or any other late-night offering. "Sajak," of course, was not a hit and signed off in 1990.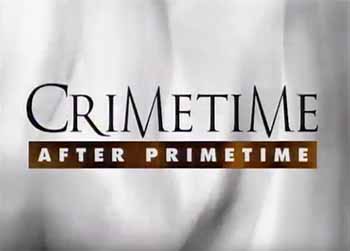 Interestingly, after "Sajak" closed up shop, CBS launched a new initiative to offer late-night watchers an alternative to Johnny Carson. They aired a line-up of (mostly) light-hearted crime dramas under the umbrella title of "Crimetime After Primetime." The line-up for "Crimetime' changed over time but did include such Canadian-produced series as "Sweating Bullets," "Urban Angel" and "Fly By Night" (the last show featuring Shannon Tweed). "Crimetime," which also saw the debut of the later USA program "Silk Stalkings," aired until 1993 when David Letterman began his CBS chat show.
After the end of "Heat," actor Hylands, whose career dated all the way back to 1969, continued to work in both the US and Canada, including reoccurring roles on "Fargo" and on the remake of "V." He's still acting today at age 76.
Wincott, now in his 60s, has also continued to act in both the US and Canada. A skilled martial artist, he found a very prolific niche for himself for many years in many direct-to-DVD action films during the 1980s and 1990s. He has also had roles on "JAG," "Blue Bloods," "24," and in the Lifetime "Lizzie Borden" miniseries.
A generous allotment of "Night Heat" episodes can, today, be found on Youtube.