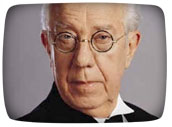 Seinfeld's
Ian Abercrombie
on his new film
"Hard Four"
by John Stahl
Ian Abercrombie, who played Elaine's temperamental boss Mr. Pitt during the sixth season of "Seinfeld," granted me a telephone interview to discuss his role in the new direct-to-DVD film "Hard Four."
I also got to speak with Charles Dennis; he wrote, directed, and starred in "Hard Four." Dennis provided interesting insights regarding this very funny film and Abercrombie's participation in it.
Other television veterans who co-starred with Abercrombie include Ed Asner, Dabney Coleman, and Willie Garson.
Newcomers include Ross Benjamin, who is the son of Richard Benjamin and Paula Prentiss and looks and acts incredibly like his extremely talented father. Samuel Gould, who is the son of Elliott Gould, plays Benjamin's buddy. This pair is a terrific modern-day Abbott and Costello.
Abercrombie plays old-style Las Vegas hotel manager Jack Ermine who has a conflict with a main character regarding whether her husband, played by Asner, had rolled a hard four at the craps table. If the husband had rolled that difficult combination, the hotel owed the woman $150,000.
Before discussing this film, Abercrombie and I talked about his portrayal of Pitt. He shared that Jerry Seinfeld and Larry David based the character on Maurice Tempelsman, who was Jackie Onassis Kennedy's long-time companion during her final years. Abercrombie described Tempelsman as an independently wealthy "man about town" and added that "something about him tickled Jerry and David."
Abercrombie told me as well that he was very angry when he arrived to audition for the role as Pitt because it was a hot day and he had a long walk from his car to his audition at the studio. He confided too that Seinfeld told him after hiring him that his attitude when he sat down "scared the s--t out of us." Abercrombie assured me that he did get a parking spot near the set when he was hired.
When asked if the bit about Pitt eating a Snickers bar with a knife and fork or any other element of his character came from his own experiences or those of Seinfeld or David, Abercrombie stated that they did not. He did say that he was scheduled initially for only two episodes and that he noticed the writers hovering around him looking for mannerisms after Seinfeld extended his run on the show.
I commented that I was surprised to see that Abercrombie only appeared in seven episodes; he replied that changing jobs regularly was part of the character of Elaine and that Julia Louis-Dreyfus wanted to move on. Referring to John O'Hurley, who played Elaine's next boss, I remarked that Abercrombie at least never had to sink to hosting "Family Feud." He laughed politely.
While discussing "Seinfeld," Dennis told me that O'Hurley has signed on to appear in a film-noir comedy on which Dennis is working. It is called "Archer Kilburn." O'Hurley plays the title character who is a J Peterman-esque B-movie detective who has difficulty adjusting to real life after losing his job in 1949.
Moving onto "Hard Four" in my discussion with Abercrombie, I commented that I enjoyed the film because it presented a nice image of Las Vegas before it became Disneyfied. Abercrombie responded that they filmed the movie in one of the older hotels and commented that "Looky-Loos" made filming in the casino difficult.
Dennis stated that he made the film, which he described as "the little movie that could" and that "took years to make," in the Plaza Hotel in Las Vegas because one of his crew members had a contact there. He added that filming in an older hotel required adjusting the script to fit the setting.
Dennis informed me too that Martin Scorsese filmed "Casino" at the same hotel and that a dining room scene in "Hard Four" was filmed in the same booth where Robert De Niro and Sharon Stone filmed a scene in "Casino." Dennis joked further that the cost of filming that scene was larger than the entire budget for "Hard Four."
Abercrombie commented further that he has known Dennis forever and that they have the same agent. He said too that he knew or has worked with most of the other actors and that the experience making the film was very positive.
I commented that Abercrombie did a spot-on job portraying Ermine and asked whether he based the character on a real-life person. He stated that he based his performance on Harvey Gold, who was a manager at Caesar's Palace, who Abercrombie described as a "slick operator." Abercrombie shared too that people who are in charge at casinos have a specific walk that shows that they are the boss.
Dennis confided that he had initially conceived of Ermine as a "tough American" and pictured someone like Telly Savalas or Jack Warden playing the role. He said that he changed his mind while speaking with Abercrombie for several hours while they were waiting to audition for voice-over work.
I additionally told Abercrombie that I enjoyed the film because the humor and the element of many of the guests interacting and having a mutual history reminded me of the Neil Simon comedies "California Suite" and "Plaza Suite." Abercrombie stated that "little stories are getting lost in the rush" of big-budget films that rely heavily on elaborate special effects.
Discussing the future, Abercrombie shared that he provided the voice of Ambrose the owl in "Rango," which is a new animated film starring the voice of Johnny Depp. Abercrombie told me as well that he is slowly but surely working on an auto-biography as well. The many stories and insights that he shared with me make me very eager to read it.
Anyone with thoughts regarding Abercrombie, Dennis, or "Hard Four" is encouraged to e-mail me at tvdvdguy@gmail.com.