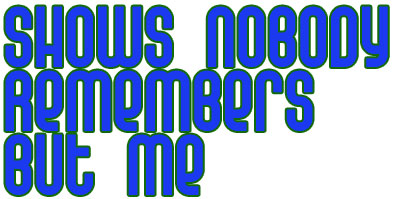 by Cary O'Dell
So it wasn't a dream, was it….?
As I will freely admit, I've watched a lot of TV in my time. (Not that there's anything wrong with that….) Most of the shows I've watched everyone else also knows and watched—"Lucy," "Dynasty," "MASH." Some shows are, perhaps, lesser known but have fervent cults attached to them—"Space: 1999," "The Avengers," "Bosom Buddies."
And then….there are the ones that no one seems to have heard of or seen but I seem to still recall untold year later.
At least, thankfully, due to the work of Alex McNeil and Tim Brooks and Earle Marsh and the collective contributors to Wikipedia and IMDB, I now know that these shows were indeed real and not part of some sort of primetime fever dream on my part. Still, why does no one else seem to know them but me?...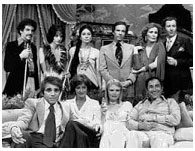 Husband, Wives and Lovers (1978)
Before the "dramedies" (like "Glee," "Moonlighting," "Ugly Betty," et.al.) came to rule the airwaves, comedy was largely the domain of half-hour series. Over the years, there's been a few attempts to stretch the sitcom format to 60 minutes--often without success. One of those less-than-successful efforts was this CBS series which aired for four months (March-June) in '78. The series was centered on the lives of five upper-middle class couples who were friends and often hung out at each other's houses.
This being the late 1970's though, not everything relationship-wise was harmonious: one couple was separated and one was just "living together." Regardless, all regulars were sort of pre-occupied with S-E-X (a TV phenom that "Soap" had helped usher in the previous season). The cast was filled with familiar faces, if not names: Randee Heller, Ron Rifkin, Charles Siebert and Cynthia Harris.
Though an hour in length, the show looked like a "typical" sitcom. It was shot on videotape and most of the action was contained in one or two sets, a living room (or bedroom) of one of the couples being the two most popular locales. The Eye Network programmed "HW&L" on Friday nights, the capper to an evening that began with "Wonder Woman" then flowed into "The Incredible Hunk." In retrospect, perhaps that not the best two lead-ins (or even the best night) for such sophisticated, adult-oriented humor.
The show was the creation of the late Joan Rivers but even she didn't seem to make too much of it; she only mentions it on one page of her autobiography.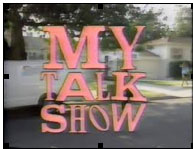 My Talk Show (1990-1991)
If an hour-long sitcom was an anomaly, what about a daily one? "My Talk Show" was an original, daily, syndicated late-night offering, an early '90s alternate to the Carson-type talk shows which were then (and now) the norm of late-night TV. Inspired by the cult fave "Fernwood 2 Night," "My Talk Show" was a send-up of the talk show format.
Cynthia Stevenson played Jennifer Bass, a young housewife recently estranged from her husband. A resident of fictional Derby, Wisconsin, Jennifer was also a fan of TV talk shows. So, she decided (in some sort of "Wayne's World" tradition) to start her own. The (fake) show was supposedly taped in her basement and most of her "guests" were her friends or neighbors. To make room for her "studio" audience, Jennifer knocked out the wall between her house and garage. A satellite truck parked in the driveway beamed the show, supposedly, to all receiver sets throughout the Midwest.
Joining Jennifer for most of her episodes was her long-time friend Angela (played by Stephanie Hodge), her sloppy, obnoxious soon-to-be brother-in-law Marty (played by David Packer) and goody-two-shoes neighbor Annemarie Snelling (played by Debra McGrath, who also co-created the show and wrote some episodes). Jennifer's former school nurse, Mrs. Battle, was her "band leader" which means she played the off-key piano when she wasn't complaining about her feet. (A running gag on the show.)
Of course, a talk show is all about its guests. And, being basically a parody of the TV talk format, the guests of "My Talk Show" leaned toward second rung: Bob Goulet, William Shatner and others appeared as themselves during the program's short run and played along with the joke.
Obviously, this was a meta type of a show and wasn't geared towards all tastes. (One episode focused on musical guest Bob Goulet being forced to sing only public domain songs like "Itsy Bitsy Spider"; another had Shatner claiming part of Jennifer's house as Canadian territory.)
Considering the daily grind and challenge of putting together a full sitcom/talk show hybrid every single day, it's not surprising that it wasn't an easy thing to pull off. In fact, creative differences and a tough production schedule saw the enchanting Stevenson depart after only a few months and McGrath take over the starring role of "My Talk Show," an alteration that didn't work.
All that, combined with a lack of promotion—I only discovered the program after switching channels late one night—doomed "My Talk Show" to a brief, if interesting, lifespan.
(The equally obscured "Isabel's Honeymoon Hotel" from 1987 and starring Isabel Sanford also made an attempt at the daily syndicated sitcom; it checked out after only a couple of months.)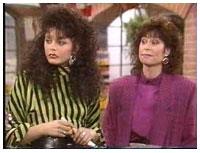 Throb (1986-1988)
There was life before "Baywatch." Or, at least, there were other original, syndicated series before the babes and beach of that series. And the charming "Throb" was one of them. Diana Canova (once of "Soap") starred on the show as Sandy, a middle-aged, single mom who became the unlikely employee of a punk-ish, independent record label named Throb.
The half-hour sitcom ran in first-run syndication in the mid-1980s and, among other things, was US audience's first introduction to actress Jane Leeves, who co-starred as Sandy's ultra-hip co-worker Blue. Also in the cast: Jonathan Prince as the record label's wunderkid owner/founder and Maryedith Burrell as Sandy's best friend, a school teacher.
Though the Throb record label was meant to be cutting edge, the series was a pretty straight-forward sitcom. But that doesn't mean it didn't have its charms, thanks especially to its engaging cast.
(One interesting footnote about "Throb": in its first season, Sandy's pre-teen son, Jeremy, was played by Paul Walker, the late star of the "Fast & the Furious" film franchise.)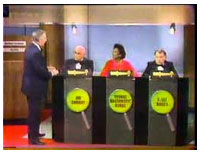 Whodunit? (1979)
It was surely one of the more unusual and risky undertakings for a game show. It aired in primetime (NBC) for only two months of middle 1979. "Whodunit" was hosted by Ed McMahon and was billed as TV's first mystery-drama-quiz show. Each week, actors acted out a short murder mystery scenario (with a well-known actor, like Jack Klugman or Erik Estrada, always playing that week's victim). And each week, just before the reveal of the killer, the action stopped and the quiz show aspect began.
As I recall, three "civilian" contestants, aided by three "expert" panelists (which included F. Lee Bailey), then took a shot at picking out who the killer was. Winning guesses would win prizes. One very interesting aspect of the series—as I recall—was that, at one point during the half-hour show, each contestant was allowed to ask the performers, still in character from the just-performed murder skit, questions. But what happened if one of the actors messed up? Or if one of the questions was just too good?
Only about three episodes of the series ever aired. One that I remember featured the aforementioned Klugman as a man murdered on an airplane. Of course, the question then became: Whodunit?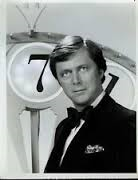 Sweepstakes (1979)
It was like "The Millionaire" meets "The Love Boat." As you'll recall, "The Millionaire" (1955-1960) told the weekly story of a benevolent rich dude who, each week, bequeathed a million bucks on some unsuspecting person and the program followed that person to see what'd they do with all that money. The hour-long NBC-broadcast
"Sweepstakes" followed a similar track as it followed a shifting guest cast each week as they played characters who bought a lottery ticket and then stood the chance of winning a million dollars. Each of the characters that week would then, in the contrivance of the series, be chosen as a semi-finalist and be brought onto A LIVE NATIONAL TV SHOW to see who finally won the grand prize! Edd Byrnes played the show-within-a-show's host and was "Sweepstakes's" only reoccurring regular.
The show was strictly structured: the first half introduced the characters and their often off-hand purchase of their lucky ticket; the half-hour mark was the revealing of the winner via the spinning of a big wheel by Edd Brynes, and the last 30 minutes or so would show the results of getting that much wealth…or not.
Though my memory is a bit fuzzy, what was perhaps most interesting about the series was its lack of sentiment and predictable outcomes. A case in point: one episode, as I recall, had a potential winner who was the son of an aging violin maker. The son (Adam Arkin, I think) didn't want to follow in his father's footsteps but if the son didn't take over the business, then surely the business and the craft would end forever! Another potential winner was a middle-aged woman (Katherine Helmond) who was going through a late-in-life divorce.
Well, certainly the violinist's son would win, right? That would the best outcome! But it didn't. In keeping with the idea of random chance, the soon-to-be divorcee won. Which is not to say that everything didn't end happily, it just ended differently than we expected.
"Sweepstakes" (sometimes written "$weepstake$") ran for nine episodes. Despite its brief run, its guest cast was impressive: Lloyd Nolan, Joan Blondell, James Coco, Jim Backus, Dinah Manoff, Diana Muldaur, Dick Gautier, and others all guest-starred at one time or another.