My Bingo Summers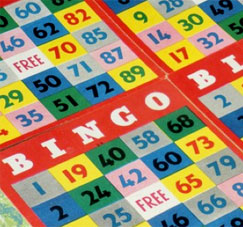 "Bingo!"
The thrill of yelling out "Bingo!" on discovering I had a winning card was one I treasured in my youth. Every summer my family would take us kids on a two week vacation to the North Carolina coast where the landscape was dotted with bingo sites, or parlors as they were often referred to as.
Funny thing, I would always win the first game I played and walk away with about ten bucks in cash. Pretty good haul for an eight-year old! More money for candy and comic books.
Those bingo halls were like concrete bunkers, likely to withstand the high winds kicked up when hurricanes touched down, as they often did. Sparsely decorated and populated with middle aged folks in bathing suits and straw hats, it wasn't exactly a palace. Kind of dreary, really.
I'm not sure if any of those bingo places survived into the 21st century, they certainly aren't as plentiful as they were in the 1960s when I was growing up.
Still, I'll always have the memory of winning those first games and then never winning another for the rest of the 2 weeks we were vacationing at the beach. I finally wised up, played that first hand, won, then quit while I was ahead!
Thanks to the internet there's no real reason to go to any location outside of your home to play any game imaginable.
Even on holiday, I can easily know the thrill of yelling "Bingo!" with my feet in the sand and relive my misguided youth all over again.