Jayne Mansfield Paints Greensboro Passion Pink!
B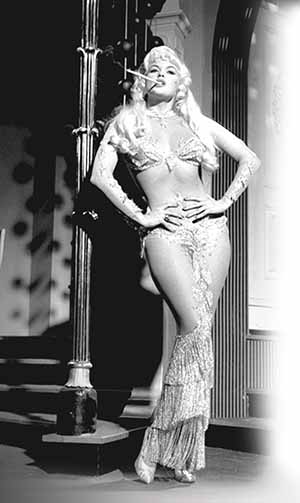 y Billy Ingram
(First published in
O.Henry magazine.)
Mariska Hargitay is best known for her role as New York Police Department Captain Olivia Benson on the NBC drama series Law & Order: Special Victims Unit. She's one of television's premier dramatic actresses. She comes from good stock. Her mother, actress Jayne Mansfield, was one of the 1950s' biggest - and sexiest - movie stars.
This is the story of how Jayne Mansfield's comeback in 1963 happened in an unlikely venue down south.
From the forties through the sixties Fred Koury's Plantation Supper Club in Greensboro, NC was the premier elegant night spot between New York and Miami. Andy Griffith launched his career there, Duke Ellington, Nat King Cole, Andy Williams, Brenda Lee, The Platters, and Miyoshi Umeki headlined the thousand seater.
In 1963 the most magnetic motion picture superstar of the decade, lusty busty Jayne Mansfield, brought her salacious va-va-voom to the Plantation for two sizzling shows nightly. The "Working Man's Monroe" painted the town a lighter shade of red, smashing all national box office records, sending menfolk into a tailspin and their wives hightailing it to the beauty parlor. Last highlight of a tumultuous career Mansfield's week in Greensboro lit match to fuse, leading to her notoriously gruesome death by near-beheading just four years later at age 43.
Bubbly and bouncy in all the right places it was Jayne Mansfield who invented the 'wardrobe malfunction' to garner attention, a poolside slip of her bikini top paved the way to Hollywood. The very definition of the Platinum Blonde Bombshell she graced the cover of over five hundred magazines, starred in a seminal Broadway hit and strutted her stuff in a handful of iconic films.
Her Holmby Hills home on Sunset Boulevard was an enormous palace where nearly everything was imbued in Jayne's own specially blended hue, right down to the living room's Passion Pink shag carpeting, the terry cloth walls and floor of her master bath, even the elaborate stonework surrounding a heart-shaped swimming pool. Filmmaker John Waters dubbed her "the ultimate movie star," the embodiment of Tinseltown's vanishing love affair with glamour and glitz, when opulence and ostentatiousness were de rigueur.
Jayne Mansfield was a woman of impossible proportions, both physically and in her worldly construct, with a dingbat persona just as pronounced off-screen as on. She was having a laugh... her IQ was as outsized as her 40" bust. Dick Cavett famously wrote an introduction for talk show host Jack Paar to deliver: "Ladies and gentlemen, what can I say about my next guest, except... here they are, Jayne Mansfield."
The Golden Globe winner's most famous scene in a motion picture came in 1956's The Girl Can't Help It. As the camera follows Jayne sashaying down the avenue the iceman's glacier liquefies, the milkman's bottle spontaneously lactates, an apartment dweller's eyeglasses shatter attempting to get a peek underneath as the lady is climbing the stairs. That minute long scene made her a major star.
Evidence suggests Mansfield had a Mae West complex, a good portion of her Las Vegas act mirrored Mae's extravaganzas on The Strip. She even appropriated one of the film legend's on-stage muscle men, former Mr. America Mickey Hartigay, for husband and co-star. Billed as 'The Bust and The Biceps' Jayne joked, "Between Mickey's chest and my chest — well, let's just say it makes dancing close somewhat difficult." Mae West sued for Alienation of Affection despite being no more romantically attached to the Hungarian bodybuilder than any of her other beaus.
In on the joke like no celebrity before Jayne Mansfield harnessed the power of the press, stuffing its insatiable maw with the unhealthy diet it thrived on, gleefully trading her headlamps for headlines. She planted stories in obscure newspapers then indignantly denied such outrageous accusations when wire services picked up on it and reporters came jockeying. The Pink Palace was equipped with a fully stocked bar open eight hours a day for any member of the fourth estate, don't think that didn't grease the wheels.
By the sixties the optical illusion that was her existence had become a protracted delusion. Despite winning the Italian equivalent of an Oscar in 1962 the actress was dropped by 20th Century Fox, Vegas hadn't been an option for years. Marilyn Monroe's death that year sent Mansfield's personal life into free-fall — booze and pills dictated the scripts, random hookups her co-stars.
An affair with John Kennedy ended after she screamed into the telephone, "Look, you'll only be President for eight years at the most. I'll be a movie star forever!" Brother Bobby, true to his nature, dove in for sloppy seconds. There were other trysts, much to the dismay of Mickey Hartigay, father to three of her four children who more than once tussled with Jayne's latest conquest in front of jotting reporters. Although increasing in frequency those nocturnal emissions were mostly whispers around town and movie magazine chatter.