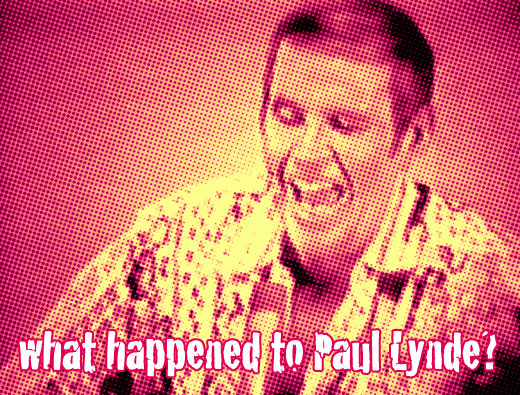 by Billy Ingram
Thanks to Michael Thom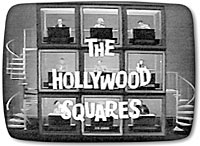 Paul Lynde had a solid career in television all throughout the 1960s and 1970s, appearing in a handful of memorable Bewitched episodes as a semi-regular character (kooky Uncle Arthur). He was the center square and comedy star of the long-running daytime game show Hollywood Squares, made multiple guest appearances on the Dean Martin Show, Donny & Marie and other variety programs, and had a one-year stint as the lead in his own sitcom, The Paul Lynde Show in 1972.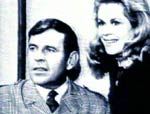 He first came to prominence on Broadway and in motion pictures, his big successes were Bye, Bye Birdie (both play and film) and Under the Yum Yum Tree. He became a popular guest star on dozens of sitcoms in the early-'60s, landing his recurring role on the hit show Bewitched in 1965.
Lynde's career almost hit the skids at that point. He was a big drinker and one evening in 1965, a young actor he was partying with in San Francisco fell from the comedian's hotel room to his death eight floors below. The story would have been live on CNN today, but at that time you could still hush things up in the press.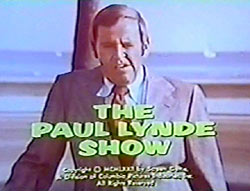 When Bewitched was cancelled in 1972, most of the writers and crew moved over to producer William Asher's next project for ABC, The Paul Lynde Show.
Like Bewitched, the Lynde show had an unbelievable fantasy concept: Paul playing a straight guy living in the suburbs with a wife and two kids dealing with the everyday frustrations of life.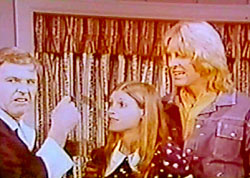 This preposterous premise proved to be too much of a stretch even for people who watched TV on a regular basis. Besides, the premise was a rip-off of All in the Family, with Paul (and his wife) cohabitating with their daughter and her lazy, long-haired hippy husband that he can't stand.
The Paul Lynde Show was axed after only one season.
ABC still had faith in Paul Lynde's drawing power so the next fall he was wedged into the cast of The New Temperature's Rising. That sitcom went belly-up as well.
ANOTHER HIT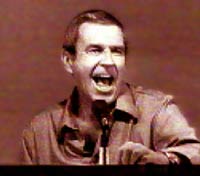 Occupying the center square on The Hollywood Squares delivered Paul Lynde into American living rooms five mornings a week beginning in 1966. Housewives delighted in his witty repartee:
Peter Marshall: In television, who lived in Doodyville?
Paul Lynde: Oh, the Ty-De-Bowl Man.
Peter Marshall: According to the old song, "At night, when you're asleep, into your tent I'll creep." Who am I?
Paul Lynde: The scoutmaster?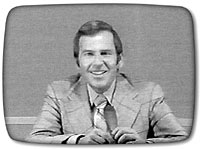 By the mid-'70s Paul Lynde was feeling boxed in, so to speak, and frustrated. He was still a hot property, voted America's favorite comedian in a 1974 poll and highly sought out for every manner of TV game and variety show.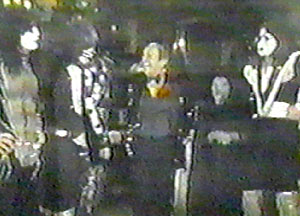 He even hosted his own hour on ABC in 1977, the Paul Lynde Halloween Special, featuring the first prime-time network appearance of KISS, along with Margaret Hamilton recreating her role as the Wicked Witch of the West from The Wizard of Oz. In the special, Hamilton and Billie Hayes (as H.R. Pufnstuf's Witchiepoo) team up to kidnap Paul in one of the campiest holiday celebrations of all time. Other guests included, among others, Betty White, Donny & Marie Osmond, Tim Conway and Roz Kelly as Happy Day's Pinkie Tuscadero.
Here's a possibly intoxicated Paul Lynde doing the weather on the former WSPD, Ch. 13, in Toledo, OH, around 1978 or '79.
But Lynde was starting to unravel. In 1978, he was arrested in Salt Lake City outside a gay bar resulting in his being dropped as a regular guest on the Donny & Marie show; it was his second arrest.
NEXT: PART TWO: Fired from Hollywood Squares!
Plus: a racist tirade sends Paul into hiding - and the death of Paul Lynde.