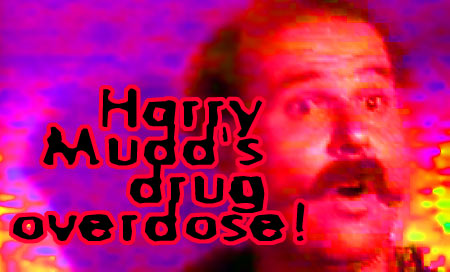 The Death of Roger C. Carmel?
by Bob Tulley
with added commentary by Joel Eisner
Roger C. Carmel was a utilitarian television character actor, appearing first on Broadway and then as a supporting guest player on a wide range of TV dramas (Naked City, Route 66) as well as sitcoms (Patty Duke Show, Dick Van Dyke Show) beginning around 1960.
After dozens of guest appearances, Carmel was cast as a regular in 1967 on The Mothers-in-Law, Desi Arnaz' first post-Lucy production effort.
The Mothers-in-Law starred Kaye Ballard as Kay Buell and Eve Arden as Eve Hubbard, two longtime next-door neighbors who become reluctant in-laws when their kids marry. Roger Carmel costarred as Kay's husband Roger and Herbert Rudley played Eve's husband Herb.
For the series, Arnaz pulled together the best talent available on the Desilu lot. Madelyn Pugh Davis and Bob Carroll, Jr., who wrote so many of the classic I Love Lucy episodes, penned the pilot and continued on as writers for the run of series. The Lucy Show's original producer Elliot Lewis was tapped to produce as Lucy's show was number two in the ratings in 1967. Success seemed assured.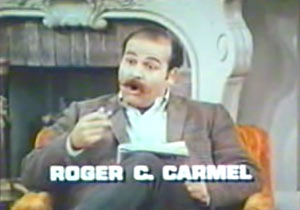 NBC had high hopes for The Mothers-in-Law but ratings weren't spectacular - the network only renewed the sitcom for a second year when ABC announced they were interested in picking it up. NBC ordered 22 new episodes with one caveat - they weren't willing to pay any increases in budget or salaries - this was customary as a show entered each new year.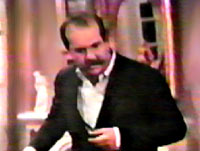 Even though everyone's contract specifically called for raises for the second season, the producers, crew and all of the actors agreed to forego salary increases in order to keep the show on the air. All but Roger Carmel, who announced he would quit unless he received a second season raise. Period.
"Desi called me and put it on a personal basis," Carmel stated at the time. "I didn't feel it should be done that way - it was very unfair of him. Then Desi and the Morris Agency threatened I would be replaced. Kaye Ballard and Eve Arden also called me and asked me to go along, but I wouldn't."
"Where else is he going to make two thousand dollars a week?" was Desi Arnaz's answer. He knew that if Desilu gave one cast member a raise, they would all have to be compensated so he had no choice but to recast the role of Roger Buell. The Mothers-in-Law was canceled after limping through the second season.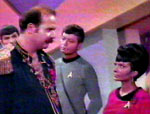 Today, Roger C. Carmel is probably best known for guest-starring roles he did on another Desilu series at this same time. On Star Trek Carmel played the incorrigible space-trader Harry Mudd in two episodes of the original (1966-69) series. Harry Mudd, you may remember, was the guy who had the planet of beautiful female robots. He also played Colonel Gumm on TV's Batman in 1967.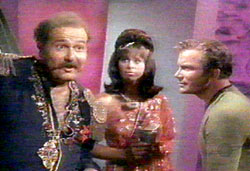 After The Mothers-in-Law, Carmel as a semi-regular on a syndicated quiz show called Stump The Stars from 1968-1970 and reprised the role of Harry Mudd on an episode of the animated version of Star Trek (1973-75).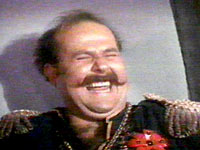 Despite the popularity of the Harry Mudd character, another regular role in an ongoing television series was elusive. That's where the money is in television.
Carmel remained a popular sitcom guest-star, with character parts (mostly ethnic) all throughout the seventies on shows like Owen Marshall, All In The Family, LaVerne and Shirley, Chico and The Man, and Three's Company. He also appeared in unsuccessful B-movies like Thunder and Lightning in 1977 and Hardly Working in 1981.
In 1981, Roger C. Carmel caught a break, cast as a regular on a network program Fitz and Bones on NBC. An hour-long drama, this show starred the Smothers Brothers as investigative reporters.
The series bombed, lasting only one month, the lowest-rated series for the entire season.
Roles became harder to get after 1981 as Carmel began doing cartoon voices for kid favorites like The Transformers (he was Bruticus, Motormaster and one of the Quintessons, if you must know).
It was in commercials that Roger C. Carmel made his way back - his final ongoing role was as Senor Naugles, the "Mexican" spokesperson for the West Coast based Naugles fast-food chain. He was a kindly, old Mexican General, kind of like Colonel Sanders was for KFC.Off-screen, Senor Naugles had a voracious appetite all right - for drugs and male prostitutes.
The commercials were very successful and the campaign seemed destined to run for a long time - the fast food chain was expanding rapidly.
But Carmel's excesses caught up to him. It was widely reported that the actor (at age 54) committed suicide on November 11, 1986 - from an overdose of aspirin.
I was told that, in fact, Roger C. Carmel died of a crack cocaine overdose while romping with a young male prostitute to celebrate his new good fortune. It was related to me by one of the prostitutes that frequented Carmel's home in 1986. An 'aspirin overdose' story was released to protect the client's image as much as possible.
Either way, this was bad news for Naugles restaurants. After several floundering attempts to come up with another winning ad campaign, Naugles hit hard times and was bought out a few years later (at fire sale prices) by rival Del Taco.
Which was a shame, because Naugles was the best Mexican fast food chain in the eighties and Del Taco the worst - and Roger C. Carmel was a much loved television player!
---
Joel Eisner tells us:
I have a story about The Mothers in Law I thought you might like. As you know having read my Batbook, Roger C. Carmel played Colonel Gumm in the Green Hornet crossover episode. I had the opportunity to meet with Roger over lunch at Musso and Franks in L.A. back in the summer of 1985.
We discussed parts of his career including The Mothers in Law. Roger had a career in NY TV prior to moving to LA in the early 1960's. When the first season ended, Desi Arnaz told the entire cast that the show had a five year guarantee but there was no money to give the promised raises. Now the part that most people were not aware of was that Desi Arnaz was taking four salaries from the series - producer, creator, writer and director (he wrote and directed several episodes). So, Roger knowing Arnaz was in fact legally stealing from the show, pushed back and in fact quit the show.
Unable or unwilling to give the cast their raises Arnaz hired Richard Deacon (whom Roger refered to as that poor schmuck who always sold himself short). When the show was cancelled, Roger said Kaye Ballard called him and told him that he was right and they all should have held Arnaz to their contract raises.
Here is the clincher. When I told Roger that during the second season, Arnaz joined the cast as an out of work bullfighter, Roger smiled and said that Cuban SOB, no wonder their wasn't any money for raises, he planned on taking a fifth salary as an actor!
Not long after the show was cancelled, Roger signed a long term contract to provide the voice of Smokey the Bear in PSA's for the forestry service, a job he kept until the day he died. So he was never in need of money, as many sources claimed.
He also dubbed the voice of Gert Frobe as Baron Bomburst in the film Chitty Chitty Bang Bang. If you listen to Frobe in Goldfinger where he used his real voice and his voice in Chitty, you can tell it was over dubbed, and it sounds just like Roger when he did the part of Boris Serveroff, one of Colonel Gumm's aliases on Batman.
By the way, the C. in Roger's name is for Charles, which was his grandfather's name. Charles Carmel, was a famous artesian who carved the horses at Rye Playland (Rye, NY), Coney Island and the NY Central park carousels. Roger was still in posession of an unfinished rocking horse, that his grandfather was carving for his younger brother, but the boy died, (of what causes he didn't say) before he could finish it. It was the only thing that Roger had left of both his brother and his grandfather.
Roger's father was a doctor who had his office in the family home, a small mansion size house on the corner of Manchester and Winchester streets in the Flatbush section of Brooklyn. When his father died, he sold the house and moved his mother to PA to live with his sister.
I learned of Roger's death while I was attending a sci-fi convention in Atlanta. I was still running the Irwin Allen/ Lost in Space fan club and Jonathan Harris was one of the guests. During the convention the news of Roger's death spread throughout the convention, but Jonathan, whom I had known for years, told me in private that he had spoken with Henry Gibson (who was a mutual friend of both Roger and Jonathan) who told him that Roger was having chest pains and called down to his doorman to call him a cab to go to the hospital.
Minutes later the cab arrived but no Roger. The doorman waved the cab away and never thought to check on Roger. They found him later dead on this apt floor. It was also implied that he had been using cocaine.
- Joel Eisner
Author, The Official Batman Batbook,
Lost in Space Forever, and the upcoming
Price of Fear: The Film Career of Vincent Price