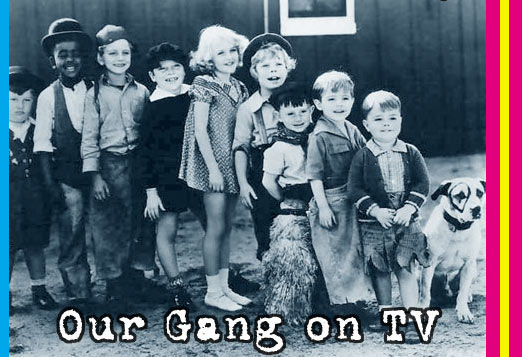 Our Gang / Little Rascals PART FOUR
Our Gang / Little Rascals - What Happened to the Little Rascals?
by Billy Ingram & Kevin S. Butler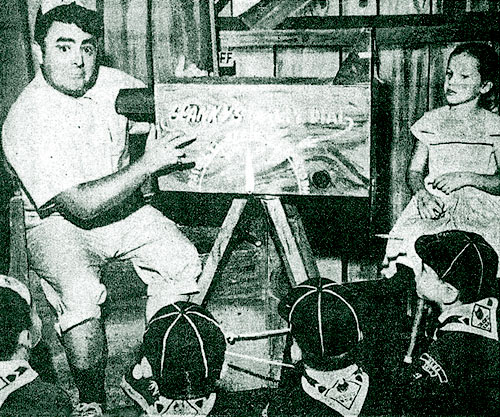 WHAT HAPPENED
TO THE OUR GANG CAST?
In 1955, while the Rascals were just beginning their run in NYC, George "Spanky" McFarland hosted the Little Rascals films in a clubhouse setting on CBS affiliate KOTV in Tulsa, Oklahoma.
Spanky hoped to use the opportunity to start a new version of Our Gang, writing and directing local kids in the familiar roles but KOTV vetoed the idea. Spanky quit the station in 1960 after years of frustration dealing with the realities of local television.
Lee Woodward (as told to Mike Ransom of the Tulsa TV Memories site) adds, "In response to the Spanky McFarland mention: I was asked to sit in as 'host' on the Spanky set until he could arrive in town. I think he was about a week late.
"An amusing sidebar was that after two or three days on the show, sitting on the front porch of his make believe house, some viewers called in suggesting that Spanky avail himself of a jock strap! It was apparent that Spanky was no longer a little kid! (Although I must say he still looked like one except for the heavy beard.)"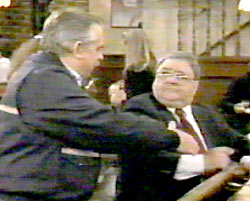 After the Tulsa gig, Spanky walked away from show business to become a salesperson, while also doing the occasional lecture and personal appearance. He rarely appeared in films or on TV after 1960, his last guest shot was (as himself) on an episode of Cheers just a short time before his death in 1993.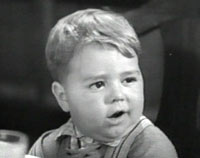 TVparty-ers Ira Goldwyn tells us: "While you have captured my memories in detail (I grew up in the NYC area) I must add one bit of information. Spanky McFarland, though retired, did have a job in 1990 that put him in my 'corner' of the world. I worked for a company which put on a convention/show called International Rehabilitation Week. Doctors, practitioners and others in the field converged on the newly opened Javits Center in NYC for an exhibition and series of lectures and meetings.
"Since I was one of the 'crew' I was there to see how it all turned out. It was stunning, Richard Simmons was there, people with all sorts of devices and gadgets and over in the corner, stood a man with a mobility-scooter. The scooter was called 'The Rascal' and the man was none other than Spanky. He was a gentle, friendly and nice man who gladly signed an autograph for me and we spoke for a few minutes until I was called away. I will always remember that event (BTW Richard Simmons absolutely refused to sign an autograph unless I bought his $30 book, which I did not do) and Mr. McFarland."
Silent Rascal star (from 1923 until 1927) Johnny Downs hosted the films in San Diego in the mid-fifties portraying "Johnny Jet," a former WWII pilot with an airplane hanger motif. After a short run, Downs left show business as well, living a quiet life until he passed away in 1994.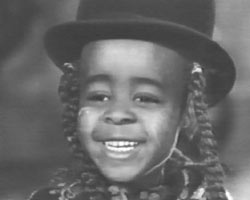 Matthew ("Stymie") Beard and Tommy "Butch" Bond co-hosted The Little Rascals Theater in syndication during the early-1970s. Beard was a bit player in dozens of films and a frequent guest on a number of TV series, including several early episodes of Sanford and Son. He died in 1981.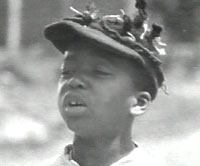 Original Our Gang member Allen 'Farina' Hoskins was the dominant and highest paid star of the series from 1922 until 1932 but died in obscurity in July, 1980.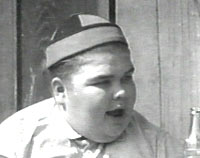 The original fat kid, Joe Cobb, retired from the business at age 28 and lived in West Los Angeles until 2002.
Darla Hood became a popular performer and voice-over artist for television. She died in 1979.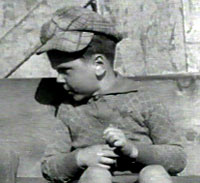 Jackie Cooper went on to a long and brilliant career as an actor and director. He lives in Los Angeles.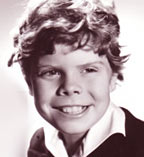 Tommy "Butch" Bond could be seen in recent years at personal appearances and celebrity signing events. He passed away on September 24, 2005.
THE NYC HOSTS:
Officer Joe Bolton passed on in 1986, "Captain Jack" McCarthy left us on May 23, 1996.
Chubby Jackson died on October 1, 2003 after a distinguished career as a local jazz musician.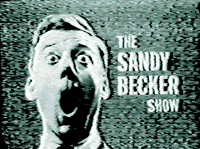 Sandy Becker became a very successful voice over artist for Leonardo/ Total Television Inc., ARP Animation Studios and others. He died on April 9, 1996.
Sonny Fox went on to head NBC's Saturday morning lineup in 1977, he is now the Executive Vice President of Population Communications International, Inc. (a TV advocacy group) and is currently writing his memoirs.
CURSED?
When people talk about the "Our Gang curse," it's because of these unfortunate individuals:
William "Froggy" Laughlin was killed in a motorbike accident at the age of 16.
Robert "Wheezer" Hutchins perished in a military plane crash at age 19.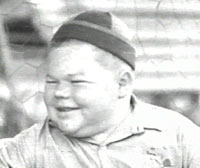 Norman "Chubby" Chaney, who replaced Joe Cobb as the overweight kid, died at age 22.
Mickey Daniels, an original Gang member from 1922-33, perished a lonely drunk in 1970. He was so completely forgotten it was more than two decades before his body was identified.
Jay R. Smith, who replaced Mickey Daniels as the freckle-faced kid in the silent shorts, was stabbed to death in 2002 by a homeless man he had taken in and befriended.
Darwood "Waldo" Kaye (the smart kid with the glasses) earned the title of pastor later in life but was run down on a city sidewalk by a hit and run driver. There is some speculation that it may have been an intentional act.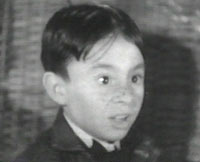 Carl "Alfalfa" Switzer was fatally shot over a fifty dollar debt.
Robert Blake was recently on trial for the murder of his wife. He was aquitted.
"Scotty" Beckett was a regular on Rocky Jones, Space Ranger from 1954 - 1956. A drug addict, he was arrested for assaulting his stepdaughter with a crutch. He died in 1968.
William "Buckwheat" Thomas died in 1980, forgotten by the industry.
Even the first Pete the dog was poisoned and killed by an unknown assailant.
REVIVALS
There was a 1954 reunion of the early Rascals stars on the TV show You Asked For It.
There have been numerous failed resurrections the Our Gang / Little Rascals franchise.
In an attempt to present Our Gang in color, Art Clokey (Gumby) produced some claymation reenactments of some of the shorts in 1966. They never aired.
A traditionally animated special, The Our Gang Christmas in 1979, had Darla Hood voicing the part of Spanky's mother. Stymie Beard also lent his voice (as a shopkeeper) to this pilot for a possible series.
Hanna-Barbera offered an animated version for Saturday mornings in 1982 as a part of the Pac-Man show.
Seventy-two years after the first short was filmed, there was a miserable flop of a movie called The Little Rascals released in 1994. Hopefully that will be the final attempt to recapture America's collective innocence through the Our Gang lens.
---
"Regarding the animated revivals: I suspected, but never could verify, that Art Clokey produced the clay-animated "Little Rascals Color Specials" in the 1960s. Ron Kurer has one of those specials in RealVideo format here.
"As far as Hanna-Barbera's version is concerned, I thought it was one of the better 1980's cartoon series. Having worked as the voice of Darla Hood for two years (1982-84), Patty Maloney agrees with me that either Warner Bros. or King World should release the H-B Little Rascals series on DVD."
- James Vipond
---
Joe adds: "I just read the piece on your site about 'THE LITTLE RASCALS'. You might want to add a couple things: Jackie Cooper played Perry White in the 'SUPERMAN'" films with Christopher Reeve that Warner Bros. made in the late 70s and 80s.

"Also, I remember seeing an episode of 'SATURDAY NIGHT LIVE' in 1984 that Robert Blake hosted (he was then doing a show on NBC called 'HELLTOWN') and, at the beginning, they did a comical "update" on 'OUR GANG.' Various cast members played them. I just remember 'Froggy' walked out in a prison uniform, handcuffed, and Robert Blake said 'Froggy!! What happened to you?' He said, 'Well, remember how I swore I'd find the doctor who removed my tonsils and accidentally did this to my voice?' Robert Blake said, "Yea". Then Froggy said, 'Well, I found him!!'
"Then Darla came out, dressed like a hooker and swinging a purse and chewing gum. Robert Blake asked her what she's been up to lately, and she replied, 'I've been turning tricks in Washington.' (I remember, she was played by Julia Louis-Dreyfus from "SIENFELD" who was a regular on the show then)."
Our Gang / Little Rascals:
Little Rascals Early Years
Little Rascals on TV
Little Rascals Shows in NYC
What Happened to the Little Rascals?