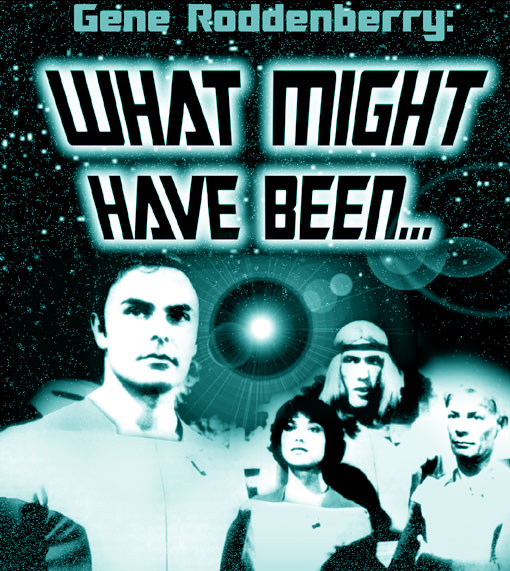 Gene Roddenberry in the 1970s - Questor & Spectre
Gene Roddenberry in the 1970s - Part One
Gene Roddenberry in the 1970s - Earth 2 & Planet Earth
by Billy Ingram
QUESTOR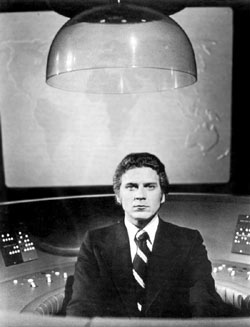 The tendency in Hollywood is to replicate success. With that in mind, Roddenberry and writer Gene L. Coon took all of the best elements from Star Trek and jammed them into one character: Questor.
Produced for Universal, Questor was basically Mr. Spock in a buddy show format. Cast in the lead role was none other than Leonard Nimoy, who posed in makeup for production photos and agreed to do the weekly series if Questor was picked up.
Between script and shooting, Roddenberry inexplicably dumped Nimoy without bothering to tell the actor. In fact, Leonard Nimoy believed he was still attached to the project even after Robert Foxworth was hired for the role and only found out otherwise when he ran into Foxworth on the studio lot.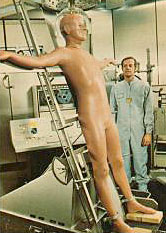 The pilot film aired on NBC in 1974 as The Questor Tapes and told the tale of an emotionless, super-powered, synthetic man who is paired with one of the scientists who assembled him to search for his mysterious programmer.
Instead of a spaceship, Questor and Dr. Jerry Robinson (played by Mike Farrell) could look out over the entire world from their high-tech "Information Center," spying on just about anybody in the world while videotaping their comings and goings.
A private jet could get them to hotspots fast, but as with the "Prime Directive" from Trek, the artificial man could not interfere in the lives of humans in any significant way. The android's brainwaves were activated by tapes (just like the TRS-80) that come from a suspicious source, so the series would trace Questor's efforts to find out more about his creator.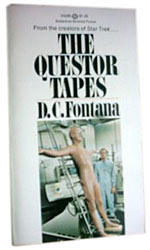 Scripts were ordered that had Questor walking underwater to disable a boat; delving into the world of ESP; eerily assuming the identity of a surgeon; and flying to Switzerland to investigate a scientist being held captive for his nuclear waste formula.
Like Mr. Spock, humor would come from the android's inability to understand slang and a tendency to take things too literally. He had the ability to change his face to resemble others, but "lying will always be difficult for Questor since the logical answer to any question is the truth."
Roddenberry's concept further detailed that "information is converted by Questor's computer mind into probabilities, not certainties. He can only estimate the odds on whether certain events will occur or not. His powers of observation are substantially better than human and his computer memory is that of total recall.
Since love, empathy, and hate cannot be computed, Questor is totally and completely dependent on Jerry Robinson to help guide him in such areas."Roddenberry actually began work on Questor in 1972 but passed it over to writer/producer Gene L. Coon (who was responsible for some of Star Trek's best scripts) so he could concentrate on Genesis II. Coon died in 1973 before the Questor script could be filmed.
The series was green-lighted and slated for Friday nights at ten. That's right, the "timeslot of death," the same night and time that did in the original Star Trek.
Once again Roddenberry was forced to battle NBC over changes large and small. For one, the network demanded that the Jerry Robinson character be dropped. They liked the show's overall concept, they insisted, they just wanted to tweak it a bit. Instead of being a two lead show, Questor should be centered around one character.
The network took control of the show and re-wrote the writer's guide to make it more like The Fugitive, with the robot not only looking for his creator, but also on the run from "a five nation combine" of secret agents.
"Questor is on the move," the new NBC format dictated, "He has no contacts with the human world. Questor cannot stand by and let a human be injured. The fact that he may give himself away by doing so becomes less important than the fact that he can't delay while a human dies." Basically, the complete opposite of the original idea.
Farrell asked for and was granted a release from Questor to wisely take another series that was offered to him - M.A.S.H. Not wanting to work on what amounted to a tiresome chase series, Roddenberry reluctantly let the project languish.
Ultimately unsatisfying, The Questor Tapes is still considered by many to be Roddenberry's best effort after Star Trek.
In May, 1975 Roddenberry was brought in by Paramount to develop a possible Star Trek movie but his script was rejected and the project shelved. Gene worked on a pilot that year called The Nine, a bizarre, semi-autobiographical concoction that combined a screwed-up TV producer with a commune of telepathic creatures.
This was another no-sale, as were Magna One, about a race of future people who live undersea and Battlefield Earth, which had humans living in "fat and happy" slavery under alien control. None of these storylines were fully realized, it would be two years before another Roddenberry concept made it to the screen.
Preaching to the choir and passing the plate, Roddenberry recorded a record album in 1976, Inside Star Trek, where he expounded on Trek philosophy and history. He also talked about his battles with the NBC censors and his frustrating efforts to launch Questor and Genesis II.
Further afield from his previous work, Spectre was created, written, and produced by Gene Roddenberry for airing on NBC May 21, 1977. This supernatural thriller starred Gig Young and Robert Culp as two paranormalists battling a great and powerful force plaguing a wealthy London financier. Directed by Clive Donner, Spectre had little in common with Star Trek or any previous Roddenberry project.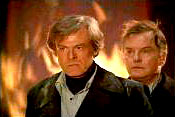 The concept promised "horrors unimaginable, a descent into a corner of hell" but rattled off as an anemic, talky 1970's melodrama.

Joel Eisner remarks, "I always liked Spectre, it had sort of a feel like a Hammer film and a Kolchak episode mixed together. I thought Gig Young was miscast, in fact I think Darren McGavin would have been a better choice, and, in lieu of the fact that Young killed himself shortly after the film aired, they would have had to recast if the show sold.
"I recently found something interesting about this film which I and several other film historians I know never knew. There was a European version of this film with extra footage and, in particular, nudity. It has always been known that many films added nude and violence for the European market. It was also known that many us TV movies were aired theatrically in England and Europe, but the addition of nudity to a TV movie is rare. In the case of this film, unknown, until recently when the Fox Movie Channel aired the film several times - mostly overnight - I hadn't seen the film for years and was surprised when I found that the print they were airing must have been the overseas version because of the several nude women that appeared in the black mass scene at the end of the film. Not just in the background but in full topless and bottomless (from the back) closeup. Not that it hurt the film, in fact, it made the scene less choppy as it originally appeared. I guess to cut out the nudity, they had to splice the scenes closer together. I hope they get around to releasing this version to disc."
After Spectre, Gene Roddenberry gave up on getting another TV series off the ground.
Star Wars hit the movie houses in 1977 and suddenly science-fiction was hot again. Star Trek fandom was a far-reaching, big business on its own and a revival of the series in some form was already in the works.
At one point, it was announced that Star Trek would return in syndication with the original cast, but all of the sets would be miniatures, even the Enterprise interiors. To save production costs, the actors would be working entirely against a blue screen.
This awful idea never came about but in mid-'70s convention appearances, James Doohan and others talked about a new series in development at Paramount called Star Trek II.
Story elements from ST II scripts by Roddenberry and others were used in the first Star Trek movie that was released to record-breaking box office in 1979. That Star Trek film series is still a huge success almost twenty-five years later.
Subsequent television spin-offs and aggressive merchandising over the years have combined to make Roddenberry's creation one of the most valuable franchises in the world, more popular than it ever was in the '60s and '70s, securing his place in history as the Ray Kroc of outer-space.
Gene Roddenberry, the visionary who kept his dream alive against all odds (with a little help from uncredited contributors, pills, pot, cocaine, alcohol, a massive ego, and the adulation of thousands) died on October 24, 1991 just a few days before fellow sci-fi producer Irwin Allen (Lost in Space) took his last flight to the stars.
---

Gene Roddenberry in the 1970s - Part One
Gene Roddenberry - Star Trek Animated Series
Gene Roddenberry - Genesis II & Planet Earth
Gene Roddenberry's Questor & Spectre