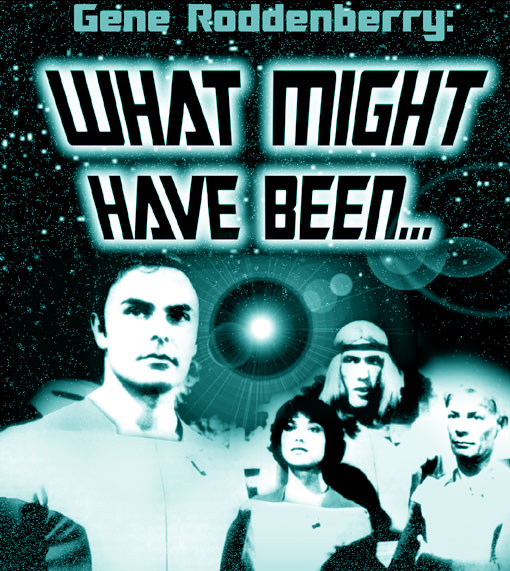 PART Three - - - -- Part One here
by Billy Ingram
Genesis II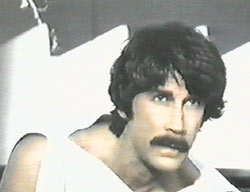 Broadcast as a TV-movie in March of 1973, Genesis II told the story of Dylan Hunt (Alex Cord), an adventurous 20th-century research scientist who awakens from suspended animation to a post-apocalyptic world.
Dylan joins a band of 22nd century peacekeepers who utilize an underground tube system that rockets them to the far reaches of the planet to seek out strange new life forms, to boldly go where... (you get the idea).
"It had one thing in common with Star Trek and that was you could bring in a good writer and say to him, 'What bothers you about the world,' and go and invent a place in this new world and have it happen there."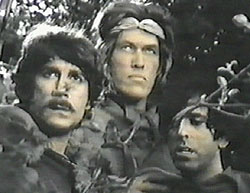 The pilot film co-starred Mariette Hartley, Ted Cassidy (Lurch from the Addams Family), and also featured Majel Barrett in a supporting role. She would appear in all of his pilots during this period.
A season's worth of scripts written primarily by Gene Roddenberry had Dylan and his travelling PAX Council encountering all manner of societal mutations: leaders of a poor village are drugging their people into subservience; Dylan falls through a portal into 1974 Manhattan and tries in vain to communicate with his past self through the girl he's fallen in love with; inhabitants of the Nevada desert are living life as presented in old TV western reruns; the PAX Council battles Company B, highly-trained commandos, awakened from the twentieth century, who were raised with no free will of their own.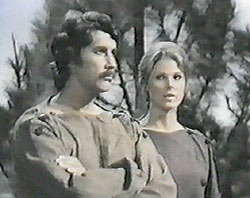 One of the better scripts, "Robot's Return," was loosely adapted for the first Star Trek motion picture. It concerned a group of 20th-century astronauts returned from the stars, having evolved into robotic hybrids searching for the "gods" that created them. Confronting instead the primitive nature of their creator and realizing that earthlings may reach out again to the stars, the mandroids question whether it would be wise to help man's progress.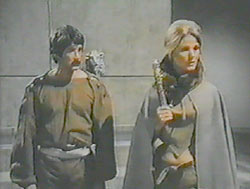 In the end, CBS chose to go with a TV version of Planet of the Apes and not Genesis II for the fall of '74.
"(CBS programmer Fred Silverman) thought the monkeys were so cute he cancelled Genesis II," Roddenberry lamented to an interviewer, "Several of us tried to warn him that it was a one time joke. He didn't listen and it was a disaster that cost them many millions of dollars."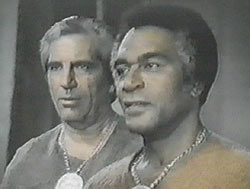 With the stench of Planet of the Apes still fresh on the CBS lawn, Roddenberry's project was shelved—for the time being.
ABC was interested in the concept so Roddenberry took Genesis II and reworked it slightly as Planet Earth, brought to life in a tele-film directed by Trek's Marc Daniels, starring John Saxon in the Dylan Hunt role (Alex Cord wasn't available).
The story, based on one of Roddenberry's Genesis II scripts, focused on a society dominated by women where men are kept as pets. Vastly inferior to the original, ABC aired Planet Earth to a hungry audience of Trekkies and was considering a regular slot for the series when creative conflicts left Roddenberry and ABC at odds.
Joel Eisner, author of The Official Batman Batbook tells us, "There was a third version of Genesis II entitled Strange New World (1976). It starred John Saxon, Keene Curtis and Kathleen Miller. It had three scientists returning from outerspace to a post apoclypical earth.
The film was made up of two stories one taking place in the ruins of, I believe, the San Diego Zoo, with the cast members caught in the middle when the last surviving zoo game warden tries to protect the remaining animals from poachers. The other had a city of androids and their human servants.
While Roddenberry's name wasn't on the pilot, it was still his film according to Ted Cassidy. Having interviewed him a few months before his death, he told me that he was offered the third film (he was in the first two) but thought by this time the idea was stale and it wouldn't fly so he turned it down."
Tribune, a bleak future-world cop series for Warner Bros was another no-go for Roddenberry that year.
NEXT: Part Four:
Questor - how Leornard Nimoy was cast then dumped!
A revival of Star Trek in the 1970s, Spectre & more!