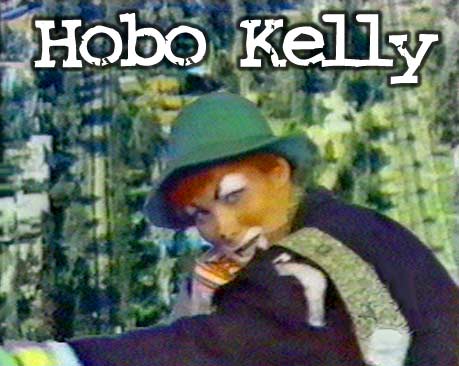 HERE'S A TVparty LOOK AT
HOBO KELLY
IN REAL VIDEO FORMAT - (:25)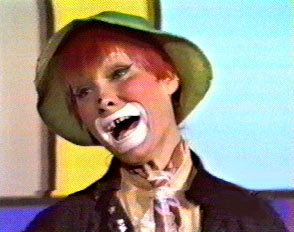 Hobo Kelly was broadcast in Los Angeles on KCOP Channel 13 every weekday morning in the late 60s and early 70s. There was a prize giveaway involving toys coming out of a clown's mouth (with smoke to boot).
Hobo would then draw the name of a lucky kid who would get the prizes for the day. It probably left the air in 74' or 75' at the latest, but I am not sure.
- Efrem Sepulveda
(Here is a clip from KABC's great look-back at Hobo Kelly from their Evening News program a few years ago. The station did a whole week with former LA hosts.)
---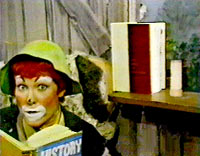 Hobo Kelly
was a favorite show of many LA kids in the late 60s. I recall her putting on her big magic glasses and "sayin HI" to all her viewers by name - she never said HI to me though! My favorite part was the opening theme song; H-O-B-O , K-E- double L- Y; Hobo Kelly..." as she flew over the city. Hobo Kelly also got younger every year.
- Ken Wong
---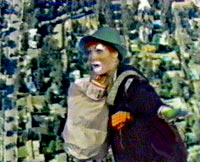 Hobo Kelly
painted magic pictures that actually came to life on your TV screen. She painted them with the help of her friend Buttercup, the butterfly. Also, when she came to watch a cartoon, she would put her hand and arm around a half circle and say "Cartoon Hooooooo" - and she would refer to her television audience as "Michief Makers".
- Lori Trudeau
---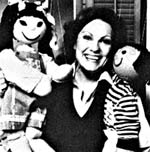 Where's "Froozles" which was done in the late '70s-early '80s, created by Sally Baker and frequently featuring her as Hobo Kelly? It aired weekdays mornings at 7 am on what was once KHJ TV-9 in Los Angeles(now KCAL)and produced and distributed by RKO General,the station's former owner. You can't talk about Hobo Kelly without mentioning "Froozles!"
- Rick S.
Hobo Kelly also aired in the early seventies in Portland, Oregon.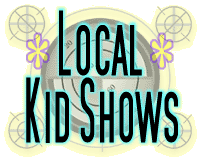 LA's LOCAL KID SHOWS
Overview of the 50s and 60s / Sheriff John / Romper Room / Chucko, the Birthday Clown / Engineer Bill / Hobo Kelly / Shrimpenstein / Baby Daphne / Skip and Woofer's Last Show / More LA Locals / 'Shotgun Tom' Kelly's Words-A-Poppin' / Billy Barty Show / Sacramento's Cap'n Mitch / Walker Edmiston / Michael Wayne Thomas

Lost Kid Shows Homepage / Shock Theater's Zacherle / Sesame Street / Andy's Gang / Sandy Becker / TV Pow! / Hilarious House of Frightenstein / The Friendly Giant / Madison's Cowboy Eddie / Who Was Doodles Weaver? / Lost Kid Show Recordings / Winky-Dink and You / Remembering Winky-Dink / Captain Kangaroo / The Old Rebel Show / The Soupy Sales Show / Walt Disney's Shows / The Magic Garden / Mad Mad Monster Party / Houston Local Kid Shows / Boston Local Kid Shows / Fabulous Sally Starr / New York City Locals / More New York City Locals / Tooter the Turtle / Crusader Rabbit / Paul Winchell and Jerry Mahoney / Alex Toth's Television Work / Diver Dan and Whirlybirds / Sonny Fox's Wonderama / The Pinky Lee Show / Bizarre Kid Shows / Chicago's Kid Shows / Chicago's Ray Rayner Show / Garfield Goose and Friends / Bob Bell's Bozo Show on WGN / Bill Jackson's Shows / Gigglesnort Hotel Memories / Bob McAllister's Wonderama / Cincinnati Local Kid Shows / More Cincinnati Locals / Make A Wish / Hot Dog / Supermarionation Puppet Shows / Philadelphia Kid Shows / Philly's Captain Noah / The Chief Halftown Show / Philly's Gene London / Bertie the Bunyip / Dickory Doc / Adam Android / LA Kid Shows / The Merry Mailman / Do Do The Kid From Outer Space / Romper Room / Romper Room Around the USA / St. Louis Kiddie Shows / Religious Kid Shows / San Francisco Local Kid Shows / Johnny Jellybean / Johnny Jupiter / Shrimpenstein / Uncle Fred Sayles / Raleigh's Uncle Paul / Shenanigans and Video Village / Pip the Piper / Thanksgiving Day Cartoon Specials of the 70s / Monster Movie Matinee / Big Blue Marble / STM Club / Popeye on TV / Cleveland Local Kid Shows / Wixie's Wonderland / Jet Jackson and Sky King / The Original Animated Hercules / Ruff & Reddy