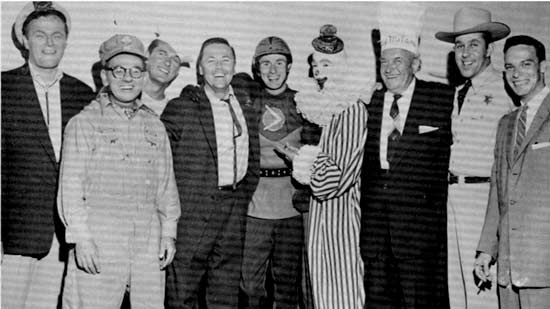 More LA Local Kiddie Shows
by TIM BARNES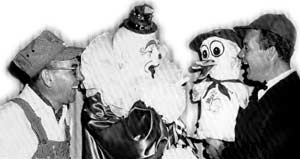 Just wanted to add my two cents to your roundup of children's show memories.
As my older sister and I were both born and raised in L.A., we literally cover nearly the entire history of boomer's programing as living room audience members. The names and faces on the site are those of old and dear friends to us, each with there own individual, and most personal memories burned into our collective video childhoods.
Although neither of us ever appeared on any of the programs, just living anywhere in Southern California provided the firsthand opportunity to meet many of our black and white heroes bigger than life, and in "living color"!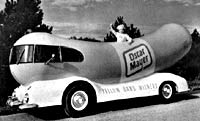 Pick a supermarket on any given Saturday afternoon, and there would be some personality out front handing out "fan cards", sponsor's samples and other goodies most grown-ups probably thought were "junk", but we found irresistible, spiriting it away for keeps. (Oh..if I could only find that wiener whistle!)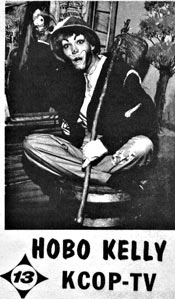 Little Oscar wasn't the only one we shook hands with. Mr. Wishbone and Bad Habit Rabbit, Mr. Popatoby along with Mickey and Michelle Mudturtle and the ever lovely Hobo Kelly who was possibly more beautiful in person than one could ever imagine. With influences and memories like that, I suppose it was inevitable that I would wind up working in the fields of puppetry and animation.
Even the advent of puberty and the discovery of girls didn't sidetrack me (for long), as getting more and more involved with the business, I met and even worked with many of these same local legends. Some years back I was invited to a party at Walt Disney's first West Coast home in Silverlake.
As Mr. Disney is nothing less than an idol of mine, I was already in a state of bliss existing in the same space as he once did, but add to that the extra jubilance of meeting a dozen or so "old friends" together in the same room, and you get some idea of what I was experiencing. Shaking hands as a "grown-up" with Tom Hatten, Hal Smith, Baby Daphne, Nancy Wibble, Chucko the Clown, and the second major professional influence- Paul Winchel was great. Being able to thank them for everything they brought to my childhood was better.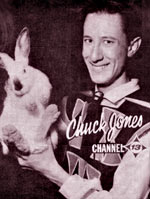 As years went by, I got to touch the dream again and again. Roaming the ancient art deco hallways of KCOP one afternoon, and trying to channel the spirit of kid show hosts past, I imagined some big bag of postcards being dumped on some table in the middle of what I'm sure is now some suit's office, and wondered why they never seemed to pick my sister's and mine. So we never got the Schwinn bike or tickets to Disneyland.
Danise did win a huge box of Welch's candy from Skipper Frank-second prize for the most clever use of the letter "w" in a drawing (of a cow, and you can probably figure out where the letter went), while I got a personal (mimeographed) letter back from Miss Mary Ann of Romper Room AND got to hear Sheriff John perfectly read my name telling all of Los Angeles it was my birthday (Mom having the good sense to audio tape that one!).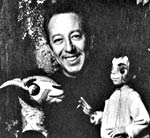 Later still as a working puppeteer I was able to get to know the rubber-headed cast of "The Foozels", Sally Baker's other series, Chivo and Chavo of "Domingo" fame as well as the "Dusty's Treehouse" gang, Maxine, Scooter and Stanley on a "professional basis" before performing with more nationally know puppet stars like the cast of "The Curiosity Shop".
Interestingly, I found no bigger thrill working with a certain green frog at nineteen than I did touching Mickey Mudturtles rough plastic shell when I was six.
And just to bring it totally full-circle, some years back I was offered the chance to create, produce and star in my own local daily children's television show, and in answer to the oft-asked question "Could something like that work today?", we tanked-badly. (These kids today...) Maybe someday...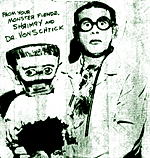 As I mentioned earlier, I had the chance to thank my video friends, and I would like to thank you as well, for taking me back to a much simpler, and far less troublesome time in all our lives.
Thank you so much for providing another glimpse of Hobo, Sheriff, Skip 'n Woofer, and especially Shrimpenstein, who I hadn't seen a picture of in probably 30 years, spending most of that time trying to describe the little guy to those who never quite got it.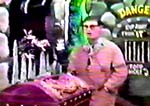 Now if you could just come up with something on Walker Edmiston, and Ravenswood, like an e-mail address....? I'm sure there are others with similar stories and I would love to hear from any of them. Until then, keep the memories alive.
- Tim Barnes
---
Please share some info on a couple of shows on KHJ Channel 9 In LA circa late 60's: Boss City and 9th Street West if my memory isn't too cloudy. One host I recall was Sam Riddle a DJ on KHJ radio also. Oh yeah - Kam Nelson, the coyly lusty dancer, was a hit too! I believe she married Olympic pole vaulter Bob Seagren.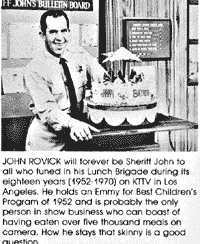 ---
The Captain 5 character on WRAL TV in the early 60's was played by a man named Herb Marx. I remeber him still working for the WRAL TV station after the Captain 5 show ended somewhere around the mid 60's.
- Bruce Smith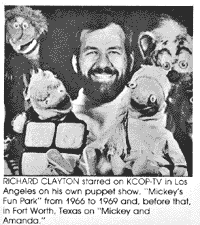 LA's LOCAL KID SHOWS
Overview of the 50s and 60s / Sheriff John / Romper Room / Chucko, the Birthday Clown / Engineer Bill / Hobo Kelly / Shrimpenstein / Baby Daphne / Skip and Woofer's Last Show / More LA Locals / 'Shotgun Tom' Kelly's Words-A-Poppin' / Billy Barty Show / Sacramento's Cap'n Mitch / Walker Edmiston / Michael Wayne Thomas