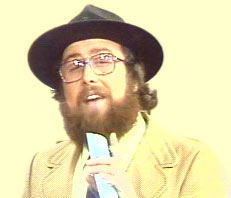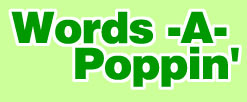 Groundbreaking
game show for kids!
Just about everyone who resides in Southern California knows the legendary radio and television personality 'Shotgun Tom" Kelly.
A veteran of the 'Boss Radio' days, "Shotgun Tom" Kelly is currently heard afternoons 4pm to 8pm on the Los Angeles flagship station K-Earth 101.
Youngsters who grew up in So Cal also remember "Shotgun Tom" as the host of the McGraw-Hill produced syndicated game show Words-A-Poppin', which ran from 1974 through 1979. (The show was broadcast on KGTV San Diego, KERO TV in Bakersfield as well as KMGH TV in Denver, WRTV Indianapolis.)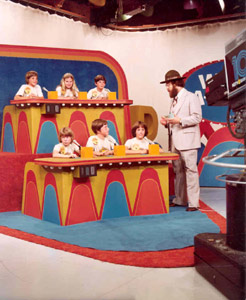 Words-A-Poppin' ran for 5 years and the genial host won two Emmy awards as host; after that "Shotgun Tom" Kelly moved over to KUSI TV to MC the KUSI Kids Club for 12 years.
Filmed in front of a studio audience, Words-A-Poppin' featured a panel of six kids attempting to unscramble words grouped in a category (like kinds of birds or foods), racking up points and prizes for correct answers.
We asked "Shotgun Tom" to share some memories of Words-A-Poppin' - a genuinely exciting educational game show that is fondly remembered today.
As a child I grew up watching Johnny Downs (late 50's through the early 60's) on his children's show on Channel 10. Almost from the start I had a desire to host a children's show such as his. So when the opportunity arose for me to audition for Words-A-Poppin' I jumped at the chance. (This was not my first TV show. I had been on KERO-TV in Bakersfield as Nemo the Clown in 1971, that was an afternoon cartoon show.)
There were no other local TV children's hosts on the air when I was doing Words - except for Uncle Murph on XETV-6 during my stint as the host of the KUSI Kids Club later in my career.
I was so very honored to receive two Emmy Awards. To this day those awards mean as much to me as they did when I went up on stage to receive them.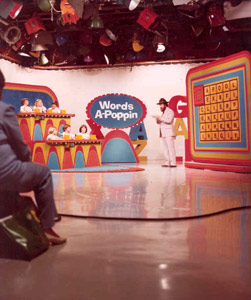 Since Words-A-Poppin' catered to 5th and 6th graders, who were top in their class and impeccably screened by my producer Carol Naife, the contestants were very serious about the show. So there were really no memorable "casualties."
I really do miss working with children. I miss their enthusiasm and their candor.
Unfortunately the FCC relaxed the rules regarding Children's programming in the late-seventies. Therefore, the local stations no longer were required to broadcast as many hours of Children's educational programming. So Words was canceled in 1979.
I then hosted the KUSI Kids Club daily live - except for on-location segments. For example we would go to the Zoo or Sea World or Balboa Park with a group of children to use as features during the live program.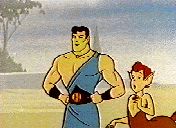 KUSI showed cartoons of the day, such as Power Rangers and Hercules.
Today TV stations mainly use a variety of kids without a definitive host. I think that the local Children's host can be a very important part in the lives of children. Especially now when so many children are more or less left on their own after school.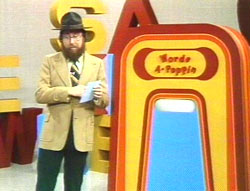 I cannot tell you how many adults come up and tell me how they enjoyed watching me on both the KUSI Kids Club and Words. They tell me how comforting it was to come home from school, turn on the TV and see a "familiar" face on a daily basis.
We asked "Shotgun Tom" Kelly, who took over for The Real Don Steele on K-Earth 101, what exactly was 'Boss Radio'?
Boss Radio was a format that Bill Drake founded in the 60's. The main purpose was to streamline Top 40 radio taking out the chit chat clutter and playing more music. All of the stations used the Johnny Mann jingles and uniform contests. This is not to say that the personalities were stilted, because the diminished amount of "talk" actually showcased the on-air Disc Jockeys.
As a child, as early as 10, I wanted to be on the Radio and TV. It was the career that I focused on all through school. In fact I have never worked in any other industry other than broadcasting.
I feel very fortunate to have my dream realized.
---
Visit shotguntomkelly.com.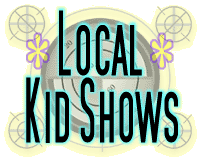 LA's LOCAL KID SHOWS
Overview of the 50s and 60s / Sheriff John / Romper Room / Chucko, the Birthday Clown / Engineer Bill / Hobo Kelly / Shrimpenstein / Baby Daphne / Skip and Woofer's Last Show / More LA Locals / 'Shotgun Tom' Kelly's Words-A-Poppin' / Billy Barty Show / Sacramento's Cap'n Mitch / Walker Edmiston / Michael Wayne Thomas