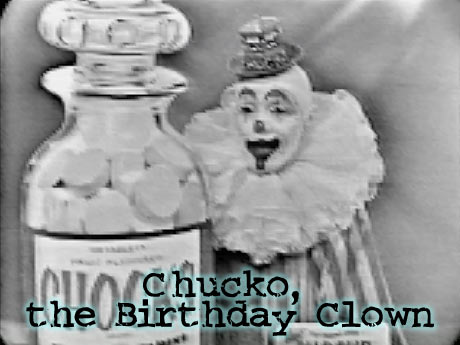 HERE'S A TVparty LOOK AT
CHUCKO, THE BIRTHDAY CLOWN
IN REAL VIDEO FORMAT - (2:25)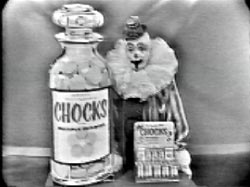 We get a lot of requests from people wanting to get a copy of the Chucko the Birthday Clown show they were on as a kid. What they don't know is that TV stations routinely erased each day's program to tape the next day's - so very few episodes exist of any local children's shows.
Here are two rare video clips from Chucko, the Birthday Clown:
Chucko does a remote with the Los Angeles Fire Department's first fire-fighting helicopter. Then it's back to the studio for a pie eating contest.



The aftermath of a pie eating contest had a couple of the kids almost throwing up!
No wonder, the show used those awful grocery store freezer cream pies from the early sixties. Chucko wipes pie into the eyes of the winner, then gives him a skateboard - called a "Ski and Skate" back then. What fun!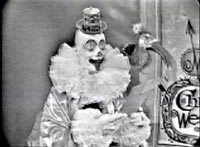 :TVparty printed a false rumor that Chucko had passed away and we got this welcome message:
"As for the whereabouts' of CHUCKO, I am not dead, but alive and in good health living in Grants Pass, Oregon.

During my reign in TV I was affectionately referred to as CHUCKO, THE BIRTHDAY CLOWN, upon my departure from television my son took over the title of CHUCKO from 1971 through l995.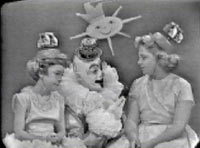 "I have a lot of fond memories of the television days.I would like to converse by E-Mail with those who have participated on our TV Show from 1954 through l961.
"Best regards and thanks for your exciting programs"
- Chucko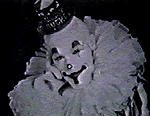 ---
CHUCKO, THE BIRTHDAY CLOWN
was released as a 78 rpm record,
here's the tune for you to enjoy!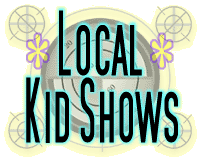 LA's LOCAL KID SHOWS
Overview of the 50s and 60s / Sheriff John / Romper Room / Chucko, the Birthday Clown / Engineer Bill / Hobo Kelly / Shrimpenstein / Baby Daphne / Skip and Woofer's Last Show / More LA Locals / 'Shotgun Tom' Kelly's Words-A-Poppin' / Billy Barty Show / Sacramento's Cap'n Mitch / Walker Edmiston / Michael Wayne Thomas

Lost Kid Shows Homepage / Shock Theater's Zacherle / Sesame Street / Andy's Gang / Sandy Becker / TV Pow! / Hilarious House of Frightenstein / The Friendly Giant / Madison's Cowboy Eddie / Who Was Doodles Weaver? / Lost Kid Show Recordings / Winky-Dink and You / Remembering Winky-Dink / Captain Kangaroo / The Old Rebel Show / The Soupy Sales Show / Walt Disney's Shows / The Magic Garden / Mad Mad Monster Party / Houston Local Kid Shows / Boston Local Kid Shows / Fabulous Sally Starr / New York City Locals / More New York City Locals / Tooter the Turtle / Crusader Rabbit / Paul Winchell and Jerry Mahoney / Alex Toth's Television Work / Diver Dan and Whirlybirds / Sonny Fox's Wonderama / The Pinky Lee Show / Bizarre Kid Shows / Chicago's Kid Shows / Chicago's Ray Rayner Show / Garfield Goose and Friends / Bob Bell's Bozo Show on WGN / Bill Jackson's Shows / Gigglesnort Hotel Memories / Bob McAllister's Wonderama / Cincinnati Local Kid Shows / More Cincinnati Locals / Make A Wish / Hot Dog / Supermarionation Puppet Shows / Philadelphia Kid Shows / Philly's Captain Noah / The Chief Halftown Show / Philly's Gene London / Bertie the Bunyip / Dickory Doc / Adam Android / LA Kid Shows / The Merry Mailman / Do Do The Kid From Outer Space / Romper Room / Romper Room Around the USA / St. Louis Kiddie Shows / Religious Kid Shows / San Francisco Local Kid Shows / Johnny Jellybean / Johnny Jupiter / Shrimpenstein / Uncle Fred Sayles / Raleigh's Uncle Paul / Shenanigans and Video Village / Pip the Piper / Thanksgiving Day Cartoon Specials of the 70s / Monster Movie Matinee / Big Blue Marble / STM Club / Popeye on TV / Cleveland Local Kid Shows / Wixie's Wonderland / Jet Jackson and Sky King / The Original Animated Hercules / Ruff & Reddy