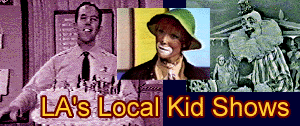 The Billy Barty Show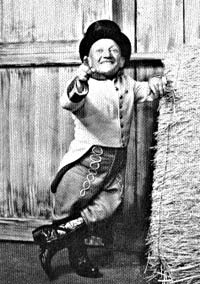 I remember the Billy Barty Show but I don't remember the toons or routines he offered, but he was really good with the kids in the audience. If you are too young to remember him, he played "The Dwarf" in the movie "Foul Play". He was, of course, a real dwarf.
- Ogopogo
Hi...I have been tring to find some info on the Billy Barty show you mention on your blog. I was a contestant on the show when I was 8 (with my brownie troop in my uniform and all...we also went on the Jack-in-the-Box show).
I am really having a touch time finding out info or is there is ANY possibility of any tapes anywhere of the show.
Just as an FYI... I won the GRAND prize in the "Surpise Prize" game, played at the end of the show. I think it was taped at KTTV, and I do remember it was BLAZING hot, no air conditioning in the very large studio (Jack-in-the Box was a much smaller studio).
- Maureen Smullen
Billy Barty, the 3-foot-10 actor whose career included LA local kid show host, died Saturday Dec. 23, 2000 of heart failure. He was 76. Barty had been hospitalized in Glendale for heart problems and a lung infection. There are no known existing episodes of The Billy Barty Show.

LA's LOCAL KID SHOWS
Overview of the 50s and 60s / Sheriff John / Romper Room / Chucko, the Birthday Clown / Engineer Bill / Hobo Kelly / Shrimpenstein / Baby Daphne / Skip and Woofer's Last Show / More LA Locals / 'Shotgun Tom' Kelly's Words-A-Poppin' / Billy Barty Show / Sacramento's Cap'n Mitch / Walker Edmiston / Michael Wayne Thomas

Lost Kid Shows Homepage / Shock Theater's Zacherle / Sesame Street / Andy's Gang / Sandy Becker / TV Pow! / Hilarious House of Frightenstein / The Friendly Giant / Madison's Cowboy Eddie / Who Was Doodles Weaver? / Lost Kid Show Recordings / Winky-Dink and You / Remembering Winky-Dink / Captain Kangaroo / The Old Rebel Show / The Soupy Sales Show / Walt Disney's Shows / The Magic Garden / Mad Mad Monster Party / Houston Local Kid Shows / Boston Local Kid Shows / Fabulous Sally Starr / New York City Locals / More New York City Locals / Tooter the Turtle / Crusader Rabbit / Paul Winchell and Jerry Mahoney / Alex Toth's Television Work / Diver Dan and Whirlybirds / Sonny Fox's Wonderama / The Pinky Lee Show / Bizarre Kid Shows / Chicago's Kid Shows / Chicago's Ray Rayner Show / Garfield Goose and Friends / Bob Bell's Bozo Show on WGN / Bill Jackson's Shows / Gigglesnort Hotel Memories / Bob McAllister's Wonderama / Cincinnati Local Kid Shows / More Cincinnati Locals / Make A Wish / Hot Dog / Supermarionation Puppet Shows / Philadelphia Kid Shows / Philly's Captain Noah / The Chief Halftown Show / Philly's Gene London / Bertie the Bunyip / Dickory Doc / Adam Android / LA Kid Shows / The Merry Mailman / Do Do The Kid From Outer Space / Romper Room / Romper Room Around the USA / St. Louis Kiddie Shows / Religious Kid Shows / San Francisco Local Kid Shows / Johnny Jellybean / Johnny Jupiter / Shrimpenstein / Uncle Fred Sayles / Raleigh's Uncle Paul / Shenanigans and Video Village / Pip the Piper / Thanksgiving Day Cartoon Specials of the 70s / Monster Movie Matinee / Big Blue Marble / STM Club / Popeye on TV / Cleveland Local Kid Shows / Wixie's Wonderland / Jet Jackson and Sky King / The Original Animated Hercules / Ruff & Reddy