THE MUSIC FROM "PETER GUNN"
Henry Mancini (1958)
by Cary O'Dell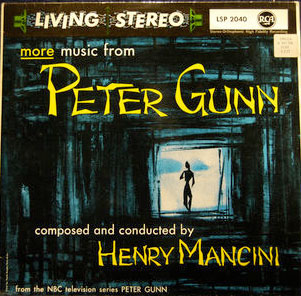 To date, it is the only TV theme, or TV-affiliated work for that matter, so far named to the Library of Congress's National Recording Registry, a list of recordings deemed to be culturally important to the history of the United States.
And, arguably, that is as it should be.
Henry Mancini's opening theme for the 1958-1961 network TV detective series "Peter Gunn" is a hard-driving, horns-heavy jazz cacophony that has proved to be memorable; has stood the test of time; and has completely transcended its origin. Today, episodes of the TV series it was created for have all but vanished--relegated to a few video collectors, some TV archives, or perhaps just clips on Youtube. But its music is still known, still played and still as startlingly modern sounding as the day it debuted over the airwaves.
Born in Cleveland, Ohio, in 1924, the son of immigrants, composer Henry Mancini began playing the flute at age 8 and the piano by age 12. From 1942 to 1943, he attended Juilliard but his enrollment there ended when he was drafted into the Army. After his discharge in '46, Mancini joined the orchestras of Glenn Miller and Tex Beneke. It was there that he met his wife Ginny; they were married in 1947.
In 1952, Mancini joined the music department of Universal-International Pictures and began to score films. Among the movies he wrote the music for: "Days of Wine and Roses," "The Creature from the Black Lagoon," "The Great Race," "Experiment in Terror," "Charade," "Touch of Evil," "The Glass Menagerie," and "Victor/Victoria," among others. Amongst his other works, Mancini also composed the memorable theme for the "Pink Panther" (originally used for the film "A Shot in the Dark" in 1964) and the song "Moon River," made famous by Audrey Hepburn in "Breakfast at Tiffany's" (1961).
Mancini would also work in television. He created the score for the mini-series "The Thorn Birds" (1983) and wrote the themes for "What's Happening!," "Newhart," and "Remington Steele," among other series.
And Mancini was the composer of popular songs. His tunes have been recorded by a who's who of modern vocalists including Andy Williams, Peggy Lee, Perry Como, Frank Sinatra, Julie London, Johnny Mathis, and Tony Bennett. Mancini himself has recorded and released over 90 albums during his career, mostly instrumentals. Eight of his albums have gone gold.
By the end of his legendary career, Mancini (who died in 1994) had collected 20 Grammy Awards, 4 Oscars and 2 Emmys.
Trying to pick out the best, most memorable or influential of all of Mancini's work is a fool's errand: there is too much to choose from, too much good to sort through. And, yet, his work for the TV detective drama "Peter Gunn" resonates. It is not only today indistinguishable from the series itself but from the entire genre of detective drama, film and TV. It's like a full action movie set down in musical notes and then pressed onto vinyl! The song bears an indelible beat and its escalating scales calls to mind foot and car chases galore. Meanwhile, its sax-y asides lays on a sheen that suggests both suspense and suddenness.
"Peter Gunn," the series, was the tale of a suave and dashing private dick. He was one of many the medium trafficked in at the time; "Boston Blackie," "Martin Kane" and "Richard Diamond" being others. (Women even got in on the action sometimes—consider "Honey West" with Anne Francis.) The series was created by Blake Edwards (later to transition into film including the many "Pink Panther" movies with Peter Sellers) and starred Craig Stevens, a former film actor who would make his greatest impact on TV, mainly in his role as "Gunn."
Legend has it that Edwards bumped into Mancini on the Universal lot (both were getting haircuts at the time) and asked him to score the "Gunn" pilot. Mancini, about to exit Universal, said "yes," thinking he'd just signed up for another TV western when, in fact, "Gunn" was a noir-ish detective drama.
In some ways, the rapid, loud and searing theme of "Peter Gunn" was incongruent with the series it represented. Lead character Peter Gunn was too smooth to ever get as frequently riled up as his theme music suggested. He smoked his cigarettes slow, conducted himself with a cool detachment and used as his office a laid-back jazz club called Mother's. His glamorous girlfriend, Edie--a sort of mixture of Lauren Bacall and Julie London and played by Lola Albright--was the songstress there.
The only time Gunn broke his collected calm was during one of his show's chase or a fight scenes—and, thankfully, one was guaranteed to appear in each and every episode. Then things were no-holds-bared. (Though it should be noted that, even in the worst scenarios, Gunn seldom rumpled his well-pressed suit.)
Mancini was responsible for more than just the opening theme of the series. He also provided all its incidental (or "mood") music. The show's frequent visits to Mother's granted the composer the chance to create a variety of jazz-influenced tunes. Unlike the show's pounding opening salvo, however, most of the rest of the series' music was on the mellow side, a fitting companion to the show's "cool fire" tone.
"Peter Gunn," the series and its music, debuted on September 22, 1958 on NBC. (The series would move to ABC in the fall of 1960 before leaving the airwaves in 1961.) The show was a success. It ranked number 16 in the year-end ratings. As much as for its plots, the series became celebrated for its music.
TV had born hit tunes before. Desi Arnaz had great success with his "I Love Lucy"-inspired "There's a Brand New Baby at Our House" in 1953. But seldom—if ever—before had a "TV tune" also been critically acclaimed and a reason for actually tuning into a fictional program.
As mentioned, Mancini was not just responsible for the show's opening theme but also for all the show's music. Creator Blake's desire for something new and cool, and Mancini's desire to experiment in jazz, suited each other beautifully.
In 1959, RCA issued the LP "The Music from 'Peter Gunn.'" It contained the show's already ubiquitous opening theme as well as 11 other songs: "Sorta Blue"; "The Brothers Go to Mother's"; "Dreamsville"; "Session at Pete's Pad"; "Soft Sounds"; "Fallout!"; "The Floater"; "Slow and Easy"; "A Profound Gass"; "Brief and Breezy"; and "Not from Dixie." The album was a bestseller and, in a truly historic moment, would go on to win the very first Grammy Award ever presented for Album of the Year, beating out works by Ella Fitzgerald and Frank Sinatra.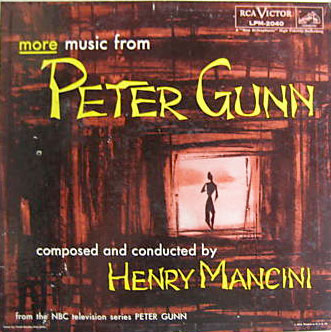 The original album's success even inspired a sequel. "More Music from 'Peter Gunn'" came out a few months after the release of its parent. It included 12 additional selections from the series including "The Little Man Theme," "Lightly," "Blues for Mother's," and "Walkin' Bass." Each was distilled from a different episode and each got its title from the scene in which it originally appeared.

Though other TV themes have charted since "Peter Gunn" and many shows (like "Miami Vice" and "Glee") have made ample use of musical interludes, few small screen-spawned compositions have proved to have the crazy staying power of "Peter's" moody blues and its theme's power chords and whaling saxophones.

Meanwhile, in a true testament to the theme's cultural significance, since "Peter's" debut, the theme has long been utilized, revived and even parodied. The main theme has appeared in the films "Sixteen Candles" (1984) and "The Blues Brothers" (1980). It has also been popularly covered. So far, those taking on and playing its strains include Elvis Presley, Quincy Jones, Brian Setzer, Jimi Hendrix, Aerosmith and They Might Be Giants, among others. Most successfully, rock legend Duanne Eddy, known as the Titan of Twang, had a top 40 hit with the "Theme from 'Peter Gunn'" in 1960.

1960's TV Seasons: 1961 / 1964 / ABC 1966 / 1967 / 1968 / 1969 / Fall Previews / Sharon Tate on The Beverly Hillbillies / Dark, Unseen Monkees Pilot / Pistols 'N' Petticoats / Best Episodes of Every 'Lucy Show' Season / How Lee Meriwether Became Catwoman / The Star Trek Spinoff That Didn't Happen / Why Ginger Was Almost Fired From Gilligan's Island / Every Batman (1966) Fight Scene / Whatever Happened to the Beverly Hillbillies' Mansion? / Remembering "Mary Ann" - Dawn Wells Interview / The Ronny Howard Show?!? / Death of Bonanza's Dan Blocker / Broadside / Larry Mathers (Beaver Cleaver) on the Rumor That He Was Killed in Vietnam / The Monkees / Jimi Hendrix 1967 Tour - The Only Night It Clicked Was In Greensboro! / William Shatner on the Origin of Star Trek / The Nurses / The Riddler Was Batman's First TV Super-Villain / Betty Lynn aka Thelma Lou / Remembering The Rifleman's Johnny Crawford / Clu Gulager Obituary / Leonard Nimoy on NBC Hating Spock / Sinatra Wanted To Play Joker on Batman? Yes! / Directing the Batman Pilot / Elinor Donahue on The Andy Griffith Show / Lucy After Ricky / Robert Clary on His Hogan's Heroes Co-stars / Jeopardy! in the 60s & 70s / Stunts Gone Wrong on The Wild Wild West / Whatever Happened To Lost In Space's Guy Williams? / Best of Julie Newmar Catwoman Season 2 / The New People / Dark Shadows Director Lela Swift / Pioneer Newswoman Lisa Howard / The Jim Nabors Hour / The UN Goes to the Movies / Stories About Filming Batman from Burt Ward / Life With Linkletter / The Green Hornet / Best of The Joker / 1961 CBS Fall Season / Bette Davis TV show: The Decorator / The Hathaways / He & She / Eartha Kitt as Catwoman / The Good Guys / James Drury of The Virginian / The Ron Hicklin Singers / Man From U.N.C.L.E. on DVD / Behind the Scenes at The Andy Griffith Show / Pat Buttram & Green Acres / TV's Tarzan / Grocery Shopping in 1962 / Carol Channing on TV / 1960's Nightclub Comic Rusty Warren / Johnny Carson Tonight Show 1964 / That Girl / The Amazing Randi / TV's Greatest Car Stars / Best of Batgirl 1967-68 / TV Shows to Movies / Batman Season 2 / Supermarionation / The Virginian's Clu Gulager / Cast Changes on Bewitched and Green Acres / Sammy Davis Jr. Show / Sunday Morning Cartoons / Naked City / Joe E. Ross / Alan Young Interview / Sherwood Schwartz Interview / Walter Cronkite Moon Landing / The Farmer's Daughter / Petula-Clark /
THE MUSIC FROM "PETER GUNN"


TV on DVD/ /Holiday Specials on DVD
TV Commercials on DVD
TV Shows on BLU-RAY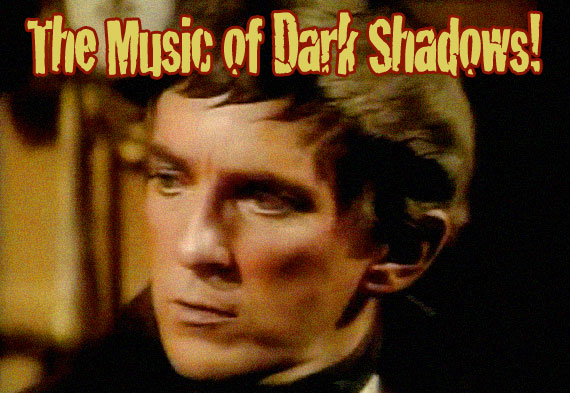 DID YOU KNOW: There was a 1967 big screen version of Peter Gunn called simply 'Gunn' with a jazzed up version of the theme song.