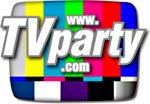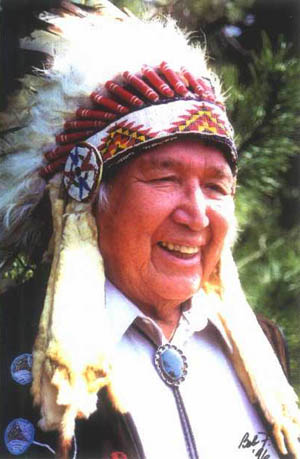 Photo (c) 2007 by Bob Flannery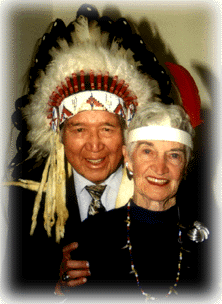 The Chief and his wife
on their 50th Anniversary
Photo (c) 2007 by Bob Flannery
---
Watch TV Commercials from
the Seventies, Eighties,
and Nineties on VHS/DVD.
www.80sCommercials.com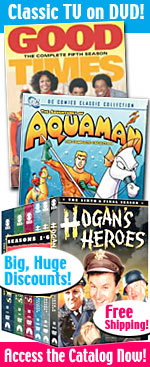 Catalog of all
Classic TV Shows
on DVD
---
Classic TV
Hard-to-find Classic TV
Shows on DVD!
---
---
Chief Halftown shows included educating youth about American Indians.
Besides his long-time weekend summer job at Dutch Wonderland in Lancaster, and taping Youth Talent shows for TV use year round, he regularly performed for children and older folk. He could be found at kindergartens, Cub Scouts, children's day care centers, or senior centers.
Put a microphone in his hand or turn on a spotlight, and he could sing a song appropriate for any audience, anything from "My ABC's" to nostalgic love songs for the golden crowd.

"Chief Halftown was part of the WFIL ABC lineup. I remember getting to see Chief Halftown after bugging my folks to take me to the Buster Brown Shoe Store where he was making an appearance.
"That was also a major learning experience for me - when it was time to go to see Chief Halftown, I was watching something on TV that I didn't want to miss. I thought that when I turned off the TV to go see the Chief, that the show would be on where I left it when I got back. Man, was I ticked off!! :)"
- Ed Justice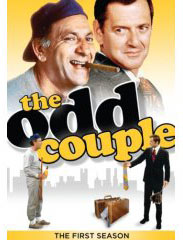 Legendary Chief Halftown
by You
Chief Traynor Ora Halftown, full-blooded Native American from the Seneca tribe in upstate New York, passed away July 5, 2003 in Absecon, New Jersey from complications resulting from diabetes.
The Chief Halftown program aired from 1951 until 1999, a remarkable 48-year run on WFIL (now WPVI) Channel 6.
Chief Halftown was a true original. There were very few local kid show hosts who enjoyed his kind of television success, drawing adoring crowds at personal appearances until just recently.
Here are memories from former viewers on the Chief's terrific TV show: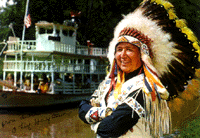 Photo (c) 2007 by Bob Flannery
"Chief Halftown was, until recently, on Channel 6, Saturday mornings from 6:30-7:00. While in his 80s, he still performed in Lancaster at Dutch Wonderland on weekends during the summer."
- Jim Douglass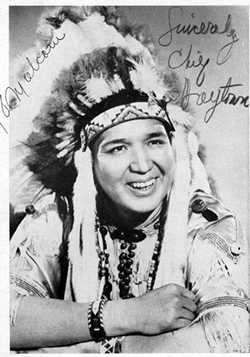 "I've been employed in the Bridgeton, NJ school district since 1967. From 1974 until now, I have served as a school administrator. In the early years, part of my job involved operating a summer program for our district elementary pupils.
"Each summer, the highlight of the program -- for the kids and for me -- was a visit from the Chief. What a gem!! Chief Halftown is a true pro -- kind, gentle, sweet and very, very entertaining. That first summer visit by the Chief was such a great joy -- years after watching him on local television I finally got to meet him.
"I was also fortunate enough to introduce my young son to the Chief one summer weekend just a few years ago at Dutch Wonderland. I can only hope that Chief Halftown goes on forever -- cheering and bringing joy to young and old alike. I know he will live within me and my memories for my lifetime. WE LOVE YOU, CHIEF..... "
- Jerry Benfer
"When I was a teen in high school I used to set pins at a bowling alley in Springfield. Chief Halftown was in one of the leagues. We used to help him bowl by tossing an extra pin into the pile to knock more down. That's my guilty secret. I hope he won some cigars or something."
- Nick Polcino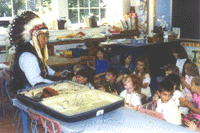 Kids today - and yesterday - loved the Chief and learned important lessons from him.
"Chief Halftown went off the air in the summer of 1999.
"Dutch Wonderland is out of business (that's the info that I got from the Chief himself), however the Chief still makes personal appearances at schools, churches, hospitals and other venues in the Philadelphia, Pa. viewing area.
"His Philadelphia kid's TV show was the longest running children's program in television history - on the air from 1951 until 1999 - 48 years. No other kid's show has ever been on the air longer than that!"
- Kevin S. Butler
"Thanks for a bit of fun from the past. I too grew up in Philadelphia near Wynwood and was delighted to discover your site by accident. Now I live in Australia on the Mornington Peninsula so it made me quite nostalgic.
"I took my son to Dutch Wonderland some 10 years ago and saw Chief Halftown there. He was the consummate gentleman and a credit to the image I have always had of him."
- Thanks again, Owen P
"I am a storyteller and am so delighted to know that Chief Halftown has the passion to continue to tell stories to children today the same way he did when I was a youngster over forty-odd years ago.
"He is my inspiration and it gives me great pleasure to tell children that I use to watch a real live Indian on television as a child. I also realized that I learned a foreign language when repeating the words E sta sah soos away (Let's get started). May God continue to bless your health so that you can continue to tell stories."
- Yours in stories, Joann Frasier Dasent

Chief Halftown was a hero to millions of children and their parents throughout Delaware Valley year after year. Not publicized nor acclaimed was the work he did almost daily with adult mental health agencies, homeless indigents and programs for substance abusers.
Over more than five decades his dedication and deep devotion to these unfortunate men and women was a compelling, personal effort without financial compensation of any kind. Halftown's concern for the down-trodden emerged from his childhood on the Seneca reservations in New Your and continued through his service in the US Army during World War I I.
After discharge he became a popular "big band singer" in New York and Pennsylvania. During that time he pledged his talents with countless charitable causes and for the next fifty years followed through in a modest, low-profile second career. His primary concerns centered on alcoholics and substance abusers at the lowest levels of society.
The Chief was frequently an honored speaker at Pennsylvania State mental hospitals and outpatient clinics offering encouragement to adult patients and families. A regular at store-front clubs and outreach programs in slum areas, Halftown, offered support and guidance regardless of economic status to residents of Center City Philadelphia, the Main Line, Delaware and Montgomery Counties.
Affectionately known by all as "Chief," Traynor's words of wisdom fit perfectly into the traditions of his Native American people. Although his appearances were never made in native regalia or with tribal fanfare, audiences always responded to him with affection. His native pride and sense of spirituality prevailed and these were the very attributes that endeared him to all children everywhere.
Hundreds of thousands of families came to know Traynor as "a counselor and leader" from 1945 until his passing in 2003. Although his charitable efforts were never publicized and he never presented himself as a TV performer to such groups, he was recognized as an outstanding personality wherever he appeared. He termed himself "just a fellow citizen determined to aid those in need, any way I can."
His was a totally personal effort never discussed with the press or private interests for his own benefit. Consequently, his help to others became a poorly kept secret that endeared "Chief" to all who really knew him. Millions of families remember him in the broadest possible range of loving devotion. There will be none in future times who can walk the Valley in his moccasins!
- Bob Flannery, Ted Thompson


Bertie the Bunyip / Fabulous Sally Starr
Dickery Doc and Adam Android
Happy the Clown / Chief Halftown
Gene London / A Letter From Gene London
Magic Garden / Captain Noah
Pete Boyle / More Philly Shows