Double A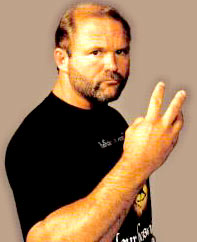 My favorite wrestler of all time is Arn Anderson.
No doubt about it.
Arn wasn't the best wrestler and sadly I doubt that he will be in a hall of fame but he should be. When I sit and think of Arn I feel I should just turn a tap on the side of my head and let all the stories just flow out on this page because I would be laughing too hard to type all those wonderful moments.
But, here goes.
The first interview I ever remember by Arn was when he said he wasn't the kind of guy to blow his own horn but, "TOOT! TOOT!"
There was this amazing confidence that just exploded on the television and people talk about charisma - well, Arn has that in buckets. This was during the Crockett Mid-Atlantic TV period and Arn soon became the guy to watch and listen too.
He never had a boring match or interview and all my friends loved it when he was hand picked by Ole Anderson to be his partner in the new Minnesota Wrecking Crew. Funny, usually the new guy would shut up and do all the wrestling but that was not Arn. He did the bulk of the wrestling during the match and would steal the interview with one or two lines. And Ole Anderson was a great interview and maybe considered the best talker in the late 70s. So Arn having such a powerful presence and standing out so quickly was no easy feat.
He just acted like he belonged.
And he had this uncanny body language that said a lot about how he felt about someone. Few ever mastered this little extra touch but Arn did.
Arn's interview skills were very simple but very effective. He basically beat a guy to death with the truth. His Truth, mind you, but he really got his points across like few could.
Arn continued to shine and it was easy to see why he became a Horseman. Dusty Rhodes was a very lucky man and he knew what he had in guys like Flair, Blanchard, Eaton, Morton and Arn Anderson. These guys could work and sell better than anyone in the business. And they always seemed to balance out the great Mid-Atlantic Territory. The secret of great heels is that they must be the best workers on the card to sell all the faces moves.
And boy did they.
A strange thing started to happen. The Horsemen started to be cheered and the promotion never seemed to understand why. Well, the reason was the Horsemen were portrayed as cool bad guys with the chicks and cash. The faces were your father talking about God and country. Why do people like the Terminator? Because he kicks ass.
That was the Horsemen.
They always seemed smarter and much more prepared than the faces. When Dusty got jumped in a parking lot by the Four Horsemen,He looked like a fool with no friends. And how can you cheer for a fool?
And Arn was no fool.
Another strange thing started to happen. The more the fans cheered the Horsemen the more people began to understand just how bad Dusty sucked as a wrestler. And a landslide started. The ego-driven Rhodes got booed all the time and the heels began to be cheered.
And then the Horsemen began to do house interviews talking about their fans in Greensboro. This put a lot of heat on us but we would just cheer like hell and make signs to show our support. Back then nobody made signs and man did we stand out. Every week there would be an Arn or Tully interview about what we did or what a sign said and what was going to happen at the next show.
It was heaven.
Once I made scorecards and we all began to rate the moves and matches. It was a simple thing but it went thought the roof locally. The channel 12 late news did a feature on rating system in wrestling and showed us giving the moves and matches a score. "That is what the world needs to help us learn what is good wrestling and bad wrestling," the news anchor added, tongue in cheek.
Judges to help us understand.
Arn did a house interview saying he liked the scorecards and of course the Horsemen got tens across the board. That night he was going to wrestle the Junkyard Dog and we would need fractions to keep score.
Later I witnessed the greatest tag team match I ever saw when Tully and Arn battled The Mid-Night Express, Bobby Eaton and Stan Lane . JJ Dillon was in one corner with the Horsemen and Jim Cornette was in the other. It was a night of magic and those six guys really put on an exhibition of timing and match flow that few have equaled. I sat astonished by the command these guys had of the crowd and each other.
The crowd did not have a favorite they just cheered each move and counter move, really getting into the entertainment. One of the magic things about wrestling is the set up where a wrestler will repeat a series of moves and you begin to anticipate the next move due to the repetitive nature of wrestling. Then the wrestler will quickly do a variation or change the move, which really startles the viewer. These creative changes were going on all match and blew everyone away.
This was a big reason why I love wrestling so much.
Later Arn and Tully left for the WWF and the gap in talent was huge. Tully and Arn at that time were one of the best tag teams in the world and man did we all miss them. The Horsemen really just imploded until Flair and Arn returned to WCW a year later. Tully did not return, as he was being screwed and squeezed on a contract. Arn and Tully never got back together and a lot of magic was gone. Those guys seem to think a like and they were the blue print of tag team wrestling to me. I still have the tape when Arn came back to Greensboro and it was a classic. He was wrestling Bob Cook and our signs were everywhere welcoming Arn back home. Arn threw Cook out of the ring and made him read the Welcome Home Arn sign we made. As Arn sat in the ring, he turned looked at us and said, Man, It's great to be home! I still have the TV taping in Greensboro and it is an amazing thing to watch.
Arn once said in an interview that Greensboro was the Home Court of the Horsemen.
And folks that was a license to steal. To me that meant that the heels were never going to lose a match in the Coliseum and they rarely did. We got away with murder from then on because we could talk all the trash we wanted and the heels would back it up with a win. Those were the days my friend, we thought they would never end.
Once I got the crazy idea to make life size Arn Anderson masks and the whole Front Row would wear them during his match. We had a sign that read,"Arn Nation" and we were. Arn loved it and the fans began asking for Arn Anderson Masks. I swear I could have sold them.
Later a friend came by the store I worked for and showed me his Christmas gift. It was an Arn Mask made into a lamp. It was the stupidest, funniest thing I have ever seen but Arn was the man. I wish I had one now.
We car pooled up to Ashville one day for a WCW pay per view that had Arn verses Ric Flair. That was another classic and something I never thought I would ever see but WCW didn't understand how important this match was and cut the time short.
It was a great match and Arn held his own with the legend and his best friend Flair.
Oddly, Arn returned to the ring in Winston Salem for the first match after the near fatal fight with Sid. Arn walked around to our side of the ring and shook everyone's hand. His face was marked and his body had small cuts and short brown slashes. I told him it was great to have him back and we were worried about him. We would have had a sign for him but we didn't know he was on the card that night. He said thanks and he was OK.
Later Arn had to retire wrestling due to a neck and back injury. The night in, night out pounding had taken its toll and Arn and he never wrestled again. WCW did let Arn have his farewell on television and it was an amazing moment when he started to cry and retired for real. Behind him was Chris Benoit and Flair who were both crying too.
It was a chilling moment to watch but of course WCW let this great honest moment be put up for sport the following week by the N.W.O. They should all be ashamed for making fun of a man's career like that. And the fact that he could never really fight back at Hall, Nash, or Xpac for doing it made it suck even worse.
The bastards.
A week or two later I got to go back stage and present Arn with a framed cartoon of the Front Row holding up signs saying, "Arn 4 Ever!" I am glad I did that and Arn told me he was going to put it up in his den.
Thanks Arn, you are the greatest.
Always will be.