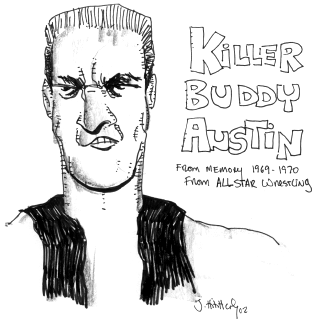 All Star Wrestling
All I know about wrestling is best summed up by a crazy, violent TV wrestling show that came on television in the late sixties at 12oclock on Saturday. I swear this show looked as if it was shot inside a tent.
This fact alone made me drop everything and schedule my day around it. Anything could happen, everything that is grappling was squeezed into this insane hour.
The show started out with a lot of splashed colors, over which was written ALLSTAR WRESTLING, accompanied by some weird background music that sounded like someone trying to kill himself with a pair of bongo drums. I laugh about that intro to this day.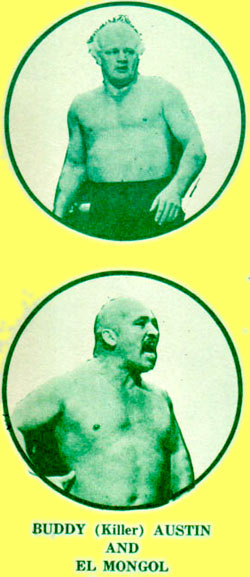 My favorite angle was when they introduced the sadistic heel, KILLER BUDDY AUSTIN. I had never seen this guy before, come to think of it I never saw any of these guys before but Austin was a tall tan white haired veteran that seemed like he hated being there. He was the prototype of what all heels strived to be - hated.
On one show there was this squatty green jobber in the ring and Killer Buddy got pissed off and doing the gentleman thing, piledrove his ass on the concrete floor. Great action and beautiful execution only one problem.
The piledriver was an outlawed move in this tent so Killer Buddy was to be suspended - oh the shame! The pinhead fans in attendance, all 37, seemed to think this was a great idea since the squatty jobber guy was squirming around the ring in pain, like a trout out of water.
The announcers were convinced that the "young lion" would be crippled for life by this move. (Note, if they call you a "young lion" you will never win a match, same is true if you are called a "wiley veteran"). The next week, as special guest, there is Squatty with a neck brace on sitting with the announcers.
They showed the terrible attack again, the violent carnage that seemingly will put poor Squatty out of work. Turns out Squatty has a family to feed - who would have thought it, this guy was making a living in wrestling!
Well, old Squatty starts yelling (I swear this is true), "I will get you Killer Buddy Austin!" He sounded like he read it off a cue card. Suddenly, from behind the curtain, Killer Buddy charges right out to kill this guy . The announcers in classic hurried terms yelled, "IT'S KILLER BUDDY AUSTIN! IT'S KILLER BUDDY AUSTIN!"
Squatty, sitting at the table, was attempting to turn around but, sadly, the neck brace made his effort look like a stuffed sausage squirming around - he screamed, "WHERE?"
Suddenly, Killer Buddy came up behind him and snapped Squatty's injured neck around like he was opening a beer. Oh, the humanity of it all! I laughed my ass off and am still looking for footage of it to this day.
So the very next week, the announcers asked Killer Buddy to come out and explain this outrage. Austin stood by, pissed off, as they showed the tape of all his evil deeds from the last two weeks. "What do you say for yourself, Killer Buddy?"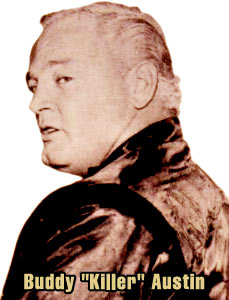 Buddy is now my hero. "That's trick photography!" Buddy cried. "I never did that!" The show came back with a standby match with "young lion" - Indian Jay Whitecloud or was it White Wolf?
Anyway, as the newcomer stepped into the ring. Killer Buddy attacked, ran the young lion's head into the ring post and piledrives him to the studio floor! As the show was going off the air, the referee held up Billy Whitewhatever's head exposing a major league gash screaming blood at the camera. With the glee of a child with a Snickers bar, the announcer yelled, "Look at this ladies and gentlemen,this is not fake! This is real! Our wrestlers are real!"
Ah, the memories of childhood. This show taught me the classic heel build up,the sad underdog challenger angle, and what wrestling was really all about - the morality play.
---
UPDATE: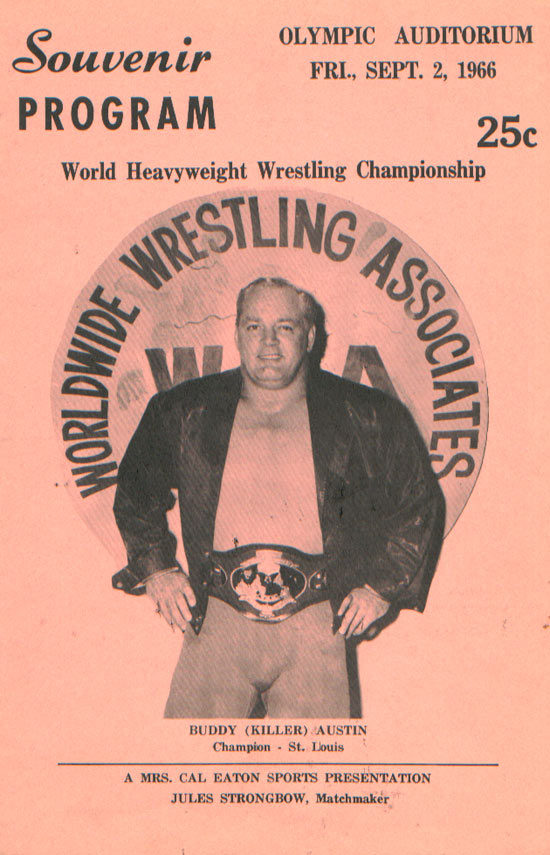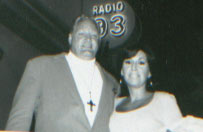 Hi, I worked with Buddy Austin, fought with Austin in and out of the ring. Had dinner with his wife and kids. Buddy Austin was my best friend. There has never been any wrestler who did not know he had been in the ring with Buddy for about 4 or 5 days after the match. Or if he found himself in a Bar with Buddy he never forgot it!
As Lou Thez said he was and will alway's be the world champ. ( Lou won the WWA World championship and it would be Lou's last from Buddy in Oct, 1966 and lost it to Mark Lewin in two weeks).
Buddy had a heart as big as anybody in the world, but he was the last wrestler you wanted to piss off. My question is do you have any of Buddy's matches at all. I know that all the KTLA Los Angeles Wrestling was burned in the early 70's. By any chance do you have anything of Austin? If you do please let me know.
Also when you watched what he did in that tent you laughed - what you don't know is he was not playing a game! To be in the ring with Buddy Killer Austin it was as REAL as anything gets! To Vince his dad would of told him, "There is no hall of fame without KILLER AUSTIN."
- Alan Colker
---
I was the president of the Buddy Austin Fan Club in Los Angeles, CA. back in 1967, 1968. I had the opportunity to personally meet Austin, and he was a great guy in and out of the ring. It was such a tragic event when both his children died in a pool accident, I believe at their Tarzana house. That was basically the end for him and his lovely wife Carmelita. They moved to Hawaii after that and his carrer ended there. Thanks for the memories Austin!

- Shftmar

Next:
Cablevision makes me a star