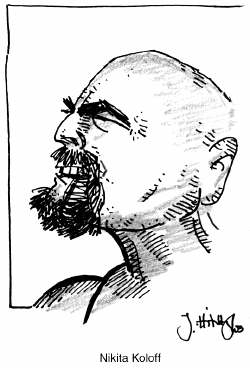 David Crockett, Five Cops, and Dusty Rhodes
I started making signs and taking them to rasslin at an early age. I have a BFA in painting so my signs always stood out.
One of the early efforts was a Nikita Koloff growth chart. This was the time when the Russians were the big heel trio and nobody cheered for these evil commies.
Well, except my twisted friends and myself.
When I held up the chart, Ivan and Nikita stopped and we got a pose from Nikita and Ivan told everyone that we were good Americans. This is the kind of heat that gets thrown drinks and chewing gum. Yes, gum. This one toothless old lady was chewing gum and then throwing it at me. She ruined a new pair of jeans on night.
Another night I made a sign with Dusty Rhodes as the Michelin Man. Flair was in a match with Rhodes when I held up that sign and Flair lost it laughing. Dusty didn't think it was so funny, he tried to spit on the sign. He missed and I am sure some poor woman is still trying to get that lugie out of her blouse.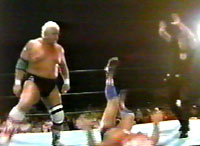 The Dream was an easy target and he had absolutely no sense of humor.
Well, none when it came to himself. When you think back on it, how did this fat ass ever become such a big star? I admit that he was a great interview, and he had a strange charisma. But what a tub.
If you put this guy in any bar no chick would ever talk to him. He would be the lonely old guy at the end of the bar.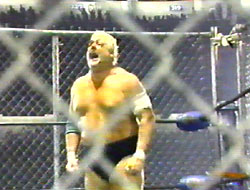 I decided that, since it was easy to get at Rhodes, he would be our next big target. I got friends to help and we made the ultimate signs. This was the day of the little markers so it took along time to make this masterpiece. I think it took about three days in all and we spelled out,
DUSTY SUCKS!
It was beautiful! And no doubt was going to bring the house down. We were pumped to see the reaction.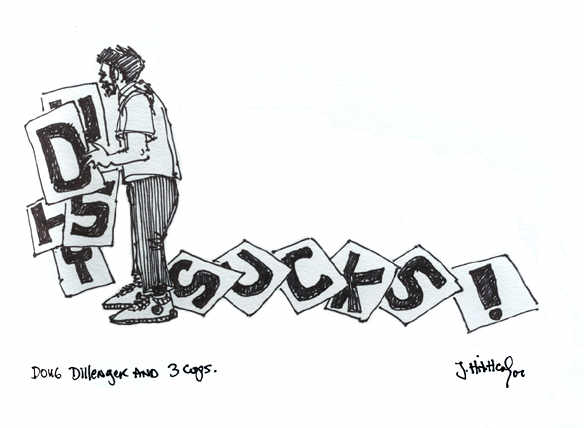 Well, Later that evening at the Greensboro Coliseum...
I was carrying in this huge stack of posters when I noticed something quite strange. There was a group of Greensboro policemen checking everyone for signs. It was unreal to me that this could happen but there they were checking everyone who walked in. As I approached the front gate I heard a familiar voice yell out,
"There he is!"
It was David Crockett. He had Doug Dillinger and five cops waiting on me! Crockett came up to me and said, "You are not bringing in any posters tonight. This is my show and you are not coming in with those damn posters." I swear this was true.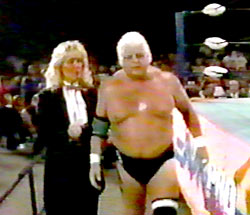 I tried to argue but to no avail. I had to take them out side and hide them under a pine tree .So from then on, Dusty made my list.
I went in and was shocked as I told all my pals that I was stopped at the border by the cops.
Next:
Dick Murdock is the man.
---