Jimmy C and Captain Redneck
A big part of Rasslin is the TV interview. Interviews were always spaced between the TV matches for that little push that would entertain or provoke a viewer to run down and buy a ticket to the live matches. That was the purpose of interviews for the average fan. To my friends and myself the interview was the funniest thing on television.
The Good Guys always seemed put off by this act and the Bad Guys lived for it. I guess that is why the Heels almost always could talk. It was a part of their job to rile the viewers into hating them so much that they would buy a seat and boo the hell out of them.
But to me they were sending hidden messages.
That is right, hidden messages.
The heels were smart enough to have noticed their fanbase - us. And they told us what to do.
They gave us the scoop that would piss off the Babyfaces. I may sound like a nut but all of my friends would watch the interviews and fall out laughing at the rude, racist, or asshole things that they would say. These interviews were the things that we on the front row played off of constantly. It was like a game to see just what grappler would get the biggest reaction in Greensboro.
One night, Jimmy Cornette was managing Captain Redneck and Dick Murdock. He gave an inspired performance in an interview. Cornette stated that he went down to Texas the home of the American Dream, Dusty Rhodes to find out any information that would help Cappy Red defeat Rhodes.
Cornette said he looked high and low and found out that Dusty was not the son of a plumber as he claimed. Dusty's father was a cobbler. That's right, a cobbler. Because everywhere he went the people of Texas referred to Dusty's father as a black loafer.
I know that is an old joke, I had heard it before but it gave me the secret message I was looking for and a poster that was guaranteed to get a pop.
That night at the Coliseum out came Cornette and Dick Murdock. I held up a sign that had a drawing of a black shoe with 'Dusty's Father' written on it. Cornette almost fell down laughing but Murdock did not get it. He just looked confused as Cornette pointed it out.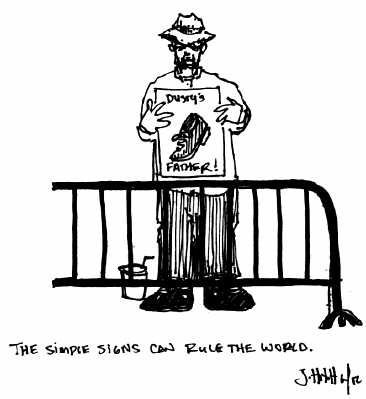 Anyway, the match was a squash and Captain Red Neck beat his guy with his brain buster. I was always so disappointed that I never did see brains busting out of somebody's head whenever they used this finishing move. We cheered like hell for Murdock and I guess he got tired of being in the early matches so he grabbed the house mic and yelled out a challenge to Dusty.
Now this was a loud challenge because they had just put in a new PA system. Man, it was booming as Murdock screamed for Rhodes. Well, you folks already know how much I hate Rhodes SO Billy, Bud and I started chanting, "DUSTY'S YELLOW! DUSTY'S YELLOW!"
Suddenly Dick Murdock stops, hears us and says,
"ALLLLLL RIGHT!"
Murdock jumped out of the ring and held the microphone right in front of us! We chanted out over the whole arena! We got in about five choruses of 'Dusty's Yellow' loud and clear!
Then as Murdock began to take the mic away, I grabbed it and yelled as loud as I could, "AND HE SUCKS TOO!"
I think that is when Cornette lost it. Rarely have I ever seen a real pro crack up like that.
Murdock stood there and smiled and then he saluted us in classic Captain Redneck fashion.
At intermission, I had to go to the bathroom and what was in store for me was a little scary. Just as I got to the hallway, a bunch of fans started yelling at me! I bet it was at least 7 or 8 guys all wanting a piece! Of course, a crazy lady stepped out and really got in my face.
I was thinking that this could get ugly so I started to listen to what this lady was staying. I quote," How dare you say anything bad about Dusty!" she screamed.
"He is the greatest wrestler in the world!"
I couldn't let that go.
I said," If Dusty is so tough why didn't he come out and FIGHT?"
"What's a matter with him, he's not deaf?"
"I think he didn't want any of BIG DICK! And I think that is your problem too old lady! You are scared of BIG DICK!"
I very quickly ducked into the restroom to escape this crowd of nuts. It wasn't my smartest move because I was in close quarters and I was lucky that few followed me. A few people continued to harass me but when I stepped out of the restroom, few remained to defend Dusty's honor. I beat a hasty retreat back to the front row and took a drink shot for my trouble. I stayed on the front row until the show was over. Then I ran like hell to my car.
Every night when we all would leave the arena we would say that it couldn't get any better than that. And you know what?
It always did.
---