Grandma
"How the hell did you get those tickets on the front row every time?"
A question that has a great answer, Marie Brown, known as Grandma to the front row faithful.
We went to every Crockett show in 1985. And I mean every show. In fact, we went to anything with a ring and chairs. It became very important for our safety to sit on the front row. There were security guards at ringside so we had to get as close as possible. I use to get to the ticket booth at seven in the morning just to get choice seats. And on many, many occasions the best I could get was second row.
This really pissed me off.
Imagine being the first in line, every time and getting second row.
Man, I lost it once and started yelling that the world is not fair and we waited, we paid the dues, we sacrificed for the show and it was not right that we had to settle for the second row.
Yeah, I am a spoiled pussy.
Later in the week at an independent show a nice old lady walked up to me and asked if I got the tickets I wanted. I said no and it was so unfair because we waited three hours and was first in line and got shitty seats. She looked at me and said she had an in and could solve the problem.
The deal was you had to pay the show in advance to get the front row seats. Needless to say I was thrilled and gave her some money to start the ball rolling. By coincidence another couple of guys that had suffered with me waiting at the ticket booth were at the show and I got them into the mix.
Those two guys were Obin Johnson and Big Eddie who became front row stalwarts from then on.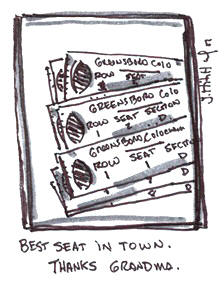 Who was Marie Brown?
I really have a hard time answering that.
She is a wonderful person and from the old school of professional wrestling.
And the stories she can tell.
She use to go to the matches in the forties when they were held on top of the WMCA. That is long before the Greensboro Coliseum was built. She remembers all the classic wrestlers, hell she knew most of them!
She was at the matches the night the Becker Brothers, George and Bobby had their last match. The story was the Becker Brothers were the top face team for many years. Bobby Becker had been diagnosed with terminal cancer but continued to wrestle.
That is what he wanted to do. Honestly, the only thing he could do. Well during this match, Bobby went up for a body slam and just did not get up. He died in the ring that night.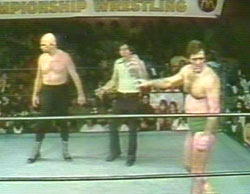 Later George Becker would tag with a young loin named Johnny Weaver (pictured in green) and they would dominate the Mid-Atlantic seen for decades.
Grandma was also there the night of the death of Luther Linsey. He died in the ring as well. Linsey was the first big breakthrough black star and it was big news when that happened.
Grandma even has one of Homer O Dell's canes!
She was at every big match in Greensboro history. Every one!
You name it; she was witness to it all.
Stunning.
And Marie Brown is still alive and as feisty as ever.
We all owe you one Grandma.
---