Remembering Tim Woods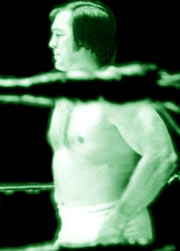 Whenever I think about Tim Woods I think of that great pin move with the three Quarter Nelson when he would wrap the guy up and be standing on his head. No one else ever did that move and it was his trade mark finisher.
This move really pushed the amateur background of Woods. He would come to an area with his Pan Am Metals and really get over that legit aspect. Woods was tall about 6`2` and could really move in the ring.
Woods came back to the Mid Atlantic in a surprise move to challenge Johnny Valentine for his 1000 silver dollars, a TV match that ended with Johnny Valentine breaking Woods leg.
It was one of those scary moments were Valentine stood over Woods that got Johnny Vover as a killer. As Woods lay in the ring, Valentine was interviewed and said that was going to happen to anyone that attempted to embarrass him. This kind of brutal angle was used later with Greg and Wahoo and all remember that one.
I met Woods at the Grady Cole Center, the show that Jim Cornette set up. Alot of old hands were there. Swede, Woods, Scott, Weaver, Nelson Royal, Abe Jacobs, Magnum. Sadly, it was not that well attended. Partly because Smokey Mountain Wrestling was just starting to be seen in the Carolinas.
Tim Woods was about 350 lbs at that time but he was a very nice guy. He signed my posters and would talk about the old days.
Those old guys really loved being together that day and I was really thrilled to meet my childhood.
---