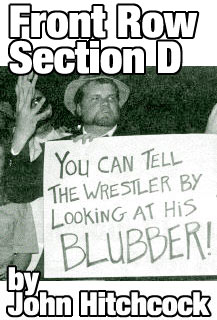 Wrestling Memories
from Greensboro,
North Carolina -
the Heart of
Mid-Atlantic Wrestling
The Greensboro area was
one of the first in the nation
to have cable TV.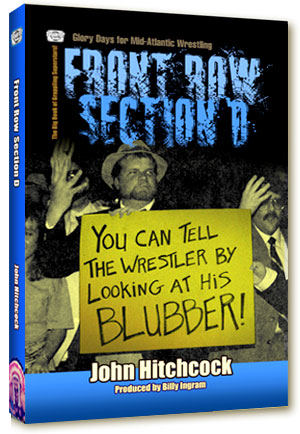 TV Shows on DVD
Holiday Specials on DVD
TV Commercials on DVD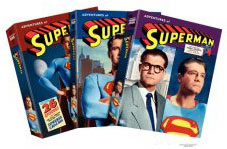 Everything you're looking for is here: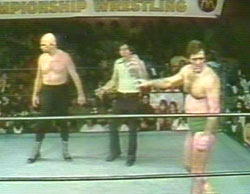 How Cablevision Made Me A Genius
As I have told you folks earlier, I was very fortunate to have had cable TV in the mid-sixties. It took me about 20 seconds to realize this fact gave me tremendous power.
The MID ATLANTIC WRESTLING SHOW would come on three times a day. At 4:00 from Raleigh, at 5:00 from Winston Salem, and a repeat show at 11:00 out of Winston Salem.
Doesn't sound like the keys to infinite wisdom, does it? Oh man, how wrong you are grasshopper!
A lot of the times, starved for good booking ideas, the fine folks at Crockett Promotions would repeat angles - the same heels just different faces. What a hoot! And it set up my personal road to ultimate wrestling power. Amaze your friends!
Anyway, one day Crockett ran this angle with Playboy Gary Hart and Rip Hawk where Hart claimed that no one in wrestling can last ten minutes with the great Ripper and put up one thousand dollars to prove it. Well, out comes Jerry Brisco of the famous Brisco Brothers to accept the challenge!
The match went about seven minutes and what do you know, Jammin' Jerry pins the fifty year old Hawk. Well, into the ring struts the Playboy with one thousand dollars (ten hundred dollar bills) and says he is a man of his word and will pay his debt to weak link Brisco. Hart starts to count out the money one bill at a time with the television crowd cheering along with each bill. One, Two, Three, and at Ten he misses Brisco's hand.
What an error. Brisco bends over to pick up the LAST BILL and in that position is vulnerable to Hawks finisher the piledriver. Taking full advantage, Hawk drops the foolish Brisco on his head and Gary Hart scoops up the cash and kisses the loot with happy glee.
Brilliant, except for one little thing. At 5:00 PM they did the exact same angle!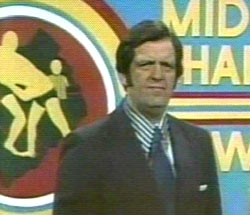 Only the chump this time was long time face Johnny Weaver (pictured). I had a group of friends stop by and I said to the group, he's going to drop the last bill, watch and then he is going to be in the perfect position to be piledriven by Rip Hawk! And low and behold it was true!
Man what a pop at the Hitchcock household! All my pals started yelling, "how did you know that"? And I told them the scoop. Then we all realized that Johnny Weaver must be the world's dumbest wrestler for falling for the same thing an hour before.
So from then on we made a special award called the Johnny Weaver Dumbass Award every time something like this happened.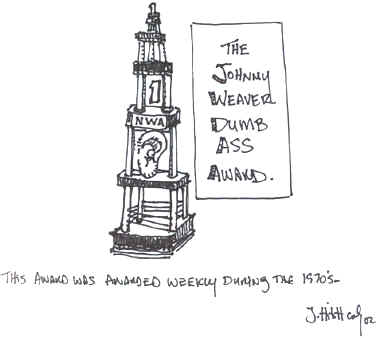 Next:
Why Harley Race rules the World.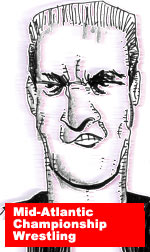 The legends of TV Wrestling!
The Horsemen!
George 'Two Ton' Harris
... and more in John Hitchcock's
decades spanning look at
Mid-Atlantic Wrestling!
1970's TV shows on DVD
1960's TV Shows on DVD