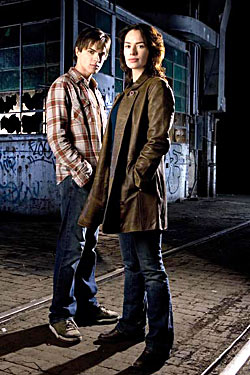 Terminator: The Sarah Connor Chronicles
I loved the Terminator movies, I even kinda liked Terminator 3 and that takes a forgiving nature. Now Fox is offering a weekly version of those films called The Sarah Connor Chronicles, a fast-paced, explosive sci-fi adventure series that crackles with excitement amid a relentless barrage of gunfire, fireballs, exploding police cruisers and tire screeching car chases.
In this series, John Connor is a back to being a teenager; he and his responsibly paranoid mother Sarah are being chased all over the landscape by killer robots from the future and present day government agents.
Fortunately for the Connors the Terminators on this show are the slow moving, methodical type. The kind of killing machine that will stop in the commission of its prime objective just to fire off a joke. Like after shooting up a high school science lab, the Terminator halts his pursuit of John Connor long enough to look back, pause and tell the students - "Class dismissed." But then again, if the Terminator had foregone this all-too-understandable momentary pleasure, John Connor would have died in the first 20 minutes and there would be no series.
Also most fortunate for John Connor (but not so much for his mom) is that the robot sent from the future to protect the teenager looks like a supermodel hottie, an adorable young nymphet with bionic lips and heavy metal hips who gets to thrash all the guys she wants.
Action costs money. The longer you can stay in one spot on television the less expensive the show is to produce. If you're standing still you're talking so The Sarah Connor Chronicles contains it's share of mother and son bonding, robot and boy bonding - not to mention governmental types expressing their concern over the curiious fact that Sarah Connor keeps turning up at one crime scene after another.
Still, there's more than enough bang for your buck. Is the premier episode of The Sarah Connor Chronicles as good as the first episode of Lost, Prison Break or 24? Not quite. But perhaps this first episode has to set up the premise for those who haven't seen the movies and that's why Chronicles sometimes has a 'been there, done that' feel.
That's not to say this show can't become a great series. The elements are all in place, the premise is strong and time tested. All that's needed now are some superior scripts. Could happen.
Terminator - The Sarah Connor Chronicles won't debut until mid-season but it looks like Fox has a winner with this one. Why they didn't schedule it for fall is a mystery to me.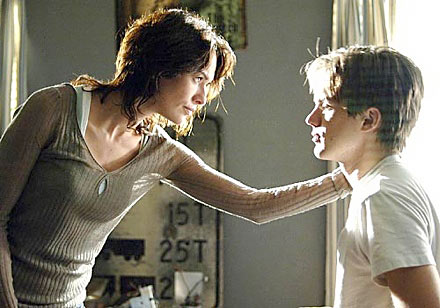 The trailer from You Tube:
---
2007-08 TV
SHOW REVIEWS
Terminator: The Sarah Connor Chronicles
---