On Tour: Florida
Flair verses Fujinami was the main event at St. Petersburg and the Front Row crew jumped on a plane and went down to the Sunshine State. Florida is a hot damn wrestling state and every wrestling newsletter subscriber in the country was there. We all met up with the Florida and Atlanta groups at the hotel. Man, it was great seeing all those guys. I wish they were chicks but you can't have every thing.
There was an independent show not too far away on the day before the big show so everybody took off for rasslin action. The show was outside on a shuffleboard court with a lot of old steel chairs around the ring. The place was wild. Every obsessed fan in the country was there and the Front Row felt pressure to turn this shindig on its head. I looked at Bruce and Obin and we knew it was time to put up or shut up. It was time for Greensboro to show everybody just what the Front Row was all about.
And we did.
I think we yelled at everyone at sight. I yelled at some young rowdy kid that was cussing me. I said that Kermit the Frog would be ashamed of him if he could see him now. And believe it or not the kid shut up and began to tear up. Note, that kid will never be Front Row material, no guts. The place responded and this show became a nut house. That afternoon, an independent Television station wanted to do interviews with the name hardcore sheet writers. Meltzer, Keller, Bowdren and Mitchell got airtime. I got the boot.
I was not worthy of airtime even though I was told to be there. Maybe that set the tone for the independent show later. No, that's not true, we always act that way.
There was this small time manager there with the catchy name of Mister Fritzie. During his match he sawed his head off for our enjoyment. This guy bled buckets and after his match I saw the surreal image of Mister Fritzie with his head wrapped up in gauze and blood standing next to Dave Meltzer trying to get a big break. I pointed this out to Bruce and we agreed it is a strange life Meltzer leads. Every nut in the world saddle up to Meltz when he want to be left alone and watch the show.
God, that was really weird. I will never forget that image.
Then the fun began.
This one crazy woman really got pissed at us taking over the show. I can assume this was her home court and she was a face fan. That night the shuffleboard court was my court not hers. She got so pissed off that she started screaming her head off at us. Then she stomped back to her front row seat and sat down in a huff. When she sat down her metal seat exploded to the ground! Man, she really got the treatment then. I think she got up and left the show.
There was this match with Bob Cook verses Mister Tits. I can't remember his name but that is what Bruce called him and we all know Bruce is a self-proclaimed expert on wrestling. And the guy didn't like that one bit, Mister T lost it and started to go after Bruce. Usually I would step in and protect the weak but, Hell it was Bruce and he deserved the beating. I mean, just because this guy has big tits due to steroid use is nothing to get upset about. Think about if, if you get on the juice you should expect a nice rack. Be proud young man! Be proud!
Kill him Mister Tits! No sweat off my back.
Bob Cook came to the rescue and kicked T in the head from the ring. And the wrestling suddenly spilled back into the ring.
You know I use to like Bob Cook.
This show was an odd group of has beens and never wills. They had a Battle Royal and this freaky six hundred pound guy won. I think his name was Man Mountain Brody. And we all know the reason this guy won is because if he fell out of the ring he would have died. Suddenly, after the match this huge chick wrestler name Pink Cadillac got in the ring and challenged Mountain. She said
And I quote, "My clit is bigger than your balls!"
I hope the children in attendance will be forever wondering just what that means.
Thank God that Florida is not "the show me state".
Oh! And Buddy Landell no-showed the main event.
( Didn 't we all wish he would have no-showed Charlotte?)
Well, another wonderful day of culture in Florida .
The next morning WCW had the class of having an autograph session for the fans. The best part was Boris Malenko showed up and we all had the chance to talk to him for a while.
Malenko was one of my favorite stars of Florida Championship Wrestling. And he was very nice and patient with all of us. A little later we got the chance to talk with Lance Russell and Gordon Solie.That was another real special moment. Hudson, Prazak and I grabbed up a chance to talk with Bob Roop for about an hour. Roop was a tremendous wrestler all through the seventies and he was really honest and funny with his memories of Florida . What a super time we all had.
That night was the Flair verses Fujinami card and I was not disappointed. The guys from Florida got us Front Row seats right behind the announcing team of Tony Shavanto and Dusty Rhodes! The TV viewers at home turned on the Pay Per View and there was Greensboro 's finest with a sign reading, "Front Row on Tour!" It must be fate right?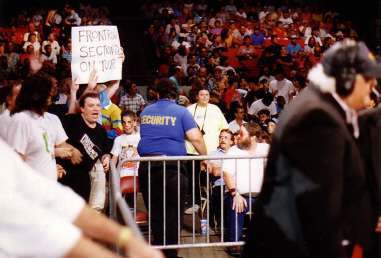 The Front Row On Tour in St. Petersburg, FL., 1991 (Dusty Rhodes at right.)
Man, We had a ball at that show. We all had a blast giving Dusty shit all night. For me that is the American dream, the freedom of lighting up Rhodes for three hours.
The show had the amazing site of the first appearance of Jim Herds latest creation, Oz.
This was a total bomb right out of the gate. As soon as Kevin Nash took off his rubber mask some kid near me said, "Aaaaahh, that is not OZ! That is that stupid Master Blaster!"
From the mouth of babes comes the truth.
That crap was really funny. Think about it. A company worth about a billon dollars came up with this shit and thought that we would buy it. Well, a ten year old wouldn't believe it, that's for sure.
We also got to see a great match with Luger and Sting verses the Steiner Brothers. Those guys did a super job of using each others finishing moves on each other. It was a hard-hitting match and was the best match on the card.
Then came the main event with Flair verses Fujinami. It was a great match too. Both guys worked their tails off. There was one bad moment when they both went for the double bridge move and missed it badly. I think that was the first time Flair had ever shown his age in missing a move. It was a super weekend of graps and I wish you all could have been there.
At the airport getting ready to go back home we ran into the Sting family. Sting had warmed to the Front Row over the years and he had his wife, family and infant son was with him. He waved us over and we talked about the show. He was a nice guy even if I always thought of him as Stink.
As we boarded the plane, Sting stopped me. He was sitting in first class and he wanted to know what I thought of Flair's match. I said it was really super. He said that Flair was really worried about it. Flair didn't think it was as good as it should have been. This showed me how much Sting cared about the business. He really wanted to know what I thought of Flairs match not his. It was also fun giving him hell as he walked his crying son up and down the isle trying to get the kid to sleep.
Look at daddy Sting! Aaaahhh! Isn't he cute!
Man that was a hell of a trip.
Next:
On Tour:
the Frozen Meadowlands