TV shows on DVD Reviews - New & Classic TV Titles!
Lovers of classic television, you're in luck. The studios are releasing entire seasons of your fave shows on DVD - and doing it at a frantic rate.
How can you keep up with what's new? Afraid you're going to miss your favorite show when it FINALLY becomes available?
We'll feature the best collections right here!
(Click on the titles to order - huge discounts
and free shipping through Amazon.com!
---
NEW RELEASES: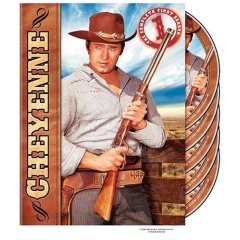 Cheyenne Season One
John Wayne complained about 'drawing room westerns' that portrayed life in the wild west but rarely left a soundstage (Bonanza for instance). Cheyenne doesn't fall into that category, it is rich with desert texture, shot not just on the Warner's stages and backlot but in the scruff and brush of the California landscape.
Cheyenne is Deadwood in its infancy; the first of TV's 'adult westerns.' These 15 episodes on 5 discs provide excellent viewing for a lazy weekend in front of the television with plenty of action and a plethora of dead bodies (but no blood, of course) before the episodes end.
There are loads of familiar faces for western genre fans (for instance, folks like James Garner and Dennis Hopper) in this beautifully designed collection of shows from 1950-56. Cheyenne's Clint Walker and L.Q. Jones led the way for Warner Bros. productions that came to dominate the medium over the next few years; light-heatered dramas like Sugarfoot, Maverick, 77 Sunset Strip and other TV faves that fans are itching to see on DVD. A great value.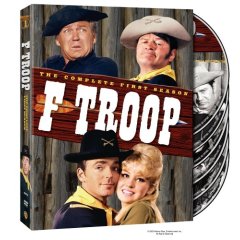 F Troop
If you grew up with television in the late-'60s / early-'70s you'll remember F Troop from the ubiquitous reruns on local stations. It was a '60's favorite that was in the same silly vein as Gilligan's Island and Hogan's Heroes.
I suppose F-Troop's not what you would consider politically correct - especially when you realize the Native Americans were practically all played by middle-aged Borcht Belt comics - but it's good, clean fun none the less. And with guest stars Don Rickles, Harvey Korman you can't go wrong, can you?
Buy this collection (34 episodes on six discs) for the kids and you'll find yourself enjoying it as well. It's bizarre how you can not see these episodes for thirty years and still remember them vividly.
Both Cheyenne and F-Troop got a test run in the Television Favorites line (featuring around 6 hours of episodes) from Warner Bros. Home Video. Sales were evidently encouraging so now we have whole seasons of both TV classics. Check out these other shows in the Television Favorites line:
Chico & the Man
Welcome Back Kotter
Drew Carey Show
Alice
Step by Step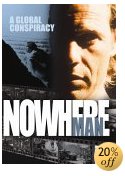 Nowhere Man
"My name is Thomas Veil, or at least it was. I'm a photographer, I had it all: a wife, Alyson, friends, a career. And in one moment it was all taken away, all because of a single photograph. I have it. They want it. And they will do anything to get the negative. I'm keeping this diary as proof that these events are real."
Before 24 there was - Nowhere Man, UPN's celebrated, low-rated 1995 Sci-fi drama with a twist - a cross between The Invaders and X-Files. Salon called it, "a pop culture bubble floating up from the murky depths of our collective paranoia."
If you enjoy 24 and want more - Nowhere Man will fully quench your hunger and lead you down unexpected corridors with some highly imaginative storylines and superlative production.
Because this is an Image Entertainment DVD collection, this eye-popping 9 DVD set contains all 25 episodes along with a massive dose of extras - audio and video commentaries by Larry Hertzog, Bruce Greenwood, Peter Dunne, Steve Rodman, Art Monterastelli and Ian Toynton, interviews with the show's creators, deleted and extended scenes, promotional spots, outtakes and a couple of fascinating documentaries. Fans of the show are ecstatic but if this is your introduction to the series (as it was for me) you'll be duly impressed.
Not to be missed, one of the best shows you never saw!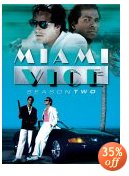 Miami Vice Season Two
Journey back to those halcyon days of 1985 with the second year of the 'New Wave' decade's biggest crime drama, Miami Vice. The original music tracks - the fashions - exotic Florida locales (many of which no longer exist) - it's all here for the show's legion of fans. I never watched the program before myself - and it's not as bad as I expected. In fact, it plays better today than twenty years ago, I suspect. Now we're all in on the joke - it's nothing if not mind-numbing fun.
In this, arguably the series' best year, you'll find an unusual array of guest stars - Frank Zappa, Ted Nugent, Edward James Olmos, Penn Jillette, Iman, Miles Davis, Leonard Cohen, The Fat Boys, Gene Simmons, Little Richard and too many others to mention - including up and coming actors like Nathan Lane and Michael Richards. There are no extras, just the 22 episodes that comprised the exiting second season.
A Miami Vice movie is due this summer (there's a trailer here) - so we can look for season three soon, I suspect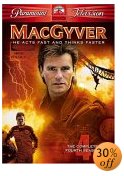 MacGyver - The Complete Fourth Season
MacGyver was the surprise hit of the 1985 season, so popular the name has become synonymous with improvising a fix, turning something useless into something that saves the day. As in, "MacGyver it!"
Season four (episodes 65 through 83, 1988-89) represents some of the best storylines for this fondly remembered globe-spanning action series starring Richard Dean Anderson in the role of a lifetime.
During this year the series hit its peak of popularity with guest stars like Teri Hatcher, Cuba Gooding Jr., Michael Des Barres, Jason Priestly and G. Gordon Liddy. This collection is austere - you merely get the fourth season episodes with no extras - but then that's what you're paying for isn't it?
This collection will make a great gift because it's brand new - just released on December 6th. And the price is right, less than $30 from Amazon with free shipping - you can even order seasons 1-4 in one convenient package and save more $$$$. Get MacGyver for that '80's TV fan now.
---
CLICK HERE FOR A LIST
OF EVERY CLASSIC
TV SHOW ON DVD
---
---
More Classic TV on DVD
collections reviewed here
Classic TV Shows
on DVD reviews 3
---