* Classic TV Blog *
Your host: Billy Ingram
30 YEARS AGO
Speaking of Christmas specials, I posted this before but you may have missed it - or I may not have posted it, who knows? It's culled from some audio tapes I made as a kid by holding a tape recorder up to the TV. This clip is a Holiday themed monologue from the Johnny Carson Tonight Show sometime around Christmas of 1976.
Friday, December 22, 2006 - 1:29pm
WOULD YOU LIKE TO RESPOND?
CHRISTMAS SMOOTHIE
I did a rash of radio interviews around the USA yesterday and today, talking about those great classic Christmas specials. I particularly loved the Andy Williams shows and those hosted by the immortal Bing Crosby. Crosby was the first teeny-bopper star back in the 1920s; his relaxed style stemmed from the fact that he was a damn fine crooner and remained one all the way to the end of his life in 1977. Here's Bing Crosby singing White Christmas from a 1966 TV production.
Friday, December 22, 2006 - 1:05pm
WOULD YOU LIKE TO RESPOND?
CHRISTMAS CHEER
To remember the great Joe Barbera who passed away recently, here's MGM's Tom & Jerry doing the T'Was Night Before Christmas from You Tube.

Thursday, December 21, 2006 - 3:07pm
WOULD YOU LIKE TO RESPOND?
MORE ON HOT DOG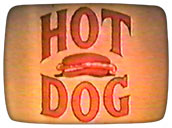 - Keith Schad tells us:
I too remember the Hot Dog programs and I thought they were terrific! However, I was too young to see them on TV. I remember them from elementary school, when they would show them on 16 mm projectors. I have a 16mm projector now and I sometimes buy old educational films from ebay. I always watch for Hot Dog films, but have never seen one yet. I would love to see an entire episode!
- Kevin S. Butler offers some details on Hot Dog:
Hot Dog is now available on the website tvdays.com where a clip of one show that explains how Baseball gloves are created and sold to kids.The clip also features comic / character actor, mimic and comedy improv expert Jonathan Winters playing a nutzy baseball player.
Hot Dog is Woody Allen's only stint on a network series on a regular basis and his only involvement with a kid's TV show. The series was first seen on NBC's mini-series of kid's specials American Rainbow on a Saturday morning in 1970.
The show was sponsored by Howard Johnson's family restaurants and hotels and the commercial spokesman for HJ's was the late Bob McAllister, the fifth and last adult host/performer of WNEW channel 5 in NYC's Sunday morning comedy/variety kid's program Wonderama.
Tommy Smothers appeared on the pilot with Mr. Winters and Joanne Worley (of Rowan And Martin's Laugh In fame), the show was picked up by NBC for their fall schedule. For whatever the reason, Mr. Smothers was dropped from the show and was replaced by Woody Allen.
Hot Dog lasted one season on NBC Saturday mornings.
Here's another short clip from the show.
Tuesday, December 19, 2006 - 3:27pm
WOULD YOU LIKE TO RESPOND?
MORE MERRIMENT
NBC's The Office has a lot of fans, most of my friends love the show. But having seen the original British production, the American version comes off as a pale imitation. Here's the first 9 minutes of The Office Christmas Special that I feel is one of the best holiday related TV programs of all time. The humor is impossibly dry, an acquired taste for sure, but this one-hour special delivers uncomfortable laughs and delicious pathos in just the right mix.
Monday, December 18, 2006 - 12:03pm
WOULD YOU LIKE TO RESPOND?
HOT DOG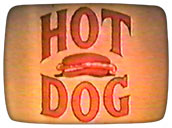 There are lost TV programs I've been searching for for years, most I suspect will never turn up but I'm always pleasantly surprised when they do. One of those Holy Grail shows was the Peabody Award-winning children's series Hot Dog, which aired on Saturday mornings in 1970. Hot Dog was a wildly entertaining educational broadcast that showed kids how things were made - pencils, crayons, money, toothpaste, etc. interspersed with funny comments from Joanne Worley, Jonathan Winters and Woody Allen.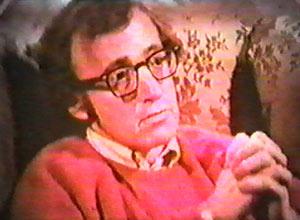 Here's a brief tease from a tape sent by Pete Delaney. He has written a wonderful article on the TV career of Woody Allen which will run on TVparty in a few days and will contain rare clips, including a longer segment from Hot Dog. Need more now? Here's the theme song. The video quality's not great as it's filmed from a 16mm projection.
Hot Dog was produced for NBC by Lee Mendelson (one of the guys behind the Charlie Brown specials) and Frank Buxton who hosted Discovery on Saturdays in the early-sixties.
Thursday, December 14, 2006 - 8:03am
WOULD YOU LIKE TO RESPOND?
LOST & FOUND
Here are some more clips from those old audio tapes I hipped you to earlier. Remember, I had a fondness for taping shows that were losers.
Here is the end theme from Funny Face, a short-lived series starring Sandy Duncan that followed All In The Family in 1972. It was an old-school style sitcom with Sandy interacting with her kooky co-workers and her zany neighbors. The show was a huge hit - mostly because of the massive lead-in audience All in the Family afforded. Sandy quit the show to undergo an eye operation. The production was revamped and renamed The Sandy Duncan Show after Sandy recovered. That show flopped on a different night and time.
A few years later, Sandy Duncan was a guest on Van Dyke & Company, Dick Van Dyke's failed variety series in 1975. Here's a minute from that.
One of the 1970's finest westerns, Dirty Sally, was an amusing half-hour comedy-drama spinoff from Gunsmoke starring Jeanette Nolan as drunken, irascible old Sally Fergus and Dack Rambo as her long-suffering sidekick. The couple were traveling west to the gold fields, think Route 66 with a mule wagon. Lasted a few brief weeks in 1974.
Make Room For Daddy - or The Danny Thomas Show - left the air in 1965 but was revived in 1970 as Make Room for Granddaddy for one full season. By that point the old-fashioned family sitcom was as dead as Danny Thomas' chance for a TV comeback. How Corny was it? One episode had Here's Lucy's Lucy Carter guest starring as a friend of the family.
Here's the impossibly boisterous theme song for The Bob Crane Show, a lame attempt to fit Crane into the Mary Tyler Moore mold. The theme starts out with heavy percussion (Crane was a drummer after all) then gets so lofty you'd swear it was the second coming of Christ.
Wednesday, December 13, 2006 - 2:57am
WOULD YOU LIKE TO RESPOND?
RADIO INTERVIEW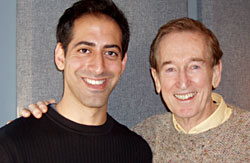 I've appeared on The James Rana Show a couple of times and had a blast. One of those broadcasts will be rerun on Christmas morning, James and I discuss classic Christmas specials. James tells me: "The interview went very well. A lot of listeners tuned in. I'm actually re-airing it on Xmas Day at 1pm. Here's a picture I wanted to share with you. I had the opportunity to hang out with Sesame Street's Bob McGrath. He's the world's nicest person. He told me wonderful stories about Jim Henson. We both agreed that Christmas Eve on Sesame Street is one of the holiday programs lost treasures and unfortunately neglected."
If you're in the Teaneck, New Jersey and surrounding area, tune in on 89.1fm WFDU or online at: www.wfdu.fm.
Tuesday, December 12, 2006 - 10:47am
WOULD YOU LIKE TO RESPOND?