* Classic TV Blog *
Your host: Billy Ingram
TIMELESS VIDEO
Classic TV lovers are constantly on the look out for those obscure shows they loved to finally appear on DVD. I know because they send their requests to me (by the way, the top requests in to TVparty! are Route 66, The Carol Burnett Show and Cher.)
The folks at the Timeless Media Group kindly sent me a huge selection of classic shows they have currently available and it's an impressive catalog; forgotten, hard-to-find shows from the 1950s and '60s like One Step Beyond, The Third Man, Lock Up, The Mickey Rooney Show aka Hey Mulligan (a sitcom so bad it has to be seen!), Burns & Allen and The Lucy Show as well as dramatic anthologies like The Loretta Young Show and Four Star Playhouse (with Ida Lupino, Dick Powell, David Niven, Merle Oberon, Charles Boyer and others). There's a huge collection of largely forgotten westerns - Annie Oakley, US Marshall, Frontier Doctor, Judge Roy Bean, Last of the Mohicans, Kit Carson, Shotgun Slade and others.
They also have a bargain priced 2 DVD set called Classic Television that gives you a Sunday through Monday selection of fine shows like You Bet Your Life, River Boat, Studio One, Texaco Star Theater, Riverboat, Topper, Twenty-One, Mama, Jack Benny Show (an underrated series for sure), I Married Joan (another funny one) and a bunch more. Watch a little or a lot, it's a nostalgic trip, a classic TV sampler of sweets. These are nuggets from the golden age of television, when producers and directors were inventing the whole idea of what television would become.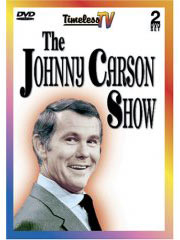 One standout release contains rare episodes of The Johnny Carson Show and they are a joy to watch - to see this master at work before his long running Tonight Show gig is a rare treat. This collection in particular is wonderful from start to finish, with an episode of The Jack Benny Show and a couple from the game show Who Do You Trust, hilarious bloopers and the programs even contain the original commercials so it's very much like watching them as they were originally broadcast. There are also a couple of Budweiser sponsor skits from the 1970's Tonight Show and a cool bio. Hours of entertainment for only $6.00!
Some series of interest: Passport to Danger starring Cesar Romero; Lock Up with Macdonald Carey as a low rent Perry Mason; One Step Beyond, a 1960's thriller that was popular in syndication through the 1970s; and Racket Squad with guest stars Frances Bavier (Aunt Bee) and Hugh Beaumont (Leave it to Beaver) in one episode.
Their Website resides at - timelessvideo.com or you can click on the links above to order from Amazon.
Thursday, February 22, 2007 - 9:59pm
WOULD YOU LIKE TO RESPOND?
TV ON DVD
Bob Huggins weighs in on my previous post about TV shows I'd like to see on DVD:
A few comments on your list of TV shows that you'd like to see on DVD.
"Car 54, Where Are You?" had a number of episodes released on VHS by Republic Pictures which was absorbed by Artisan which, I believe, is now owned by Lion's Gate. I believe, the rights for many of the TV shows that Republic had are now with Paramount. Assuming that Paramount is the rights holder, then I think there's a chance that we might eventually see this on DVD. Among the major studios (Fox, Paramount, Sony, Universal, Warner), Paramount has the best track record for vintage black & white shows.
"It's About Time" was a United Artists production; UA was absorbed by MGM, which was absorbed by Sony though, supposedly, Fox is now distributing MGM TV titles (e.g., "The Addams Family"). I doubt the big studios would release this . . . probably better off at an independent like Shout! Factory or S'more Entertainment. The question is, will the big studio license it out to a smaller independent?
"Route 66" is owned by Sony, which has one of the worst track records for releasing black and white shows. Save for "Hazel," every black & white show that they have released ("Bewitched" and "I Dream of Jeannie"), has also been offered in a colorized version. Also, the majority of Sony's pre-1980 classic TV releases are comedies. It's my understanding that Image Entertainment, which released 60 episodes of "Naked City" (from the same producer as "Route 66") attempted to license "Route 66" from Sony but was turned down. I'm afraid this one might be a long shot, given Sony's stance on licensing. A better chance for release of a great 1960s drama might be "The Fugitive," which is owned by Paramount which, again, has the best track record for vintage TV series on DVD, among the major studios.
"Man from U.N.C.L.E." is another one in "rights hell." Both Warner and a member of the original producer's family are claiming rights. Anchor Bay was working with, I believe, the producer's daughter to have this released last Summer, but Warner claimed ownership and the release was halted.
"Batman" is simply a mess between Fox and Warner. Has anyone ever heard of "shared profits?" Apparently, the lawyers for both of these studios have not.
In addition to "The Fugitive" which, I believe, will be released by Paramount, I'd love to see some of the old Ziv television productions. Outside of MPI's "The Cisco Kid" and some public domain releases of shows like "Lock Up" and "Meet Corliss Archer" (both from Alpha Video), there really hasn't been too much of the Ziv catalog released.
The two standouts, in my humble opinion, worthy of a release are "Highway Patrol" (Broderick Crawford) and "Sea Hunt" (Lloyd Bridges). I'd be happy even for a "Best Of" release on these two series. MGM owns the rights to the Ziv catalog.
Incidentally, I like Paramount, because they are also doing a good job in releasing color shows from the 1960s, including "Hogan's Heroes," "Mission: Impossible" and "Hawaii Five-O" (admittedly, mostly a Seventies show that started in the late 1960s).
TV-on-DVD releases from the major studios of shows that had at least one season in black & white: I have excluded the independent releasing companies from this list, but I think that Image Entertainment deserves a nod as they have released black & white shows like Combat!, Naked City, The Dick Van Dyke Show, Tales of Tomorrow (early live Sci-Fi anthology series), The Gene Autry Show, The Twilight Zone, The Howdy Doody Show (now out of print, I believe), and possibly one or two more that I may have overlooked.
Fox: Lost in Space
Voyage to the Bottom of the Sea
Note: Fox is also the distributor for MGM's "The Addams Family"
Paramount: The Andy Griffith Show
Gunsmoke
Have Gun Will Travel
The Honeymooners (Classic 39)
I Love Lucy
Perry Mason
The Phil Silvers Show (Sgt. Bilko)
Rawhide
The Wild, Wild West
Sony: Bewitched (also released in colorized version)
Hazel
I Dream of Jeannie (also released in colorized version)
Universal: Alfred Hitchcock Presents
Leave It To Beaver
The Munsters
Warner: The Adventures of Superman
Cheyenne
F-Troop
Gilligan's Island
Maverick (TV Favorites 3-episode release)
Note: New Line Cinema (a Warner company) released season 1 of "Wanted Dead or Alive"
MGM (pre-Sony ownership): Mister Ed
The Outer Limits
- Regards, Bob Huggins
Wednesday, February 21, 2007 - 1:03pm
WOULD YOU LIKE TO RESPOND?
CHUCK McCANN CORRECTION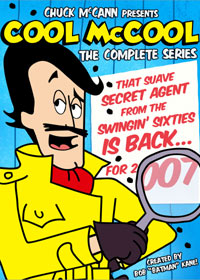 Kevin S. Butler points me to an error on the attribution for the Chuck McCann clip I pulled from You Tube the other day. He should know: "This clip is not from Let's Have Fun, it's from the WNEW TV Channel 5 NYC edition of The Chuck McCann Show.The character is named Dick H. Dump and the sketch is titled 'Bunko Squad With Dick H. Dump.'
"Chuck had played Dick Tracy in a series of comedy skits that spoofed the New York Sunday News/ New York Daily News comic strip characters on Let's Have Fun and on the WPIX TV 11 NYC version of The Chuck McCann Show Sunday mornings and weekday afternoons but Chuck and his puppeteer Paul Ashley left WPIX following creative disputes with station management during the summer of 1965.
"They joined up with WNEW 5 in NYC on Tuesday September 7, 1965 when The Chuck McCann Show began airing on channel 5 as a weekday afternoon/ Saturday morning show for one year. Chuck could not use the name Dick Tracy since that name was owned then by the New York Tribune/ Chicago Tribune News Syndicate hence he created the name of Dick H. Dump for his character."
Want to know more about Chuck McCann?
Wednesday, February 21, 2007 - 8:48am
WOULD YOU LIKE TO RESPOND?
ON THE TV



Halfway Home is a new, very funny improv-based sitcom that debuts on Comedy Central Wednesday, March 14th. It revolves around a halfway house for parolees in the Crenshaw district of LA and is very much in the vein of Reno 911; in fact, a collection of second banana players from Reno 911 makes up the cast.
From the press release: The cast features Kevin Ruf ("Fun with Dick and Jane," Groundlings member), the house supervisor who attempts to rehabilitate the misfit parolees including Oscar Nunez ("The Office," "Reno 911!"), a male prostitute who uses sex to get what he desires; Jordan Black ("Punk'd," "Mad TV"), a wanna-be terrorist who is really just a rich kid from California; Regan Burns ("Oblivious," "The Movie Club") the house narc who has an uncontrollable obsession with fire; Jessica Makinson ("Joe Schmo 2," "Trigger Happy TV"), a drug trafficker who can't give up her old habits and Octavia Spencer ("Coach Carter," "Spiderman"), an armed robbery convict.
Halfway Home is executive produced by Damon Jones, Oscar Nunez, Kevin Ruf and Jay Martel and co-executive produced by Bruce Smith and Matt Sloan.
Comedy Central is home to some of the best television shows around right now - The Daily Show, The Colbert Report, Reno 911, Chappelle's Show, South Park - and it looks like Comedy Central has another hit on its hands with Halfway Home.
There are some promising characters, the setting is solid and the cast top notch. Vulgar, crass, brash - the first episode of Halfway Home is wall-to-wall laughs. Don't miss it.
Wednesday, February 21, 2007 - 7:59am
WOULD YOU LIKE TO RESPOND?
FREE SITCOM PITCH
Every once in a while, I'm going to throw out some sitcom ideas. If you're a television producer feel free to steal anything you like.
I'm of the belief that people enjoy seeing the stars they grew up with. That's why we see so many on reality shows. It seems to me with the new, massive market in TV shows on DVD, producers could increase the value of the classic TV shows they have in inventory by mounting some sort of new production.
How come someone doesn't do a new version of The Beverly Hillbillies starring Max Baer, Jr. & Donna Douglas?
Here's the setup - Jethro is a venture capitalist, the Clampett money (those oil wells are still pumping) backing up his outrageous, ridiculous business schemes - like a movie studio that pumps out nothing but bombs with inappropriately cast stars (giving you lots of opportunities for stunt casting). Jethro's a bit smarter than he was thirty years ago, but not by much. He can afford to be an oddball; money talks in L.A. so he doesn't give a damn how unsophisticated he comes across.
Ellie runs an animal rescue compound out of the Clampett mansion in Beverly Hills, much to the consternation of their stuffy neighbors, Sonny Drysdale and his 22 year old trophy wife / ex-porn star. (Too bad Louis Nye isn't around to play Sonny.) Of course, Sonny still has the hots for Ellie Mae. The Drysdales also have a couple of pre-teen kids for whatever reason. That's all you get for free.
Wednesday, February 21, 2007 - 7:59am
WOULD YOU LIKE TO RESPOND?
COMING SOON TO DVD
In the next few months these classic shows are coming to DVD (you can click on the links for more info or to pre-order if you like):
The Adventures of Ozzie & Harriet in a 'best of' set from Shout! Factory (they always do an outstanding job). 24 episodes on 4 discs coming May 1st. Also from Shout! in June - That Girl Season 3.
Welcome Back, Kotter Season 1 is coming this summer. Should be a brisk seller, tho I never cared for the show myself.
One Day At A Time Season 1, WKRP in Cincinnati Season 1, The Streets of San Francisco - Season 1, Vol. 1 and The Larry Sanders Show Season 1 all are coming in April, Cagney & Lacey Season 1 in May, CHiPs Season 1 in June.
Jason of Star Command, a Saturday morning favorite starring James Doohan (Star Trek) will be released May 8th from BCI Eclipse who also do a bang up job. From the press release: "The 3 disc, 28 episode set is highlighted by a series of special features including a brand new documentary and a special effects commentary track.
"JASON OF STAR COMMAND was a hit when it aired on Saturday mornings, beginning in 1978 on CBS. The most expensive children's show on television, the series utilized sets and props from its predecessor, SPACE ACADEMY, and featured veterans of Star Trek among its cast, plus special effects personnel who had created the visuals of Star Wars! With its action-oriented serialized plots and a memorable space-age villain in Dragos, JASON OF STAR COMMAND was a hit for two seasons, and entertained audiences worldwide in syndication thereafter.
"Producing the special features, documentaries and all of the extra content is entertainment writer Andy Mangels, a best-selling novelist, and author of Animation on DVD - The Ultimate Guide." This one is loaded with extras and commentary tracks from the special effects guys.
Also coming in the next few weeks: Bosom Buddies Season 1, Flipper Season 1, and Rawhide Season 2.
Tuesday, February 20, 2007 - 8:45am
WOULD YOU LIKE TO RESPOND?
WHAT I'M READING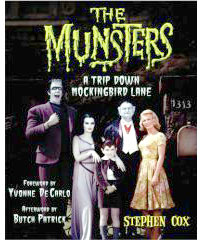 Right now I'm reading a wonderful, eye-opening new book - The Munsters: A Trip Down Mockingbird Lane by Stephen Cox. In case you don't know, Stephen is one of the top writers about television shows in the nation; I've thoroughly enjoyed his books on The Addams Family and Green Acres (he's also written books on I Dream of Jeannie, The Beverly Hillbillies and Oz among others).
This new book is a fun read and a visual treat - I can't imagine a finer book on the subject. You can tell the author loves his subject and that shines through on each page.
'The Munsters: A Trip Down Mockingbird Lane' is packed - and I mean PACKED - with lavish color photos, I've never seen so much color goodness in a book of this type, especially when you consider the show was shot in Black & White. The behind the scenes stories are richly told and I found myself looking forward to each new chapter.
This is the definitive book on The Munsters, a fascinating look at the stars and creators of this classic series. Even if you're not a fan of the show you'll find this book a fascinating glimpse into what producing television shows was like forty years ago.
It might even be a good investment - his out-of-print book on I Dream of Jeannie is going for $195.00 on Amazon; his Green Acres book for almost $90.00!
By the way, Stephen Cox provides some impressive audio commentary tracks over two episodes of The Beverly Hillbillies in The Beverly Hillbillies - Ultimate Collection, Vol. 2, one of the most fact-filled commentaries I've heard, I wish more commentary tracks were this concise. If I recall, there's also a new interview on that DVD set with Max Baer, Jr. who played Jethro - this DVD collection comes highly recommended as well.
Tuesday, February 20, 2007 - 7:10am
WOULD YOU LIKE TO RESPOND?
ON THE TV
This press release for a new PBS special that debuts in March sounds promising: "Hosted by four-time Grammy nominee Michael Feinstein, Soundies: A Musical History is a must-see for jazz music and history enthusiasts everywhere, as PBS brilliantly captures rarely seen footage of the greats that started it all (Duke Ellington, Count Basie, Nat King Cole, and many more). Over 1,800 Soundies were made and many of the best performances have been meticulously restored to pristine quality for PBS. The program also contains exclusive interviews with some of America's most famous musical and cultural icons including Hugh Hefner, Les Paul, Wynton Marsalis, George Duke, and film historian Leonard Maltin."
Sounds like fun, huh? I'll be watching. Leonard Maltin is one guy in particular that I enjoy seeing on TV, you know when he speaks he knows what he's talking about. Anyway, here is a one-minute preview of the show - in Windows Media - in Quicktime format
Tuesday, February 20, 2007 - 7:06am
WOULD YOU LIKE TO RESPOND?
SHOW AND TELL
This is the coolest thing I've seen in years! Kid's drawings rendered by professional artists.
Iraq: The Hidden Story - a must see British documentary on the war and what the media doesn't show and tell us.
Monday, February 19, 2007 - 8:28am
WOULD YOU LIKE TO RESPOND?
MYSTERY THEME
A while back, TVparty-er Nik writes to asked your help ID'ing this theme song. We never did get a definitive answer: "I've tried everyone I could think of. Maybe you could help me. I'm trying to find out what show a certain theme is from. No one can tell me. I've even sent it to Jon Burlingame and he couldn't place it. I was hoping that Bill Ingram or someone at TV Party could help me. So, here it is. It's from the late 60's early 70's and is a crime/police show I think. Any help would be appreciated."
Here's the audio file in MP3 format.
Sunday, February 18, 2007 - 9:25am
WOULD YOU LIKE TO RESPOND?
YOU TUBING
I was a big fan of the Carl Reiner & Mel Brooks' comedy albums of the 1960s & 70s. Here's a classic Reiner / Brooks routine called "The Coffee House."
A segment (circa 1960s) starring the great Chuck McCann - his Dick Tracy spoof performed on WPIX's Just for Fun (see above for correction). New York kid show host McCann's Saturday morning cartoon classic Cool McCool (created by Bob Kane) comes out on DVD in a few weeks.
Here's a behind-the-scenes look at shooting a McDonald's Christmas commercial in 1973. Do you remember this one?
Want to laugh for a few minutes? This is the first segment from the Amos 'n' Andy episode 'The Kingfish Gets Drafted.'
The rest of the episode can be found here.
Sunday, February 18, 2007 - 8:39am
WOULD YOU LIKE TO RESPOND?
TV ON DVD
Here are some shows I'd like to see on DVD:
Car 54 Where Are You?
One of the funniest shows in TV history with a cast of the finest comedians ever to grace the small screen. Fred Gwynne. Al Lewis. Joe E. Ross. Charlotte Raye. Wall to wall laughs. Added bonus: you have several generations who watched this show thanks to syndication and reruns on Nick at Night.
It's About Time
Speaking of Joe E. Ross, this Sherwood Schwartz classic needs to be revived - it would be the surprise hit of the season. I wonder sometimes if the studios know the gold they're sitting on.
Route 66
The clamor from TVparty readers for this series on DVD is deafening. If I'm not mistaken, Columbia House had the rights to the show. But Columbia House was/is a subscription service and they charged around $25 for two episodes!
The Carol Burnett Show
This one is another that Columbia House had locked up. But I just checked the CH site and they're no longer doing the subscription thing for The Carol Burnett Show or any other series in the manner they used to. It no longer made sense now that you can buy an entire season of a show for $25.00. You can still find dual episode DVDs of The Carol Burnett Show from CH on Amazon.com, sometimes they go for $60 or more. That's how badly the public wants to see this show released in season sets (something I suspect is not likely to happen because of the music rights). One nice thing - the CH Burnett shows had some new intros filmed with the cast. It's inevitable that a 'Best Of' set will be released, I wouldn't be surprised to see it this year.
Man From U.N.C.L.E.
One of the better adventure shows of the 1960s - so where is it now? What's the hold up?
Batman
Mired in legal entanglements, Batman would be a sure best-seller but all the parties can't get together on a deal. What a shame.
Now that The Andy Griffith Show has run it's course on DVD, will we see Mayberry R.F.D. soon? How about The New Andy Griffith Show and Headmaster? That I'd like to see.
I did hear some good news recently when I was speaking with a reporter from the Boston Globe - that Paul Brownstein is working on a DVD collection of The Tom Jones Show - boy, will that be a treat!
What shows would you like to see on DVD? I'll print your responses here if you want to share them.
Friday, February 16, 2007 - 8:57am
WOULD YOU LIKE TO RESPOND?
---