* Classic & Current TV Blog *
BATTLESTAR PROP AUCTION
One-Of-A-Kind Props, Set Pieces And Costumes Will Also Be Offered In A Series Of Auctions Coinciding With The Final Episodes of The Hit SCI FI Channel Series
As the SCI FI Channel's original series "Battlestar Galactica" draws to a close, NBC Universal Television, DVD, Music and Consumer Products Group has teamed with Propworx to offer thousands of one-of-a-kind props, set pieces and costumes to the public in a series of live and online auctions, beginning on January 16, 2009 at the Pasadena Convention Center in Pasadena, California. Some of the more spectacular items that will be available to bid on include full size ships, "Admiral William Adama's" desk, a Cylon Raider and six to 12 costumes from each major character including Viper flight suits and "Caprica Six's" red dress. A portion of the auction's proceeds will benefit United Way.
The auctions will kick off with a preview day on Friday, January 16th at 10:00 a.m. The preview day will also feature a series of live panel discussions with the creative team that developed all the fantastic props, costumes and set pieces for "Battlestar Galactica." The two day live auction event will take place Saturday January 17th and Sunday January 18th and will feature hundreds of items from the first three seasons of the show. The live auction will also be available to view online at www.battlestarprops.com so that those unable to make it to Pasadena will have a chance to bid electronically. On Tuesday, January 20, 200 items will be offered on eBay for those that were unable to participate in the live auctions over the weekend.
Then, as previously announced, additional items will be made available for auction each week on eBay in conjunction with the airing of "Battlestar Galactica" and will feature items that appeared in that particular episode. The first of these auctions will take place on Friday, January 23, starting at 9:00 a.m. (ET), and will conclude the following Friday, January 30, starting at 9:00 p.m. (ET).
"We are all fans of 'Battlestar Galactica' and are excited to see how the series concludes," said Stacey Ward, Director NBC Universal Television, DVD, Music and Consumer Products Group. "We are also really excited to be able to offer both fans and collectors this incredible opportunity to own a piece of science fiction television history as the series concludes."
Some of the items to be offered in the live auction include:
A life-size Viper
Admiral Adama's duty blue uniform
Apollo's Viper flight suit
Caprica Six's red dress
Consoles from the CIC
The Arrow of Apollo
Admiral Adama's painting of the first Cylon war
Colonel Saul Tigh's eye patch and liquor bottle
President Laura Roslin's desk
Original production sketches
Set plans and drawings
Props, costumes and set pieces for every budget
The schedule of events is as follows:
Preview Day ˆ Friday, January 16, 2009 - Pasadena Convention Center (Doors open at 10:00 a.m. and close at 6:00 p.m) (Panel schedule to be announced at another date).
Live Auction Day ˆ Saturday, January 17, 2009 (Doors open at 8:00 a.m. Auction begins at 9:00 a.m.).
Live Auction Day ˆ Sunday, January 18, 2009 (Doors open at 9:00 a.m. Auction begins at 10:00 a.m.).
Online Auction of 200 Items ˆ Tuesday, January 20 (Auction goes live at 9:00 a.m. (ET) and will conclude Friday, January 23, starting at 9:00 p.m. (ET).
First of Several Weekly Online Auctions ˆ Beginning on Friday, January 23, weekly online auctions on eBay begin at 9:00 p.m. (ET).
For more information please visit www.battlestarprops.com.
Friday, November 7, 2008 - 8:15am
WOULD YOU LIKE TO RESPOND?
SOUTH PARK ON OBAMA
From Comedy Central: Obama looks to redistribute the wealth, to himself and others that might just surprise. How far back do Obama's ties to John McCain and Sarah Palin reach and what was the real reason he and McCain sought out the Oval Office? Find out in the clip below as the Emmy® and Peabody® Award-winning "South Park" reacts to Tuesday's historic election.
Thursday, November 6, 2008 - 12:49pm
WOULD YOU LIKE TO RESPOND?
LAUGH BREAK
Let's stop for some music and a laugh with Dean Martin, Jimmy Stewart and Orson Welles from Martin's 1960's variety show.
What a great program the Dean Martin Show was. Here the irascible Don Rickles attacks Dean's studio audience as only he can.
Thursday, November 6, 2008 - 12:32pm
WOULD YOU LIKE TO RESPOND?
BLOGTASTIC!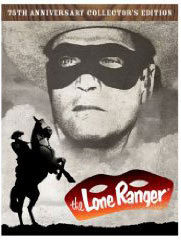 I haven't seen this one but I got a preview and it's spectacular. From the press release: As you may know, 2008 marks the 75th Anniversary of The Lone Ranger, America's quintessential Western hero and radio, television and comic book icon. In celebration of this major milestone, Entertainment Rights and Genius Products will release The Lone Ranger 75th Anniversary Collector's Edition 12-disc DVD box set. It includes the complete first and second seasons of the Emmy-nominated "The Lone Ranger" series (78 episodes from 1949 and 1950), starring Clayton Moore as the 'Masked Man' and Jay Silverheels as Tonto. Over 1,900 minutes of Lone Ranger adventures, some of which have been digitally re-mastered, are packed into this box set along with exclusive memorabilia, including an 88-page full-color commemorative booklet, complete episode guide, and rare comic book images and photo reprints. The Lone Ranger 75th Anniversary Collector's Edition is available on November 11th for $119.93 SRP.
The syndicated version of Deal or No Deal is a runaway hit with ratings gains every week as people discover that this is a much better show in a thirty minute format. Meanwhile, the primetime version is experiencing a ratings slide. Ratings are also up for Big Bang Theory, Hannah Montana, Jeopardy, Wheel of Fortune, Entertainment Tonight, and the syndicated 2 and a Half Men. Are people staying home more?
As well as coming to DVD, Mitzi Gaynor is coming to public television. There will be one hour special on channel WLIW, NYC, Ch. 21 on OCTOBER 11th at 8pm. Mitzi herself will be making a live in-studio appearance and you will have the chance to call in and ask her questions. This will also be the start of the NY telephone pledge drive which then will become national starting in December.
This year's performers on NBC's New Year's Eve with Carson Daly will be Ludacris, 50 Cent and Katy Perry. The show will be broadcast beginning in primetime from 10-11 p.m. (ET) and continuing in late night from 11:35 p.m. - 12:35 a.m. in high definition.

Coming soon: A Colbert Christmas: The Greatest Gift Of All! DVD Hits Stores On Tuesday, November 25 With A Portion Of The Proceeds Benefiting The Charity Feeding America.
A great American holiday tradition will be born this year, joining the classics that have preceded it…watching Stephen Colbert's Christmas special. "A Colbert Christmas: The Greatest Gift of All!" is a one-hour original musical holiday special premiering Sunday, November 23 at 10:00 p.m. ET/PT on COMEDY CENTRAL.
In the special, Colbert is on his way to meet with Elvis Costello in New York City but is snowed-in at his cabin in upstate New York (bear country). He weathers through the storm with help from his friends Feist, Toby Keith, John Legend, Willie Nelson and Jon Stewart. "A Colbert Christmas: The Greatest Gift of All!" features original songs written by David Javerbaum (executive producer, "The Daily Show with Jon Stewart") and composer Adam Schlesinger (Fountains of Wayne), who recently collaborated on the Tony® nominated Broadway musical "Cry Baby," with the exception of "(What's So Funny 'bout) Peace, Love And Understanding" which was written by Nick Lowe. The songs were produced by Schlesinger and Steven M. Gold. Theme music and score also by Schlesinger and Gold.
Songs performed on "A Colbert Christmas" include:
"Another Christmas Song" – Stephen Colbert
"Have I Got A Present For You" – Toby Keith
"Little Dealer Boy" – Stephen Colbert and Willie Nelson
"Hannukah" – Stephen Colbert and Jon Stewart
"Nutmeg" – Stephen Colbert and John Legend
"Please Be Patient" – Feist
"There Are Much Worse Things to Believe In" – Stephen Colbert and Elvis Costello
"(What's So Funny 'bout) Peace, Love And Understanding" – Stephen Colbert, Elvis Costello, Feist, Toby Keith, John Legend and Willie Nelson
Bob Huggins alerts us to these classic TV shows now on DVD - Diver Dan Volume 2 and Captain Video and his Video Rangers. The first Diver Dan edition sold a ton of copies through this site.
A correction from Kevin Butler: You mentioned that on one of the DVD's that feature Christmas features of the past? One of the discs indicated the first TV adaptation of Miracle On 34th Street aired in 1957. I have that adaptation on the special DVD edition of the original 1947 movie version (which was sold two years ago) and the disc states that the show actually aired in 1955. This show couldn't have aired in 1957 because one of the actors who played Judge Henry Harper, Ray Collins, was already playing Police Lt. Art Tragg on CBS /20th Century Fox TV's Perry Mason.
Thursday, November 6, 2008 - 6:00am
WOULD YOU LIKE TO RESPOND?
THIS 'N" THAT
Florence Henderson is trolling for publicity with a brand new feud with fellow Brady star Christopher Knight and she's talking about Maureen McCormick's drug addiction while filming the Brady Bunch variety show.
I'm going to interview Mitzi Gaynor about her TV specials coming to DVD. Is there a question you'd like me to ask her? I have to confess I've never followed her career but she's done some amazing work.
Rick Goldschmidt shares this rare photo of Bob Bell getting into his Bozo outfit. Bob Bell was Chicago's original Bozo.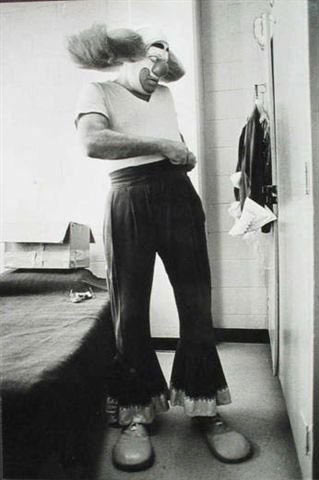 A preview of the Bruno movie had popped up, I'm really looking forward to this one.
Tuesday, November 4, 2008 - 9:19am
WOULD YOU LIKE TO RESPOND?
THINGS ARE TOUGH ALL OVER
Several shows are coming apart at the seams this season. Ratings are down and fans are unhappy with this (and last) season's Heroes, resulting in the departure of co-executive producers Jeph Loeb and Jesse Alexander, two of the show's leading writer/producers.
FOX has cancelled King of the Hill after 13 years. And Mad TV is still on?!?!?!?!?
MTV Networks announced they will be laying off "a lot" of people tomorrow.
'Peruvian Songbird' Yma Sumac has passed away. She was 86.
Monday, November 3, 2008 - 9:39am
WOULD YOU LIKE TO RESPOND?
BLASTS FROM THE PAST
One Day at a Time indeed. Mackenzie Phillips will be headed back to rehab for 18 months after pleading guilty to a cocaine charge. She's thanking the cops for busting her, saying they, "saved her life."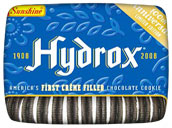 Hydrox cookies are coming back, but only for a short time. Nestle, who bought the brand and then promptly shut it down, is bringing the tasty treat back due to popular demand and to celebrate the cookie's 100 anniversary. For what it's worth, I always liked Hydrox better than Oreos but I doubt I'll be buying any.
Kevin Butler informs me that more television history is evaporating. It seems the El Capitan Theater (which earlier and later was known as The Hollywood Palace) is now a banquet hall and the TAV Celebrity Theater where The Merv Griffin Show was filmed is a now bed & bath store. There are signs to commemorate that, during the heyday of Hollywood's golden age, these two buildings collectively were the homes of Ken Murray's Blackouts stage shows, The Pinky Lee Show, The Colgate Comedy Hour, This Is Your Life, the ABC Jerry Lewis Show, The Hollywood Palace, The Merv Griffin Shows, and The Steve Allen Comedy Hour.
I went to the Hollywood Palace quite a few times during the 1980s & 1990s, it was a concert venue and a lot of punk and alternative bands played there. It was kind of shabby then but still very opulent and architecturally interesting in that art deco manner. The owners could never decide which name they liked better, Hollywood Palace or El Capitan, as it switched back and forth a several times.
Monday, November 3, 2008 - 8:09am
WOULD YOU LIKE TO RESPOND?
ALWAYS BET ON JACK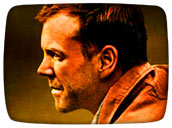 The writer's strike is still reverberating around Hollywood, resulting in a delay for the start of 24 Season 7. To keep us on the hook, FOX presents a two-hour 24 telefilm (taking place in real time, naturally) that finds Jack Bauer in South Africa fighting brutal tribal warlords while defending the lost children of the desert, hoping to save them from becoming soldier slaves.
24 is one of my favorite programs. True, it gets markedly weaker with each new season but the show started out of the gate so strong that I've still enjoyed all of the 'days' to some extent.
At first this film feels devoid of the familiar 24 trappings, there are no scenes at CTU, no Chloe meltdowns, no moles, none of Jack's loved ones are being kidnapped, nor is there the familiar "Boop Boop Blee Oop" of the CTU phones. Instead, Robert Carlyle (The World Is Not Enough) is on board as Jack partner, a noble UN aid worker and former friend of Jack's who's no stranger to firefights.
There's not a lot that happens outside of Africa at first, the slow-moving first half hour is mostly talk and anticipation as the new President Allison Taylor is seen taking office. Thankfully, Powers Boothe is back (again chewing the Oval Office scenery) as the snarling, Cheney-esque outgoing President, a reminder of the hidden intrigues and lethal deceptions that make 24 the rich tapestry it is. Boothe lends a creepy undercurrent and a rich foreboding that promises a rocky road for the new Commander in Chief.
In a secondary storyline, Jon Voight returns as an aggrieved Jonas Hodges; he has an interest in keeping the African unrest going for whatever nefarious purpose, leading to some new characters getting caught up in a vast conspiratorial web that threatens world stability.
When our cowboy in Africa reluctantly brings it on around the 45 minute mark, 24: Redemption begins firing on all cylinders. That's when Jack Bauer gets an opportunity to do the things he does best - getting the sh*t kicked out of him in the service of others, taking down the bad guys with as few bullets as possible, standing up to unrelenting torture, and snapping people's necks with his legs.
All of this fiery dramarama serves to place the chess pieces on the board for the game to come. Let's hope it's not another round of Chinese Checkers.
Until January 2009, the word on 24: Redemption is - Jack is back!
24: Redemption airs Sunday, November 23rd at 8:00pm ET/PT on FOX.
Sunday, November 1, 2008 - 9:29am
WOULD YOU LIKE TO RESPOND?