'TVparty is hands down the best site on the Web for classic TV.'
- Discovery Channel
---
Latest TVparty
Classic TV Blog Entries
TV BLOG - 107
TV BLOG - 106
TV BLOG - 105
TV BLOG - 104
TV BLOG - 103
TV BLOG - 102
TV BLOG - 101
TV BLOG - 100
TV BLOG - 99
TV BLOG - 98
TV BLOG - 97
TV BLOG - 96
TV BLOG - 95
TV BLOG - 94
TV BLOG - 93
TV BLOG - 92
TV BLOG - 91
TV BLOG - 90
TV BLOG - 89
TV BLOG - 88
TV BLOG - 87
TV BLOG - 86
TV BLOG - 85
TV BLOG - 84
TV BLOG - 83
TV BLOG - 82
TV BLOG - 81
TV BLOG - 80
TV BLOG - 79
TV BLOG - 78
TV BLOG - 77
TV BLOG - 76
TV BLOG - 75
TV BLOG - 74
TV BLOG - 73
TV BLOG - 72
TV BLOG - 71
TV BLOG - 70
TV BLOG - 69
TV BLOG - 68
TV BLOG - 67
TV BLOG - 66
TV BLOG - 65
TV BLOG - 64
TV BLOG - 63
TV BLOG - 62
TV BLOG - 61
TV BLOG - 60
TV BLOG - 59
TV BLOG - 58
TV BLOG - 57
TV BLOG - 56
TV BLOG - 55
TV BLOG - 54
TV BLOG - 53
TV BLOG - 52
TV BLOG - 51
TV BLOG - 50
TV BLOG - 49
TV BLOG - 48
TV BLOG - 47
TV BLOG - 46
TV BLOG - 45
TV BLOG - 44
TV BLOG - 43
TV BLOG - 42
TV BLOG - 41
TV BLOG - 40
TV BLOG - 39
TV BLOG - 38
TV BLOG - 37
TV BLOG - 36
TV BLOG - 35

TV BLOG - 34
TV BLOG - 33
TV BLOG - 32
TV BLOG - 31
TV BLOG - 30
TV BLOG - 29
TV BLOG - 28
TV BLOG - 27
TV BLOG - 30

TV BLOG - 29
TV BLOG - 28
TV BLOG - 27
TV BLOG - 26
TV BLOG - 25

TV BLOG - 24
TV BLOG - 23
TV BLOG - 22
TV BLOG - 21
TV BLOG - 20
TV BLOG - 19
TV BLOG - 18
TV BLOG - 17
TV BLOG - 16
TV BLOG - 15
TV BLOG - 14
TV BLOG - 13
TV BLOG - 12
TV BLOG - 11
TV BLOG - 10
TV BLOG - 9
TV BLOG - 8
TV BLOG - 7
TV BLOG - 6
TV BLOG - 5
TV BLOG - 4
TV BLOG - 3
TV BLOG - 2
TV BLOG - 1
---
'TVParty.com, a TV history website... its links to Amazon.com help sell TV DVDs."
- Boston Globe
"All the coolest, strangest, most absurd shows and peculiar tube trends ever -- they're all part of the wallow that is TVparty!"
- Diane Werts, Newsday
'A twisted walk
down memory lane!'
- Sharon Edry, TV Guide
'Top Five Sites! Interviews and articles... are must reads.'
- London Sunday Times
'It's too good to be true. Put together by Billy Ingram, TVparty.com has gossip, scandal, sex, singing, dancing, action, drama and celebrities with their 'original parts''
- LA Times
'An ingenious tribute that elevates the TV past to artlike proportions. Site guru Billy Ingram has compiled features both over-the-top and museum worthy, blissful nostalgia for those born in the '40s or the '80s. A+
- Entertainment Weekly
'Every decade expresses its kooky collective unconscious on the tube, celebrated affectionately at Billy Ingram's TVparty. Ingram provides a hilarious glimpse into the American pop psyche.'
- Yahoo
'Get the inside scoop on all your favorite classic TV shows at TVParty.'
- USA Today
"...revisits trends and traumas of TV's past."
- Baltimore Sun


* Classic Television & Current TV Blog *

ANOTHER SAD LOSS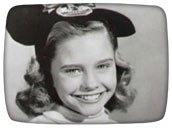 Former Mickey Mouse Club Mouseketeer and kid actor Cheryl Holdridge died at her home in Santa Monica on Tuesday, January 6, 2009. She was 64 years old and lost a two year battle with lung cancer.
Born Cheryl Lynn Phelps in New Orleans on June 20, 1944 she was the daughter of June Austin a former Zigfield Follies dancer and comedy performer. From an early age Ms. Holdridge was encouraged to dance by her mother. The family moved to Los Angeles when she was 2 years old and became Cheryl Holdridge when her mother married former U.S. Brigadier General Herbert Holdridge in the early-1950's; he adopted the child.
She made her performing debut in a west coast production of The Nutcracker with the NYC Ballet Company at age 9. Later she appeared in the movie version of Rogers' & Hammerstein's stage musical Carousel in 1956. It was during the spring of 1956 that her talents came to the attention of Walt Disney who was looking for talented - but real - kids to become a part of his soon to be legendary kid's TV series.
The youngster auditioned for the famous showman and made her first television appearance along with the other Mouseketeers during the second season of The Mickey Mouse Club.
Cheryl remained with the series until it went off the air in 1959. Following her tenure on MMC Ms. Holdridge appeared on other shows like The Rifleman, Bachelor Father, My Three Sons, Bewitched, and The Dick Van Dyke Show.
She also played Wally Cleaver's girl Julia Foster on Leave It To Beaver. She left TV to marry Lance Reventilow the son of Woolworth heiress Barbara Hutton in 1964. They were happily married until Mr. Reventilow was killed in a 1972 plane crash. She would later marry political fundraiser Manning Post in 1994, he passed away in 2000. In her later years Ms. Holdridge was involved with many charitable causes among them The Children's Burn Foundation, The Friendly House of L.A. and The John Wayne Cancer Institute at St. John's Health Center in Santa Monica.
The actress also found the time to perform with her fellow former Mickey Mouse Club cast members at stage shows and appearances at Disneyland and appeared on the 25th and 30th anniversary tributes to the series.
She and the other former Mouseketeers were interviewed for three books written about the show - The Mickey Mouse Club Scrapbook, Forever Hold Your Banner High, and The Official Mickey Mouse Club Book. She was a talented, caring and sweet lady!
Sunday, January 11, 2009 - 12:28pm
WOULD YOU LIKE TO RESPOND?

I'M BAAAACK!
Sorry about the days off from Blogging - I had friends staying from London. The thing about taking a couple of days away from the computer - it's not enough!
Million Dollar Password is a hit, ranking number 13 last Sunday night - but CBS has pulled the show and scheduled two episodes of 60 Minutes tonight. Why? Too many old folks watching Password and not enough more desirable youngsters. Young flesh is more supple or something like that. Meanwhile, The Mentalist is scoring big time across the right demographics for the net.
Finished watching The Tudors Season 2 on DVD the other day - that is one brilliant series, a visually a stunning representation of the Royal Family, King Henry VIII, Anne Boleyn and the founding of the Church of England. As good as Rome or Deadwood? You betcha, better even. Start with season one if you haven't had the pleasure. We're giving away copies here.
I'm also re-watching Rescue Me season one - it's just as strong the second time around. I was prompted to do so after watching The Job, the first series that Peter Tolan and Denis Leary collaborated on as producers / star. If you like Rescue Me but figured, as I did, that The Job would be weak in comparison just because it was an ABC show, you're in for a treat.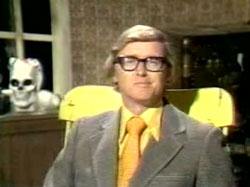 Kevin Butler tells us of the passing of a TV legend - Former horror movie host Bob Wilkins, MC of KTVU's Creature Features, died on Wednesday January 7, 2009 in Reno, NV; he was 76 years old when he lost his battle with Alzheimer's disease.
Born in Hammond Indiana on April 11, 1932 Mr. Wilkins served overseas in the Korean War. Following his military service he attended Indiana University where he graduated with a degree in marketing. He moved to Chicago where he worked for an ad agency,first as a mailroom clerk and then later as a copy writer.
In 1963 he left Chicago and moved to California where Wilkins wrote and produced TV commercials for station KCRA. A year later he made his television debut as the substitute host of an afternoon movie program. His work on the show was so successful that Wilkins began hosting his own late night movie show Seven Arts Theater from 1966 until 1971 when he joined KTVU to MC Creature Features, the first San Francisco TV program to air Plan 9 From Outer Space. The cinematic fare he screened on the program was not up to the quality of the classic Universal horror films of the 1930's and 40's, nevertheless the show was a hit with the Bay Area's young viewers.
From 1977 to 1979 he was also the MC of The Captain Cosmic Show, a local kid's cartoon series where he entertained viewers between reruns of the Universal Flash Gordon movie serials, Johnny Sokko & His Flying Robot filmed TV adventure shows, and Japanese superhero cartoons Star Blazers and Spaceship Yamato.
In 1979, former San Francisco Chronicle columnist John Stanley took over as the host of Creature Features and Wilkins joined KTXL in San Francisco here he revived Seven Arts Theater in 1979, he hosted this second version of the series until 1981. He left local TV and moved to Reno where he made guest appearances at comic book conventions and fantasy festivals.
Bob Wilkins was also interviewed for Planet X magazine and found the time for charitable causes. He was a caring, knowledgeable and kindly gentleman and he will be missed!
Sunday, January 11, 2009 - 7:34am
WOULD YOU LIKE TO RESPOND?
STUFF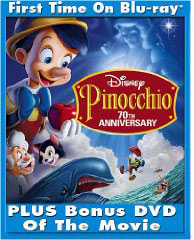 From the press release: As more and more families transition to high definition, Walt Disney Studios Home Entertainment (WDSHE) concentrates its efforts on offering consumers unprecedented quality, value and portability in the purchases of their favorite Disney Blu-ray movies with the announcement of its new Blu-ray + DVD Combo Packs. Disney's Combo Pack will be extended across an exciting new slate of Disney-branded theatrical and Platinum titles releasing on Blu-ray between February and October of 2009. Some of the upcoming Blu-ray + DVD Combo Pack titles families can look forward to include the teen phenomenon High School Musical 3: Senior Year (February 17), Walt Disney's animated classic Pinocchio: 70th Anniversary Platinum Edition (March 10) and all those leading up to the highly anticipated release of Snow White and the Seven Dwarfs Platinum Edition in October.
Mark Evanier posted this video so I feel like I have to as well because it's too good to miss - today is Soupy Sales' birthday, he's 83. Soupy is one of television's greatest talents, a joyful performer perfectly suited for the new medium he so gleefully conquered one kid at a time. Here's Soupy telling the story of his impromptu New Year's Day 1965 prank that got him thrown off the air for a while.
Anybody else notice this, I can't imagine what it is unless there's a virus in her browser? If so, who put it there, I can't imagine any site would want to attract hits in such a malicious way. "Thought you should know ... twice now, when I tried to view your website, my browser was redirected to a website called futoncritic which also features classic TV shows. I don't know if you're affiliated with that site or not, but it was most annoying. AND that website also has a large ad that overwrites most of the screen that causes the browser to redirect and reopen the site when it's done ... not even enough time to read the info tabs across the top of the page! - Sharon"
Thursday, January 8, 2009 - 8:01am
WOULD YOU LIKE TO RESPOND?
THIS 'N' THAT
CBS Watch Magazine is offering a free subscriptions so you can stay up to date on your favorite CBS shows, if you have any.
Has anyone seen Family Feud with that guy who played Mr. Peterson on Seinfeld hosting? I caught an episode the other day - it's God awful! Ratings are down 15% over a year ago.
Tomorrow would have been the 74th birthday of Elvis.
Kelsey Grammer is trying one more time - he's got a pilot in development at ABC about a powerful corporate bigwig who tries to reconnect with his family after being downsized. Sounds solid. I was watching some Frasiers on DVD the other day, shows from the final season, and they were very funny. That's a show that went out on top.
Wednesday, January 7, 2009 - 9:15am
WOULD YOU LIKE TO RESPOND?

TV SHOWS ON BLU-RAY
For those of you who scored a Blu-ray player this holiday season, here's a more or less complete list of TV shows on Blu-ray. Note there aren't any classic shows out yet - but right now these collections are massively discounted AND Amazon is having an additional sale - buy two and get one free! That's for all Blu-ray titles, not just these listed here.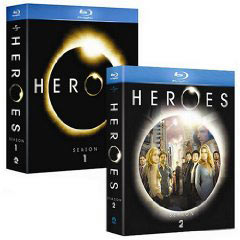 Robin Hood
Terminator: The Sarah Connor Chronicles
Tuesday, January 6, 2009 - 9:05am
WOULD YOU LIKE TO RESPOND?
HUH?
What do you expect from a show that has Sharon Osborne dispensing lessons in style and class? A contestant on Rock of Love Charm School Reunion filed charges against Sharon after this segment was taped - the fun starts at the end but it's a lovely train wreck all the way through.
Monday, January 5, 2009 - 11:58am
WOULD YOU LIKE TO RESPOND?
STUFF
Chez Pazienza has a year end wrap up that you can not miss, especially his takedown on Madonna. Chez apparently never learned the lesson that my momma taught me - 'if you can't say anything nice don't say anything at all.'
CBS holds a strong lead in the year end ratings while the cable networks and movie industry are also enjoying a banner year. It's a war of attrition - CBS limited its year-to-year decline among adults 18-49 to 3% while ABC, NBC and Fox are all off 10%-12%.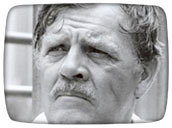 Actor Pat Hingle died Saturday, he played Commissioner Gordon in the 1980's Batman movies in addition to hundreds of roles over his six decades in the business. He was unforgettable as Norma Rae's father, Pete Watson in TV's The Shining, Adm. William F. 'Bull' Halsey in War & Remembrance, those are just a few of his memorable portrayals. He also became the Doc on Gunsmoke for a few episodes in 1971 after Milburn Stone was sidelined by several heart attacks. Although he had been ill recently, Hingle continued to work right up to 2008's Undoing Time.
I listened to a really pathetic radio interview with Pat Hingle once. The morning guy was told that he'd be talking to the guy who played Commissioner Gordon - he assumed it would be Neil Hamilton who played the part on the 1960's TV show. Through the entire interview the two were completely baffled by one another. "You played Norma Rae's father? I don't remember that being you..."
One of my favorite actors from Homicide Jon Seda will be starring in the new David E. Kelley vehicleLegally Mad, a quirky (of course) legal drama for NBC.
Monday, January 5, 2009 - 7:31am
WOULD YOU LIKE TO RESPOND?
HE SAID "ARSE"
Ricky Gervais, co-creator of The Office and all round rabble rouser, is in hot water - supposedly - over some harsh comments he made in his new book about overweight folks - specifically, "If your arse is too fucking fat, stop eating and go for a run." I say he's 'supposedly' in hot water because Gervais has come out swinging. I love this guy, here's his response:
"I heard someone on the radio once say that they were tired of the prejudice aimed at the overweight. They said something like "you're not allowed to make fun of gay people, so why are you allowed to make fun of fat people? It's the same thing."
"It's not the same thing though, is it? Gay people are born that way. They didn't work at becoming gay. Fat people became fat because they would rather be that way than stop eating so much. They had to eat and eat to get fat. Then, when they were fat they had to keep up the eating to stay fat. For gayness to be the same as fatness, gay people would have to start off straight but then ween themselves onto cock. Soon they're noshing all day getting gayer and gayer. They've had more than enough cock... they're full... they're just sucking for the sake of it. Now they're overgay, and frowned upon by people who can have the occasional cock but not over indulge.
"When a doctor tells me that that's how you become gay, I'll stop making jokes about fat people."
Monday, January 5, 2009 - 6:01am
WOULD YOU LIKE TO RESPOND?