'TVparty is hands down the best site on the Web for classic TV.'
- Discovery Channel
---
Latest TVparty
Classic TV Blog Entries
TV BLOG - 93
TV BLOG - 92
TV BLOG - 91
TV BLOG - 90
TV BLOG - 89
TV BLOG - 88
TV BLOG - 87
TV BLOG - 86
TV BLOG - 85
TV BLOG - 84
TV BLOG - 83
TV BLOG - 82
TV BLOG - 81
TV BLOG - 80
TV BLOG - 79
TV BLOG - 78
TV BLOG - 77
TV BLOG - 76
TV BLOG - 75
TV BLOG - 74
TV BLOG - 73
TV BLOG - 72
TV BLOG - 71
TV BLOG - 70
TV BLOG - 69
TV BLOG - 68
TV BLOG - 67
TV BLOG - 66
TV BLOG - 65
TV BLOG - 64
TV BLOG - 63
TV BLOG - 62
TV BLOG - 61
TV BLOG - 60
TV BLOG - 59
TV BLOG - 58
TV BLOG - 57
TV BLOG - 56
TV BLOG - 55
TV BLOG - 54
TV BLOG - 53
TV BLOG - 52
TV BLOG - 51
TV BLOG - 50
TV BLOG - 49
TV BLOG - 48
TV BLOG - 47
TV BLOG - 46
TV BLOG - 45
TV BLOG - 44
TV BLOG - 43
TV BLOG - 42
TV BLOG - 41
TV BLOG - 40
TV BLOG - 39
TV BLOG - 38
TV BLOG - 37
TV BLOG - 36
TV BLOG - 35

TV BLOG - 34
TV BLOG - 33
TV BLOG - 32
TV BLOG - 31
TV BLOG - 30
TV BLOG - 29
TV BLOG - 28
TV BLOG - 27
TV BLOG - 30

TV BLOG - 29
TV BLOG - 28
TV BLOG - 27
TV BLOG - 26
TV BLOG - 25

TV BLOG - 24
TV BLOG - 23
TV BLOG - 22
TV BLOG - 21
TV BLOG - 20
TV BLOG - 19
TV BLOG - 18
TV BLOG - 17
TV BLOG - 16
TV BLOG - 15
TV BLOG - 14
TV BLOG - 13
TV BLOG - 12
TV BLOG - 11
TV BLOG - 10
TV BLOG - 9
TV BLOG - 8
TV BLOG - 7
TV BLOG - 6
TV BLOG - 5
TV BLOG - 4
TV BLOG - 3
TV BLOG - 2
TV BLOG - 1
---
'TVParty.com, a TV history website... its links to Amazon.com help sell TV DVDs."
- Boston Globe
"All the coolest, strangest, most absurd shows and peculiar tube trends ever -- they're all part of the wallow that is TVparty!"
- Diane Werts, Newsday
'A twisted walk
down memory lane!'
- Sharon Edry, TV Guide
'Top Five Sites! Interviews and articles... are must reads.'
- London Sunday Times
'It's too good to be true. Put together by Billy Ingram, TVparty.com has gossip, scandal, sex, singing, dancing, action, drama and celebrities with their 'original parts''
- LA Times
'An ingenious tribute that elevates the TV past to artlike proportions. Site guru Billy Ingram has compiled features both over-the-top and museum worthy, blissful nostalgia for those born in the '40s or the '80s. A+
- Entertainment Weekly
'Every decade expresses its kooky collective unconscious on the tube, celebrated affectionately at Billy Ingram's TVparty. Ingram provides a hilarious glimpse into the American pop psyche.'
- Yahoo
'Get the inside scoop on all your favorite classic TV shows at TVParty.'
- USA Today
"...revisits trends and traumas of TV's past."
- Baltimore Sun


* Classic Television & Current TV Blog *
TWO RECENT DEATHS
Majel Barrett Roddenberry passed away yesterday, she was Gene's wife and played roles in all of Gene's shows, most notably as Dr. Christine Chapel on the original Star Trek and Lwaxana Troi on Next Generation. She was also the voice of the Enterprise Computer in all the various ST series, a role she played one last time for the upcoming movie.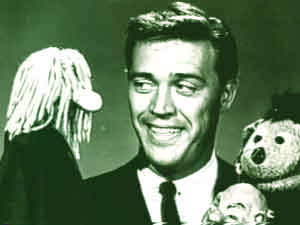 Kevin Butler writes: "Sadly, Dayton, Ohio, Pittsburgh, Pa. and NYC kid's TV has suffered another loss. Hank Stohl, the host/ performer of The Girl Next Door, KD Cartoons, The Big Adventure, Popeye & Knish, The Surprise Show / Hank Stohl Presents, Let's Have Fun, and Mitzi (Steiner) McCall's co-host and puppeteer on Mitzi's Kiddie Castle is dead. Mr. Stohl passed away on Monday, December 15, 2008 at his home in Whitehall, Pa., he was 81 years old and had been suffering from a long illness.
Born Henry S. Zakowski on July 1, 1927, Stohl graduated from the Cincinnati College of Music and served in the US Navy during WWII. Following his service overseas, Mr. Zakowski made his TV debut in Dayton, Ohio in 1948 after he changed his last name (Stohl was his mother's maiden name). His first regular series was a local kid's program The Girl Next Door (not to be confused with the ABC game show). He played a cartoonist that cared for a little girl who was his neighbor, Stohl would entertain and inform his little visitor between reruns of old movie cartoons.
He left Dayton to host other kid's TV series Mitzi's Kiddie Castle with Ms. Mitzi Steiner (McCall), KD Cartoons (for WD TV, now known as KDKA TV), The Big Adventure, and Popeye & Knish for WTAE TV 4 in Pittsburgh, Pa. It was during his years in Pittsburgh that he first used Knish, Cousin Henry and his dog puppets.
Later he moved to NYC where Stohl worked as a booth announcer for WABC TV 7 and later hosted his last two kids TV series The Surprise Show / Hank Stohl Presents and Let's Have Fun. On the former series, Mr. Stohl would try to get thru the day doing his chores and introducing cartoons despite the problems caused by the Aniform characters that appeared on his TV set. (The Aniforms were created and manipulated by Morey Bunin and voiced by comic/ character actor and mimic Jimmy Boyd, actor Cleavon Little. Puppeteer Wayland Flowers also manipulated the Aniforms.)
The Surprise Show only lasted one season at WPIX, the station execs decided to dropped the Aniforms concept and have Mr. Stohl perform with his own puppets. Hank Stohl Presents also had a brief run on Channel 11. Stohl's last venture in NYC kid's TV was serving as the fourth host/performer of Let's Have Fun on Sunday mornings in 1966. Hank Stohl was aided on the program by the Tom Tichenor Puppets and by kid actor Robert Broderick.
When he saw that the kid's TV hosts were being replaced by film and cartoon reruns he left NYC television and moved to Hollywood, CA. to try his luck as an actor. His efforts were limited to minor roles on such series as The Rockford Files, Ironside, SWAT, The Six Million Dollar Man and serving as the announcer on the syndicated Dunninger Show. He also did some commercials but when he found too little TV work, Stohl tried working in the theater. His first stage appearance was with the Pittsburgh Playhouse and later he performed with the Little Lake Theater Company in Cannonsburg, Pa.
Stohl also found the time to write books EG's The Many Wars Of Christopher Branch and When We Were Kids (a history of Pittsburgh kid's TV) he also wrote the three act play Lie A Little.
Stohl and his puppets made their last public appearance at The Pittsburgh Children's Museum in 1990 where he entertained his loyal fans and their youngsters. He also appeared on WTAE TV's 40th anniversary tribute in 1988 (hosted by local broadcaster Ann Devlin) and the 50th Anniversary tribute to KDKA TV. He also appeared on WPIX AT 40 in 1988 (the show was MC'd by Tony Randall). Stohl donated his puppets to the Heinz History Center where they can still be seen by his fans.
I was lucky enough to interview him in the 1980s and 1990s, Mr. Stohl was very generous in providing me with information about his career in kid's TV history and he was a very talented, creative, sweet, and kindly gentleman - he will be missed!
Friday, December 19, 2008 - 7:59am
WOULD YOU LIKE TO RESPOND?
TV BOOKS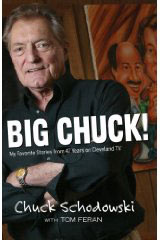 Tim Lones writes: "Since You have been talking up books recently, I thought i'd mention a fairly new book that has come out - Big Chuck, My favorite stories from 47 years in Cleveland TV. Published in October, it has become a huge regional hit in Ohio. It tells the story of Chuck Schodowski, a 'regular Cleveland guy' who, through hard work and creativity, rose from the ranks of Cameraman to producer/ director and long time (41 years) movie host on WJW-TV 8 in Cleveland. Telling of his days with Ernie Anderson (Ghoulardi) before Anderson became the 'Voice' of ABC along with working with many other famous names over the years, it's written by Chuck Schodowski with Cleveland Plain Dealer Writer Tom Feran. Very good read." You can read Tim's review of the book at his Cleveland Classic Media site.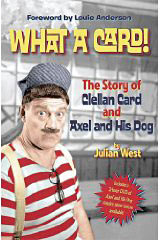 Julian West wants you to join him this weekend: "I'll be signing copies of my book, What a Card! The Story of Clellan Card and 'Axel & His Dog'" at Waldenbooks this Saturday, from noon until about 2:00 p.m. Waldenbooks is in the Northtown Mall, 398 Northtown Drive in Blaine, MN 55434. Their phone number is 763-780-1264. I hope to see you there!" Seriously, both of those books will make a great gift for the right person.
Friday, December 19, 2008 - 7:20am
WOULD YOU LIKE TO RESPOND?
THURSDAY STUFF
It had to happen one day on The Price Is Right (I think it's the second time, actually) - someone guessed the price of his showcase and got it right on the nose. Note how unimpressed Drew Carey is, like it happens all the time.
Help out this great cause, this from an email from Alek O. Komarnitsky: Kentucky Fried Chicken is running a nationwide Holiday Traditions Contest and Colonel Sanders has selected the Controllable Christmas Lights for Celiac Disease as a semi-finalist - see those here.
The winner receives an entire year of finger-lickin' good KFC chicken; Original, BBQ, or (my favorite) Extra Crispy - that's a lot of 15 piece buckets!
The winner also receives a $1,000 and while I'm tempted to use that to buy even more Christmas Lights, I will have KFC donate the entire amount directly to the University of Maryland Center for Celiac Research which my (crazy) holiday lights have already raised over $30,000 for.
The winner is determined by Internet voting through December 21st, 2008 so please consider voting for my site and help win a $1,000 for Celiac Disease. More info here.
The Dallas Cowboys 20-8 victory over the Super Bowl champion New York Giants on NBC Sunday Night Football drew the most viewers ever for a Sunday Night Football game. With 23.1 million viewers, Sunday night's broadcast was the No.1 primetime program for the week and the No. 3 primetime program for the entire television season according to data provided by Nielsen Media Research.
Thursday, December 18, 2008 - 9:50am
WOULD YOU LIKE TO RESPOND?
NEW SHOW REVIEW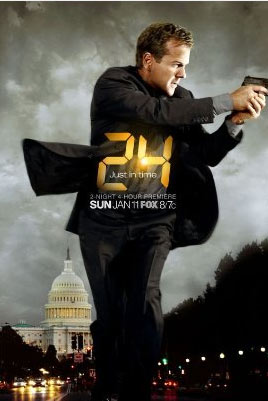 Good news for 24 fans. After a lackluster season 6, 24 is on track to have it's best year yet!
I grew up on comic books and Dark Shadows so I'm not bent out of shape when a character that was dead dead dead comes back to life. It's not particularly original and a bit of a cop out but I love the classic 24 cast and rejoice to see them re-united. The producers have even admitted to taking "creative license" in bringing Tony Almeida back but they do it in a way that keeps you guessing so what the hey, I'll buy in.
After an explosive first scene, our story opens with Jack Bauer being hauled before a Senate subcommittee to investigate his alleged indiscretions (oh, alleged hell, we all saw what he did). Unfolding events require Jack to be pressed back into action but he soon finds that distinguishing between friends and foes will be as difficult as ever (you guessed it, there's another mole).
This time a terrorist group seeks to cripple the nation's technological infrastructure in an attack designed to force the president to back down on taking military action against a genocidal African leader.
Janeane Garofalo is a terrific addition to the cast, a Cloe-type character that pits her considerable tech skills against Jack's rouge operation. Cherry Jones as the newly elected President is right in tune as are FBI agents played by Annie Wersching and Jeffrey Nordling that hound Jack at every turn. There's also a creepy subplot involving the president's brother and a possible murder coverup that promises to boil over and get real messy, real quick.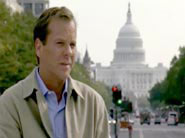 The first 15 minutes of episode three reveals a shocker as two more of Jack's former coworkers come in from the cold in a jarring plot twist. Before long, Jack and his deconstructed 'CTU' team are back in action for a seat-of-your-pants thrill ride that will remind you just what made 24 TV's most compelling drama in the first place.
As always a healthy suspension of disbelief is necessary to accept some of the tight escapes (the FBI can't lock down their own parking lot?!?) but these are minor bumps in the road that are easy to dismiss because of the fast paced nature of the scripts and the intense commitment of the characters.
With the new Washington, DC location, a new presidential administration, a plotline that sizzles, and excitement to spare, FOX is banking heavily on 24 getting it's mojo back. They're launching the season with a 4 hour event, two episodes on Sunday night, January 11th and two more the next night.
24 fans can stand up and cheer - Jack is back for real this time!
Wednesday, December 17, 2008 - 8:19am
WOULD YOU LIKE TO RESPOND?
FROM THE NEWS
Peter Falk's daughter says her father is no longer competent to run his own affairs because he suffers from Alzheimer's disease and dementia. If you haven't seen them, the first three seasons of Columbo are phenomenal.
Jack Black will guest-star in the upcoming post Super Bowl episode of The Office.
The Heroes story continues online at NBC.com with the Heroes Webisodes: The Recruit!
LOST Season 5 Sneak Peek - Jack & Ben plot a return to the Island; Jack shaves the pelt off his face!
Tuesday, December 16, 2008 - 12:12pm
WOULD YOU LIKE TO RESPOND?
Your host - Billy Ingram is one of the nation's top Pop Culture Gurus and expert on classic TV.

Seen on VH1,
Trio & Bravo!
PR4 & PR5 Pages for ads - CHEAP!

If you have a TV blog - let's exchange links!
CONTACT ME




TV on DVD/ /Holiday Specials on DVD
TV Commercials on DVD
TV Shows on BLU-RAY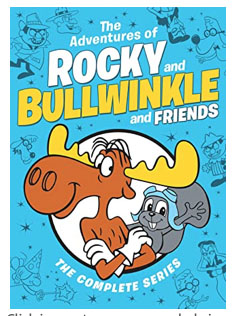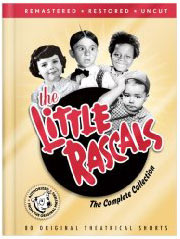 Everything you're looking for is here: