* Classic & Current TV Blog *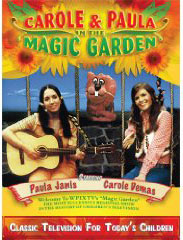 FRIDAY STUFF
If sales through this site are any indication, WPIX's local kid show The Magic Garden on DVD is a hot seller. Not surprising, kids who grew up with this show loved it and want to either relive the experience or share it with their kids. Will other stations take a look at what pitiful remnants they have left from their kiddie programs and start thinking in terms of a DVD release?
TV Guide magazine announced today an exclusive offer in which free downloads of NBC's Season 3 premiere of the Emmy award-winning comedy series 30 Rock will be given away a week in advance of its broadcast network premiere to subscribers of TV Guide magazine and in newsstand editions nationwide.
There is a show called Sex Change Hospital on WE tv?!? From the press release: The fascinating documentary series SEX CHANGE HOSPITAL concludes with all-new episodes, profiling the lives of transgender individuals as they undergo life-changing gender reassignment surgery. These men and women from all walks of life share their unique story of how they came to terms with their sexuality and what brought them to see Dr. Marci Bowers, a well-known transgender surgeon who is a transgender woman herself.
Things You Probably Already Know, But Have Forgotten - well, I didn't know some of these. Like this one: The name Wendy was made up for the book Peter Pan; there was never a recorded Wendy before.
People like lists - Entertainment Weekly has compiled their 20 Best & Worst Captain Kirk Moments.
Have a laugh - the late, great Bill Hicks on advertising (NSFW):
Friday, October 17, 2008 - 9:46am
WOULD YOU LIKE TO RESPOND?
NETFLIXING
Here are some quick reviews of DVDs I've Netflixed over the last month.
Sudden Fear - rousing Film Noir starring Joan Crawford as an innocent, wronged woman and Jack Palance as the guy who's out for her money. Holds up very well.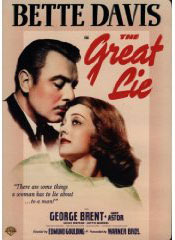 The Great Lie - Bette Davis gets her man at any cost. Builds to a tense conclusion, then suddenly ends in the most preposterous way. Hattie McDaniel has a nice role in this one as well. This DVD is cool because it has a 'Warners Night At The Movies' feature which simulates a night at the movies with shorts, cartoons and previews. Makes for a great rainy (or snowy) night at home.
Ocean's Eleven - the original, Rat Pack version is silky smooth and so lightweight it fairly floats above the screen. I miss the old Las Vegas, seen here in all it's glory. A commentary track by Frank Sinatra, Jr. gives this DVD an extra jump.
Boy, Did I Get a Wrong Number! - super-silly Bob Hope and Phyllis Diller comedy that's good for a few corny laughs. Boy, those jokes got old fast. Just close your eyes and remember when they were new.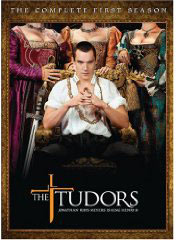 The Tudors: Season 1 - most captivating series I've seen in a long time, up there with Rome or Deadwood. Season 2 comes to DVD on December 30th.
The Transporter 2 - not as good as the first but I love action movies so this one's a go.
Shadow of the Eagle - 1932 serial starring a young John Wayne. Saturday morning fun.
Mr. Warmth: The Don Rickles Project - a documentary I was really looking forward to. It was OK.
A/k/a Tommy Chong - a real punch in the gut. Don't miss this one.
Air Raid Wardens / Nothing But Trouble - not Laurel & Hardy's best but pretty darn funny.
Dick Cavett Show: Hollywood Greats - interviews with Bette Davis, Orson Welles, Robert Mitchum, Alfred Hitchcock and others. More please!
Control - powerful, true to life film about Joy Division's lead singer. What incredible performances!
Laurel & Hardy: Way Out West/Block-Heads - oh, these ARE two of Laurel & Hardy's best.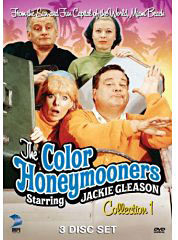 The Color Honeymooners: Collection 1 - classic Honeymooners routines stretched to an hour with added musical numbers. I loved it, how can you go wrong with Art Carney and Jackie Gleason in their classic roles? Collections 2 & 3 are better than 1 which mostly concerns a trip to Europe that gets pretty outlandish and boring at times.
The In-Laws - one of my favorite films of all time, Alan Arkin & Peter Falk were never funnier.
Strangers with Candy: Season 3 - enjoy The Colbert Report but haven't seen this show? You're in for a treat.
The Final Countdown - modern US warship goes back in time to just before the attack on Pearl Harbor. Like Red Dawn and Toy Soldiers, I think I've seen this movie 5 times but I still get a kick out of it. This DVD has a nice commentary track.
Friday, October 17, 2008 - 5:00am
WOULD YOU LIKE TO RESPOND?
TV NEWS
Top 10 Rated Programs in Syndication (Week of Sept. 29):
Wheel of Fortune
Jeopardy
Oprah
Two and a Half Men
Entertainment Tonight
Judge Judy
Family Guy
Seinfeld
CSI: NY
Law & Order: SVU
J.J. Abrams offers a first look into the new Star Trek movie, he hopes to create a film, "that grabbed me the way 'Star Wars' did."
Gale Harold was in critical condition Wednesday after the Desperate Housewives actor crashed his motorcycle the day before, a hospital spokeswoman said.
On an episode of the 1966 Batman TV show, the caped crusader ran for mayor of Gotham City against one of his arch enemies. The Penguin's line of attack in his debate with Batman sounds really familiar.
Thursday, October 16, 2008 - 11:24am
WOULD YOU LIKE TO RESPOND?
ANOTHER PASSING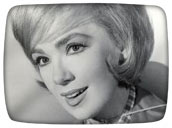 Kevin Butler writes: TV comedy and music has suffered another loss - character actress, mimic and singer Edie Adams, the widow of TV comedy pioneer Ernie Kovacs, is dead. Ms. Adams left us October 15th; she was in her 80s, suffering from pneumonia and cancer.
She performed on numerous TV shows and Broadway musicals (most notably Lil' Abner and Wonderful Town and on her husband's TV programs.
Ms. Adams also appeared in many films including The Apartment with Jack Lemmon and It's A Mad, Mad ,Mad, Mad World. Following her husband's death in a car crash in the winter of 1962, she was forced to work off her husband's debts to the IRS. She fought hard to regain the rights to Ernie's TV shows and re-released them to the home video market.
In addition to appearing on tributes to her husband, Ms. Adams' only major TV performance in later years was in the made for television movie Ernie Kovacs: Behind The Laughter which was based on the real life story of Kovaks trying to locate his two daughters Bette and Kippie who were abducted by his ex wife.
Of all of her television appearances Edie Adams' most memorable was when she sang 'That's All' on the very last installment of The Lucy/Desi Comedy Hour in 1961. Her performance of this sad ballad moved everyone on the set of the show to tears.
Ms. Adams three daughters - Mia Susan, Bette Kovacs, Jr. and Kippie have passed away. She is survived by a son from another marriage.

Here's the NY Times obit.
Thursday, October 16, 2008 - 9:11am
WOULD YOU LIKE TO RESPOND?
DVD REVIEW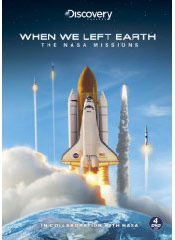 When We Left Earth - The NASA Missions (4-Disc Set in Limited Edition Tin)
Rocket back to a time when courage wasn't just the stuff of fiction, thrill at true heroes performing extraordinary feats of bravery, celebrate a time when remarkable men and women reached for the heavens and pierced the sky. Emotionally overwhelming, this is one of the finest documentary series I've ever seen. I sat riveted, transfixed throughout this entire experience, the first episode alone had me in tears by the end.
Even when you know how things turn out When We Left Earth is still edge of the seat entertainment. Breathtaking archival footage, much of it unseen, and interviews with astronauts and flight personnel brings this amazing story to life. It's remarkable how crisp and spectacular the film looks from those early flights into space. Read the entire review...
Thursday, October 16, 2008 - 8:13am
WOULD YOU LIKE TO RESPOND?