* Classic & Current TV Blog *
BYE BYE
Eriq LaSalle and George Clooney may be returning for one last run through the ER but Julianna Margulies has declined to reprise her role as Nurse Carol Hathaway on the show's final season.
Is this the end for Prison Break? (Yes.) Actors on the Fox drama have been notified that their filming schedule might be extended for two additional episodes which could serve as a final wrap up for the four year series.
Fans are upset that NBC is considering canceling Lipstick Jungle and that has the network rethinking. The show went up 17% in the adult demo after stories of cancellation made the rounds, while the previous week's episode went up 20%. Still, that's a 1.4 rating in the end, way too low for an hour-long drama.
The series finale for one of my favorites, The Shield, is coming up soon. Star Michael Chiklis and show creator Shawn Ryan open up to THR.com about the series.
The Office actor-writer B.J. Novak may or may not be leaving the show but he's definitely taking most if not all of the rest of the season off. He'll be filming Quentin Tarantino's latest film, Inglourious Basterds.
Tuesday, November 18, 2008 - 6:44am
WOULD YOU LIKE TO RESPOND?
MONDAY STUFF
Julian West's biography of Clellan Card, entitled "What a Card! The Story of Clellan Card and 'Axel & His Dog'" has finally been published. The book is priced at $29.95 and it's totally worth it - 336 pages, with over 100 photos plus a 2-hour DVD of never-before-available Axel & His Dog classics. You can order it here.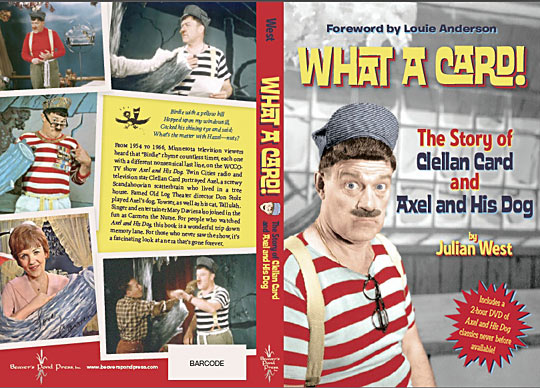 Joe writes in regard to our Little Rascal tribute: "I remember seeing an episode of 'SATURDAY NIGHT LIVE' in 1984 that Robert Blake hosted (he was then doing a show on NBC called 'HELLTOWN') and, at the beginning, they did a comical update on 'OUR GANG.' Various cast members played them. I just remember 'Froggy' walked out in a prison uniform, handcuffed, and Robert Blake said 'Froggy!! What happened to you?' He said, 'Well, remember how I swore I'd find the doctor who removed my tonsils and accidentally did this to my voice?' Robert Blake said, "Yea". Then Froggy said, 'Well, I found him!!'
"Then Darla came out, dressed like a hooker and swinging a purse and chewing gum. Robert Blake asked her what she's been up to lately, and she replied, 'I've been turning tricks in Washington.' (I remember, she was played by Julia Louis-Dreyfus from 'SIENFELD' who was a regular on the show then)."
By the way, it's the 50th anniversary of the first TV airing of The Three Stooges films and you can read about it here.
Monday, November 17, 2008 - 7:20am
WOULD YOU LIKE TO RESPOND?
NEWS CENTRAL
People can log onto www.colbertnation.com to get details on how they can get a "priceless piece" of Colbert such as his boots (eBay auction), sweater and Christmas stockings (PayPal/MySpace) that he used in the special. 100% of net proceeds benefit the charity Feeding America. Those boots are really cool!

Speaking of Comedy Central, Jeff Dunham's Very Special Christmas Special airs on Sunday, it's 2 hours of holiday themed stand-up sure to have you erupting in gales of laughter, at least for the first half.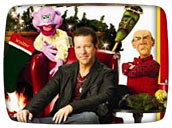 Dunham opens the program with an uproarious routine about his teen daughter pumping gas for the first time, this might be his funniest bit yet. In short order the comic ventriloquist busts out his puppet pals - cranky old Walter rants and raves about the holidays and how things have changed while Achmed the Suicide Bomber details his devilish plans for Santa and sings 'Jingle Bombs.' Great stuff!
After that point you can pretty much stop watching. This program goes on way too long with too much mugging and grasping for the easy laughs in the second act (hey, that puppet's a redneck, yuk, yuk, yuk).
Still, if you're surfing the dial for laughs the first half of this special is a sure winner! Comedy Central presents Jeff Dunham's Very Special Christmas Special starting Sunday, November 16th at 9:00 ET/PT. It's also available on DVD.
This is starting to sound like the Comedy Central blog. If it was I'd say, "Please replace Mad TV with something that's - you know - funny."
Friday, November 14, 2008 - 7:05am
WOULD YOU LIKE TO RESPOND?
THURSDAY SCRAPS
NBC has cancelled My Own Worst Enemy and Lipstick Jungle may be next while Fox will end production on Mad TV next month, finally.
Does this video prove CNN faked some of its Gulf War reporting back in 1991?
Jason Priestly behind the scenes on My Name is Earl airing tonight:
Thursday, November 13, 2008 - 11:01am
WOULD YOU LIKE TO RESPOND?