'TVparty is hands down the best site on the Web for classic TV.'
- Discovery Channel
---
Latest TVparty
Classic TV Blog Entries
TV BLOG - 107
TV BLOG - 106
TV BLOG - 105
TV BLOG - 104
TV BLOG - 103
TV BLOG - 102
TV BLOG - 101
TV BLOG - 100
TV BLOG - 99
TV BLOG - 98
TV BLOG - 97
TV BLOG - 96
TV BLOG - 95
TV BLOG - 94
TV BLOG - 93
TV BLOG - 92
TV BLOG - 91
TV BLOG - 90
TV BLOG - 89
TV BLOG - 88
TV BLOG - 87
TV BLOG - 86
TV BLOG - 85
TV BLOG - 84
TV BLOG - 83
TV BLOG - 82
TV BLOG - 81
TV BLOG - 80
TV BLOG - 79
TV BLOG - 78
TV BLOG - 77
TV BLOG - 76
TV BLOG - 75
TV BLOG - 74
TV BLOG - 73
TV BLOG - 72
TV BLOG - 71
TV BLOG - 70
TV BLOG - 69
TV BLOG - 68
TV BLOG - 67
TV BLOG - 66
TV BLOG - 65
TV BLOG - 64
TV BLOG - 63
TV BLOG - 62
TV BLOG - 61
TV BLOG - 60
TV BLOG - 59
TV BLOG - 58
TV BLOG - 57
TV BLOG - 56
TV BLOG - 55
TV BLOG - 54
TV BLOG - 53
TV BLOG - 52
TV BLOG - 51
TV BLOG - 50
TV BLOG - 49
TV BLOG - 48
TV BLOG - 47
TV BLOG - 46
TV BLOG - 45
TV BLOG - 44
TV BLOG - 43
TV BLOG - 42
TV BLOG - 41
TV BLOG - 40
TV BLOG - 39
TV BLOG - 38
TV BLOG - 37
TV BLOG - 36
TV BLOG - 35

TV BLOG - 34
TV BLOG - 33
TV BLOG - 32
TV BLOG - 31
TV BLOG - 30
TV BLOG - 29
TV BLOG - 28
TV BLOG - 27
TV BLOG - 30

TV BLOG - 29
TV BLOG - 28
TV BLOG - 27
TV BLOG - 26
TV BLOG - 25

TV BLOG - 24
TV BLOG - 23
TV BLOG - 22
TV BLOG - 21
TV BLOG - 20
TV BLOG - 19
TV BLOG - 18
TV BLOG - 17
TV BLOG - 16
TV BLOG - 15
TV BLOG - 14
TV BLOG - 13
TV BLOG - 12
TV BLOG - 11
TV BLOG - 10
TV BLOG - 9
TV BLOG - 8
TV BLOG - 7
TV BLOG - 6
TV BLOG - 5
TV BLOG - 4
TV BLOG - 3
TV BLOG - 2
TV BLOG - 1
---
'TVParty.com, a TV history website... its links to Amazon.com help sell TV DVDs."
- Boston Globe
"All the coolest, strangest, most absurd shows and peculiar tube trends ever -- they're all part of the wallow that is TVparty!"
- Diane Werts, Newsday
'A twisted walk
down memory lane!'
- Sharon Edry, TV Guide
'Top Five Sites! Interviews and articles... are must reads.'
- London Sunday Times
'It's too good to be true. Put together by Billy Ingram, TVparty.com has gossip, scandal, sex, singing, dancing, action, drama and celebrities with their 'original parts''
- LA Times
'An ingenious tribute that elevates the TV past to artlike proportions. Site guru Billy Ingram has compiled features both over-the-top and museum worthy, blissful nostalgia for those born in the '40s or the '80s. A+
- Entertainment Weekly
'Every decade expresses its kooky collective unconscious on the tube, celebrated affectionately at Billy Ingram's TVparty. Ingram provides a hilarious glimpse into the American pop psyche.'
- Yahoo
'Get the inside scoop on all your favorite classic TV shows at TVParty.'
- USA Today
"...revisits trends and traumas of TV's past."
- Baltimore Sun


* Classic Television & Current TV Blog *
SOON IT WILL BE...
This is sweet, sick and funny - Steve Martin & Paul Simon performing 'Silver Bells ' in rehearsal for a 1970's Saturday Night Live sketch.
Gosh I miss the 1970s (I never thought I'd say that!) during the Holidays. I guess because that was the last time my older relatives, Grandmother and aunts, were alive.
Remember the Norelco Santa? I can't remember a time growing up when these commercials didn't air, I especially remember seeing them on Sunday afternoons in the 1960s & 1970s.
How better to finish off Christmas Eve than with a bottle of Andre Cold Duck? That'll take you back in time!
Finally, this special aired exactly 30 years ago tonight. The illustrations look like they were done by Drew Struzan (of the Indiana Jones movie posters) but I can't be sure.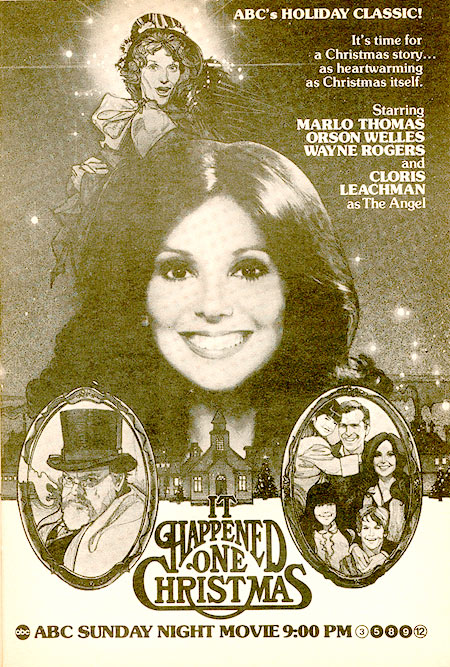 Wednesday, December 24, 2008 - 8:45am
WOULD YOU LIKE TO RESPOND?

SALLY STARR
Bob Huggins updates us: "To the best of my knowledge, Sally Starr is alive and well and living in Southern New Jersey (her home since moving back to the Philadelphia area from Florida). However, I believe that she has retired from public appearances and, as this link will show you, she retired in 2006 from her radio gig at a local station in South Jersey.
At the bottom of this page, there's a good link to the Broadcast Pioneers of Philadelphia's Sally Starr biography, but her own web site is no longer operational. Sally will celebrate her 86 birthday on January 25, 2009."
Tuesday, December 23, 2008 - 1:50pm
WOULD YOU LIKE TO RESPOND?
A CHRISTMAS MIRACLE
This happened Christmas Day in 2002, it was my first Christmas back from London. I got home from the family mishagosh and popped in an old video tape of stuff I taped off of the TV some 15 years earlier and a string of Beverly Hillbillies episodes came on from the first season. I laughed so hard and was so disappointed that I only had those few episodes. I could have watched it all day but.... just then the phone rang and my mom informed me that I had a present from a distant friend that she forgot to give me. I figured it couldn't be much since this person and I don't normally exchange presents. I asked my mom to open it and lo and behold it was a two tape set of Beverly Hillbillies episode from the first two seasons! There were like 30 episodes in that set so I did indeed watch the Beverly Hillbillies all evening, now it's kind of a personal Christmas tradition.
Here's the first part of the 1962 Christmas episode 'No Place Like Home' from You Tube. The show always has storylines that ran for a two episode arc so this is part two. You can find the rest here. Note the odd theme song, it was tagged on the bootleg DVD releases. Music rights, you know.
By the way, did you know the 'Giant Jackrabbit' episode of Beverly Hillbillies is still one of the highest-rated shows in TV history?
Julian West has great tidings for Twin Cities viewers: "Wow, exciting news! Boyd Huppert of KARE 11 is going to do a story about Axel and my book, which will be televised this Wednesday night, Christmas Eve! Of course, the piece will feature Axel's version of "The Night Before Christmas" (well, part of it, anyway) and other fun stuff. I don't know yet whether it will air during the 6 o'clock news, the 10 o'clock news, or what, but I'll send an email when I find out. Anyway, watch "Canal" 11 on Christmas Eve!" Axel's 'Night Before Christmas' was a tradition for so many years there - gosh, I wish KARE 11 could find the time to air the entire thing - they probably have no idea how popular it would be, remember when WPIX in New York brought back the Yule Log? Smash hit!
Tuesday, December 23, 2008 - 8:20am
WOULD YOU LIKE TO RESPOND?
STUFF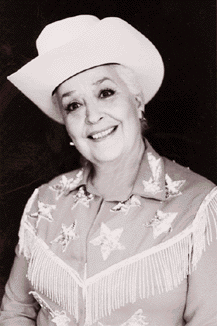 Walter Henderson asks about Philly's favorite Philly: "I was interested in ordering Sally Starr's CD but the address for her PO box returned my letter to her. Also your link to her web site is down do you know if she is alright?"
I really have no clue – I hope she's OK but those links have been dead for some time, apparently. Anyone know how "our gal Sal" is doing?
You didn't ask for it! Remember the video of my former work place, Seiniger advertising? Well, I found footage from the Seiniger 1989 Christmas party and posted the video and the story behind it - the high res, Quicktime version is here - the lower res You Tube version is here.
Mark Evanier writes on his Blog just how that Price Is Right contestant guessed the showcase price exactly - the story will surprise you.
Sunday, December 21, 2008 - 11:20am
WOULD YOU LIKE TO RESPOND?
SNOWED IN?
Boy, am I jealous, I haven't seen a good snow in years. Still have Christmas shopping to do? Shop online where you get massive discounts and free shipping. Let Amazon figure out how to get your gifts to where they're going. It doesn't get any better than that!
Friday, December 19, 2008 - 2:22pm
WOULD YOU LIKE TO RESPOND?
Your host - Billy Ingram is one of the nation's top Pop Culture Gurus and expert on classic TV.

Seen on VH1,
Trio & Bravo!
Actors working in the South / Southern Actors