'TVparty is hands down the best site on the Web for classic TV.'
- Discovery Channel
---
Latest TVparty
Classic TV Blog Entries
TV BLOG - 92
TV BLOG - 91
TV BLOG - 90
TV BLOG - 89
TV BLOG - 88
TV BLOG - 87
TV BLOG - 86
TV BLOG - 85
TV BLOG - 84
TV BLOG - 83
TV BLOG - 82
TV BLOG - 81
TV BLOG - 80
TV BLOG - 79
TV BLOG - 78
TV BLOG - 77
TV BLOG - 76
TV BLOG - 75
TV BLOG - 74
TV BLOG - 73
TV BLOG - 72
TV BLOG - 71
TV BLOG - 70
TV BLOG - 69
TV BLOG - 68
TV BLOG - 67
TV BLOG - 66
TV BLOG - 65
TV BLOG - 64
TV BLOG - 63
TV BLOG - 62
TV BLOG - 61
TV BLOG - 60
TV BLOG - 59
TV BLOG - 58
TV BLOG - 57
TV BLOG - 56
TV BLOG - 55
TV BLOG - 54
TV BLOG - 53
TV BLOG - 52
TV BLOG - 51
TV BLOG - 50
TV BLOG - 49
TV BLOG - 48
TV BLOG - 47
TV BLOG - 46
TV BLOG - 45
TV BLOG - 44
TV BLOG - 43
TV BLOG - 42
TV BLOG - 41
TV BLOG - 40
TV BLOG - 39
TV BLOG - 38
TV BLOG - 37
TV BLOG - 36
TV BLOG - 35

TV BLOG - 34
TV BLOG - 33
TV BLOG - 32
TV BLOG - 31
TV BLOG - 30
TV BLOG - 29
TV BLOG - 28
TV BLOG - 27
TV BLOG - 30

TV BLOG - 29
TV BLOG - 28
TV BLOG - 27
TV BLOG - 26
TV BLOG - 25

TV BLOG - 24
TV BLOG - 23
TV BLOG - 22
TV BLOG - 21
TV BLOG - 20
TV BLOG - 19
TV BLOG - 18
TV BLOG - 17
TV BLOG - 16
TV BLOG - 15
TV BLOG - 14
TV BLOG - 13
TV BLOG - 12
TV BLOG - 11
TV BLOG - 10
TV BLOG - 9
TV BLOG - 8
TV BLOG - 7
TV BLOG - 6
TV BLOG - 5
TV BLOG - 4
TV BLOG - 3
TV BLOG - 2
TV BLOG - 1
---
'TVParty.com, a TV history website... its links to Amazon.com help sell TV DVDs."
- Boston Globe
"All the coolest, strangest, most absurd shows and peculiar tube trends ever -- they're all part of the wallow that is TVparty!"
- Diane Werts, Newsday
'A twisted walk
down memory lane!'
- Sharon Edry, TV Guide
'Top Five Sites! Interviews and articles... are must reads.'
- London Sunday Times
'It's too good to be true. Put together by Billy Ingram, TVparty.com has gossip, scandal, sex, singing, dancing, action, drama and celebrities with their 'original parts''
- LA Times
'An ingenious tribute that elevates the TV past to artlike proportions. Site guru Billy Ingram has compiled features both over-the-top and museum worthy, blissful nostalgia for those born in the '40s or the '80s. A+
- Entertainment Weekly
'Every decade expresses its kooky collective unconscious on the tube, celebrated affectionately at Billy Ingram's TVparty. Ingram provides a hilarious glimpse into the American pop psyche.'
- Yahoo
'Get the inside scoop on all your favorite classic TV shows at TVParty.'
- USA Today
"...revisits trends and traumas of TV's past."
- Baltimore Sun


* Classic Television & Current TV Blog *

SATURDAY
John Stamos was actually pitching a "semi-remake" of Full House but, "We couldn't make the deal, it's completely dead right now" according to an insider.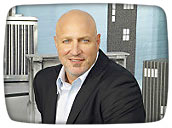 Shocker from The New York Daily News - Top Chef judge Tom Colicchio has become the latest celebrity restaurateur to land in hot water. Former employee Nessa Rapone of Brooklyn sued Colicchio Friday, contending he cheated her out of tips and overtime. Rapone says she was fired from Colicchio's Craftbar in May 2007, after asking if the company was violating federal wage and labor laws. The Story is here.
Bruce Yurgil has a theory about the lack of Captain Kangaroo on DVD: "Perhaps the reason they won't be re-released is that not every element of the show can clear copyrights. They used a lot of popular music and films and cartoons from other studios. Just my guess." Could be a factor. Why doesn't CBS or someone else do a CK retrospective, what Boomer wouldn't watch that? Perhaps the people that own the rights to the character don't own the actual physical episodes and can't or won't come to terms with those that do.
James Counts points us to a story about a found episode of one of Britain's most beloved sitcoms.
Ron Zurek points out that the URL for his Carpenter's web site has changed from 'thecarpenters.tv' to http://www.myokom.info.
Saturday, December 13, 2008 - 2:44pm
WOULD YOU LIKE TO RESPOND?
STUFF
When I first started this site back in late 1994, people often wrote in to ask about a show I'd never heard of but obviously was greatly loved during its short time on the air. That show was He's Dickens, I'm Fenster. Producer Leonard Stern had a lot of success with his Get Smart DVD Box Set that he now wants to get Dickens out on DVD and has set up a web site to promote the idea. You'll even find a featured episode and discover what the show's Laurel & Hardy connection was.
From the press release: Calling all Flight of the Conchords Fans!
Want a chance to show off your creativity and love for the Conchords?
Go to flightlipdub.com to create and submit your own FOTC Lip Dub.
Users are encouraged to record themselves lip-syncing the classic song "Hiphopopotamus vs. Rhymenoceros" and upload their video directly to the Lip Dub microsite. The best and most popular submissions each day will be featured on FlighLipDub.com and the best videos overall will have the opportunity to be selected for a final "Lip Dub Fansterpiece" that will air on HBO. So far there are Lip Dub entries from comedians and personalities such as: Jake and Amir from College Humor David Wain, A.D. Miles, Steve Agee, Nate Corddry, and Kerry Kennedy-Silver You can show your love for the Conchords and have a chance to see yourself on HBO, so hurry - submissions end January 25th! The Flight of the Conchords returns on January 18th at 10PM on HBO.
TV Land will air a 13-hour I Love Lucy marathon on Wednesday, Dec. 31 from 8 a.m. to 9 p.m. ET, the episodes shown will be based on viewer's votes. SOAPnet will air a 10-hour marathon of Private Practice on New Year's Day beginning at 9 a.m.
From another press release: Actor William Shatner stops by the Howard Stern studio; home of Howard TV On Demand to talk with Howard and the crew for a candid and comical appearance about his television career. Howard begins the interview by grilling Shatner about his wealth to which Shatner jokes, "I'm worthless. My self-image is so bad that I came on here and [Robin] said I'm not great and I agree with her." When asked if he was offered a cameo in the new "Star Trek" movie by director J.J. Abrams, Shatner expresses his disappointment about not being included.
Referring to the recent revelations about bad blood between him and former "Star Trek" co-star George Takei (who often appears on "The Howard Stern Show" as a guest announcer), Stern asks Shatner to confirm whether he was invited to Takei's recent wedding and Shatner replied, "Not to my knowledge." When Stern plays a recent clip of Takei saying Shatner's stability is called into question, Shatner jokingly agrees with him. Shatner hinted at reconciliation, possibly inviting Takei to appear on new his show, "Shatner's Raw Nerve." He sums up his philosophy by saying, "When you leave this life, wouldn't it be better not to have any animus anywhere?"
This episode can only be seen on Howard TV On Demand, starting today, December 11, 2008. For more information about Howard TV On Demand and its availability, check out www.HowardTV.com.
Check out Jimmy Fallon's has a new video blog - in the third installment below, SNL's Fred Armisen stopped by to test Jimmy's interview skills.
Friday, December 12, 2008 - 8:35am
WOULD YOU LIKE TO RESPOND?
SAY IT AIN'T SO!
Ed Golick, who is wise in these matters, has some startling news: "I was told by a friend and employee of CBS who is VERY familiar with what they have in their video vaults that CBS doesn't hold the rights to the Captain Kangaroo tapes. Robert Keeshan Associates, the late Keeshan's production company, owns the shows, which are well taken care of and currently stored in an underground vault. He also told me that, for reasons he can't go into, there will never be a DVD release of vintage CK shows. It's a shame. The Captain was a big part of millions of baby boomer's lives."
Why in the world would they not want to make money with those shows? They would sell a million easy! Maybe it has something to do with that new Captain Kangaroo program that bombed so badly a few years ago?
Friday, December 12, 2008 - 8:00am
WOULD YOU LIKE TO RESPOND?
E-MAIL
Jason Beard kindly updates us on what's left of the Captain Kangaroo shows as CBS supposedly destroyed all the episodes decades ago: "I visited the TVparty site while doing a online search for information regarding missing kinescopes of various television series. I read with interest the line in the TVparty site which read (more or less...) that there are almost no existing episodes of the thirty year CBS run of Captain Kangaroo. To a point, I agree with you. But as a private collector, I can assure you that a few precious kinescopes and videotapes exist. I have a handful of 16mm black and white (and one color) episodes of Captain Kangaroo. Through online searches, I have discovered that a number of the Captain's appearances on other series have survived. I thought my information might be of some assistance.
"Some of my 16mm Captain Kangaroo kinescopes have been transferred to tape/DVD, but not all of them. My most recent acquisition was a complete fifteen minute segment from the Saturday, July 6, 1957 episode (set in the ORIGINAL Treasure House). I am in the process of compiling a book regarding the series, and have started a web site (in progress...) with photos, web links and trivia. Having amassed a collection of almost 200 Captain items, I have been and am in contact with others (including a man who owns MISTER MAYOR's desk!!) who share the same enthusiasm for the show.
"Unfortunately, (and I speak with optimism, tempered with sadness), an official DVD release of even one Captain episode will probably never occur. I correspond with another collector who tried to contact the Keeshan estate to inquire as to the identity of the copyright holder, and was courtly told that "...it is a private and confidential matter...". I am also informed that the estate may only possess six episodes.
"As Captain Kangaroo is my favorite television series, it is disheartening to constantly see DVD releases of vintage tv shows and wish the CK was among them... until then, I'm satisfied to watch the few film prints in my possession.
"Again, thank you for your wonderful website; you are providing a wonderful research site. By the way, I am a life-long resident of Syracuse, New York, and was delighted to see mention of Monster Movie Matinee. However, the pictures you posted were not from the original run. The series was revived with inferior characters and performers, while still using the original opening credits (there is a website for the series and another Syracuse movie host, Baron Daemon, played by the very living Mike Price). The series began in 1964 and ended in 1980, when the station was sold. The original (and BEST) hosts of MMM were Dr. E. Nick Witty (played by the best announcer in the business, Alan Milair (who is still with us...) and Willard Lape, Jr (sadly, deceased) as his assistant, Epal."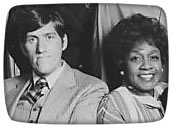 Eric Pleasant adds: "You forget Bill, to TVparty people Paul Benedict was also the legendary numbers painter on the old SESAME STREET that they showed constantly during his stint on the JEFFERSONS until the '80s. I believe until the '80s anyway."
And Susan Walker has some thoughts on Mary Ellen's wedding: "If it's such a joyous occasion, why does Mary Ellen look stunned? And Erin looks like a VERY surly maid of honor! On the other hand, Ma and Pa Walton look like they're thrilled to be getting rid of Mary Ellen..."
Thursday, December 11, 2008 - 10:42am
WOULD YOU LIKE TO RESPOND?
30 YEARS AGO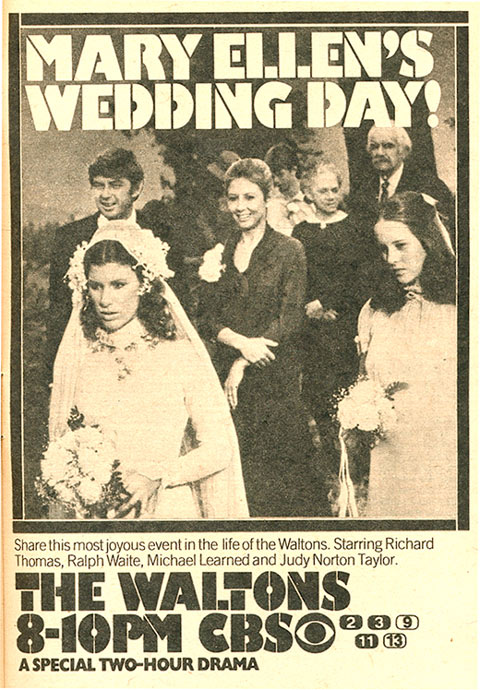 From November 4, 1978
Wednesday, December 10, 2008 - 1:00pm
WOULD YOU LIKE TO RESPOND?
WOW!
NBC has devised a way to keep Jay Leno from moving to ABC and confronting Conan O'Brien'sTonight Show - Leno gets a 10:00pm primetime slot every weeknight. This is one of the boldest programming moves a network has made in some time and could be a winner for the network. The new show will have the same basic format as the Tonight Show.
Tuesday, December 9, 2008 - 8:10am
WOULD YOU LIKE TO RESPOND?
Your host - Billy Ingram is one of the nation's top Pop Culture Gurus and expert on classic TV.

Seen on VH1,
Trio & Bravo!
Actors working in the South / Southern Actors
If you have a TV blog - let's exchange links!
CONTACT ME



TV on DVD/ /Holiday Specials on DVD
TV Commercials on DVD
TV Shows on BLU-RAY