* Classic & Current Television Blog *
MAN & SUPERMAN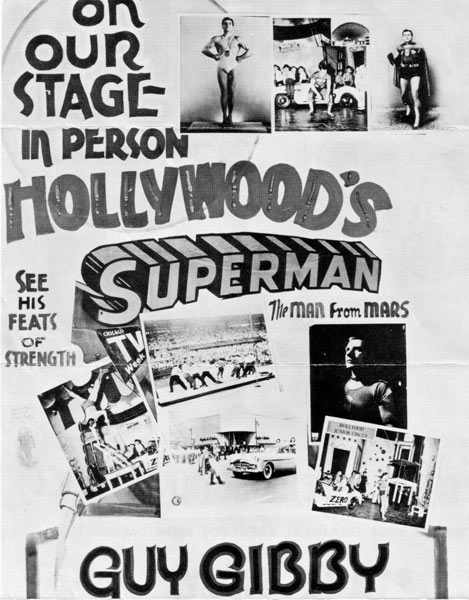 Ed Golick has a story related to an earlier post about the guy who claimed to be the inspiration for Superman. Turns out he's not the only one: "Here in Detroit we had our own 'faux Man of Steel,' automobile assembly line worker and part time entertainer Guy Gibby, who claimed that he was the inspiration for Superman. From the 1940s to the 1970s Gibby appeared in countless fairs, nightclubs and parades throughout the Midwest as 'The Original Superman in Real Life,' performing such feats of strength as high hand balancing, breaking chains with his chest and holding 20 men in a tug of war.
"In 1940 he was the cover boy for Vim, a bodybuilding magazine with a large gay following. But by the late 1970s an expanded waistline and advancing age seriously curtailed most of his strongman stunts. In 1975 I saw him, dressed in an off-model Superman suit, pull a car with a chain fastened around his waist. At first glance it seemed impressive, but the car was running - not a 'feat of strength' in my book. After the show he told me that he posed for the creators of the Superman comic book, but he couldn't tell me their names.
"Despite his dubious claims, Gibby was a talented strong man who entertained many with his acrobatic skills and feats of strength."
Thursday, January 29, 2009 - 6:35am
WOULD YOU LIKE TO RESPOND?

SANDY BECKER & ME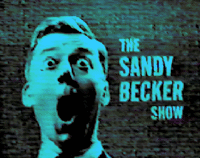 Tim Moriarty, Jr. had a very special place in TV history, especially if you grew up in the New York City area: "Every now and then I'll do a web search on Sandy to see what's been posted and went to your website (tvparty.com/lostbecker.html) a short time ago.

"Thanks to Kevin Butler for covering a wonderful man who meant so much to so many. I worked with Sandy for the three years he had the afternoon show on WNEW; the first year ('65-'66) was live, the second two ('66-'68, when we went off the air) we taped the in-between cartoon segments on one weekday evening and one weekend day. (It breaks my heart that none of the shows survived - at least none that anyone's posted.)

"I was very lucky to have had the opportunity to work on the show, which was mainly due to my parents - especially my father - having been friends of Sandy's for a long time. When he relocated to the afternoon slot, he wanted a kid sidekick but not a professional child actor. He asked my folks if I'd be interested (I'd been on one of the Professor's segments a while back) and I jumped at the chance.

"We did a screen test and everything was done on a handshake in the station manager's office on the first floor of the building - no lawyers, no agents (try doing THAT today). I remember Sonny Fox (followed by Bob McAllister) and Chuck McCann, but never met Soupy, although their office was around the corner from ours and we passed that way going to the elevators to go up to the studio. (The legend was that you had to be careful going by, cause you never know when a pie was going to come out the door, but I never saw it happen... .)

"After we went off the air, we spoke with Sandy on-air right after his radio show began, and heard from him every now and then when he'd come to New York after he moved to Florida. (He used to call me "Rat Fink" when he'd get on the phone.)

"I went on to graduate from high school (Xavier) in NYC in '74, went to the Virginia Military Institute and went on to a career as an officer in the Marine Corps, but never forgot my friend Sandy and carry with me so much of what he taught me on and off camera."
Wednesday, January 28, 2009 - 11:25pm
WOULD YOU LIKE TO RESPOND?
EARLY CABLE
Susan Walker writes about an earlier post on cable TV: "We had it back in 1972 as well in Charlotte! One of the early stations was Channel 20 out of Washington, DC – remember that?"

I sure do, WTTG in Washington, WGN in Chicago and WTBS in Atlanta were known as 'Superstations' back then because they appeared on the cable systems around the country. In fact, I was on Panorama once in 1977, WTTG's noon talk show, with David Brenner, the musical group Gotham, and Al Franken & Tom Davis from Saturday Night Live. A few months later I was riding to a party in Northern California and on the radio was the pre-show for The Grateful Dead's New Year's Eve live concert. Franken & Davis were backstage and Al Franken was totally blitzed.
Wednesday, January 28, 2009 - 1:45am
WOULD YOU LIKE TO RESPOND?


LISTEN TO THIS
Great news for Rankin Bass fans and lovers of classic TV in general. You see that player on the top left side of this page? That will link you to the Wait I Know This! podcast and on January 31st Rick Goldschmidt will be the host Eric Chilton's guest. Rick had some great stories about those great holiday specials we all grew up on. Tune in when the show is live at 7:00pm or listen to it later if you like.
Tuesday, January 27, 2009 - 8:30am
WOULD YOU LIKE TO RESPOND?
Blog Rerun: STOP CABLE TV!
My love of television was no doubt fueled by growing up in one of the first communities in the USA to have cable TV. Although Cable originated in the late-1950s, the Triad area of North Carolina was chosen for expansion in the late-1960s. The concept was a no-brainer for a city like New York or San Diego but would people in the fly over states actually pay for something they were essentially getting for free? It was thought at one time that only folks who got snowy reception would want Cable.
An aggressive campaign against cable TV was waged 40 years ago by local TV broadcasters and movie theater owners who felt threatened by the idea of multiple channels and clear reception. There was even an alarmist ad that ran with the previews in the theaters that warned of the slippery slope that would come with the dreaded wire.
Oh, you don't believe me do you? Here it is: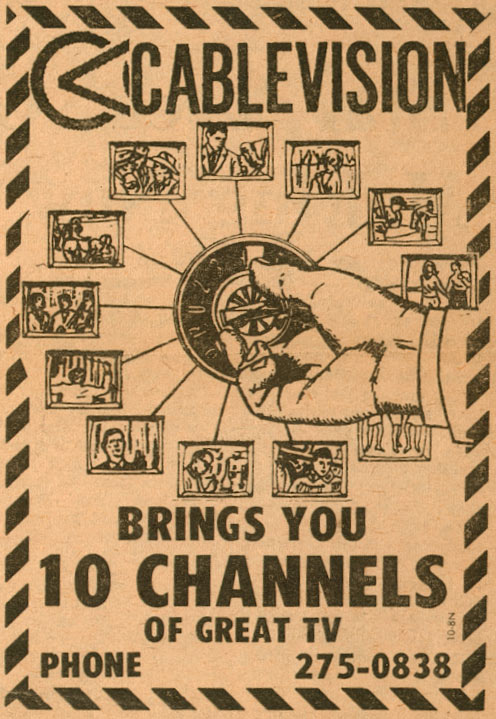 For whatever reason my dad subscribed to Cablevision (as it was called then) and we were treated to Superstations in Washington and Chicago as well as our locals (we had three UHF independents as I recall).
Eventually WTBS replaced WGN. Here's an ad for the service from 1972 - 10 whole channels! We also got HBO when it was first offered in 1973 or so and they seemed to show the same 30 movies over and over, month after month. It took a long time for HBO to shake that image and win back subscribers.
Tuesday, January 27, 2009 - 8:10am
WOULD YOU LIKE TO RESPOND?