'TVparty is hands down the best site on the Web for classic TV.'
- Discovery Channel
---
Latest TVparty
Classic TV Blog Entries
TV BLOG - 107
TV BLOG - 106
TV BLOG - 105
TV BLOG - 104
TV BLOG - 103
TV BLOG - 102
TV BLOG - 101
TV BLOG - 100
TV BLOG - 99
TV BLOG - 98
TV BLOG - 97
TV BLOG - 96
TV BLOG - 95
TV BLOG - 94
TV BLOG - 93
TV BLOG - 92
TV BLOG - 92
TV BLOG - 91
TV BLOG - 90
TV BLOG - 89
TV BLOG - 88
TV BLOG - 87
TV BLOG - 86
TV BLOG - 85
TV BLOG - 84
TV BLOG - 83
TV BLOG - 82
TV BLOG - 81
TV BLOG - 80
TV BLOG - 79
TV BLOG - 78
TV BLOG - 77
TV BLOG - 76
TV BLOG - 75
TV BLOG - 74
TV BLOG - 73
TV BLOG - 72
TV BLOG - 71
TV BLOG - 70
TV BLOG - 69
TV BLOG - 68
TV BLOG - 67
TV BLOG - 66
TV BLOG - 65
TV BLOG - 64
TV BLOG - 63
TV BLOG - 62
TV BLOG - 61
TV BLOG - 60
TV BLOG - 59
TV BLOG - 58
TV BLOG - 57
TV BLOG - 56
TV BLOG - 55
TV BLOG - 54
TV BLOG - 53
TV BLOG - 52
TV BLOG - 51
TV BLOG - 50
TV BLOG - 49
TV BLOG - 48
TV BLOG - 47
TV BLOG - 46
TV BLOG - 45
TV BLOG - 44
TV BLOG - 43
TV BLOG - 42
TV BLOG - 41
TV BLOG - 40
TV BLOG - 39
TV BLOG - 38
TV BLOG - 37
TV BLOG - 36
TV BLOG - 35

TV BLOG - 34
TV BLOG - 33
TV BLOG - 32
TV BLOG - 31
TV BLOG - 30
TV BLOG - 29
TV BLOG - 28
TV BLOG - 27
TV BLOG - 30

TV BLOG - 29
TV BLOG - 28
TV BLOG - 27
TV BLOG - 26
TV BLOG - 25

TV BLOG - 24
TV BLOG - 23
TV BLOG - 22
TV BLOG - 21
TV BLOG - 20
TV BLOG - 19
TV BLOG - 18
TV BLOG - 17
TV BLOG - 16
TV BLOG - 15
TV BLOG - 14
TV BLOG - 13
TV BLOG - 12
TV BLOG - 11
TV BLOG - 10
TV BLOG - 9
TV BLOG - 8
TV BLOG - 7
TV BLOG - 6
TV BLOG - 5
TV BLOG - 4
TV BLOG - 3
TV BLOG - 2
TV BLOG - 1
---
'TVParty.com, a TV history website... its links to Amazon.com help sell TV DVDs."
- Boston Globe
"All the coolest, strangest, most absurd shows and peculiar tube trends ever -- they're all part of the wallow that is TVparty!"
- Diane Werts, Newsday
'A twisted walk
down memory lane!'
- Sharon Edry, TV Guide
'Top Five Sites! Interviews and articles... are must reads.'
- London Sunday Times
'It's too good to be true. Put together by Billy Ingram, TVparty.com has gossip, scandal, sex, singing, dancing, action, drama and celebrities with their 'original parts''
- LA Times
'An ingenious tribute that elevates the TV past to artlike proportions. Site guru Billy Ingram has compiled features both over-the-top and museum worthy, blissful nostalgia for those born in the '40s or the '80s. A+
- Entertainment Weekly
'Every decade expresses its kooky collective unconscious on the tube, celebrated affectionately at Billy Ingram's TVparty. Ingram provides a hilarious glimpse into the American pop psyche.'
- Yahoo
'Get the inside scoop on all your favorite classic TV shows at TVParty.'
- USA Today
"...revisits trends and traumas of TV's past."
- Baltimore Sun


* Classic & Current TV Blog *
THANKSGIVING YOU TUBING
Let's trip way back to Thanksgivings past and explore the world of classic television for celebrations past. For the next half hour or so, the present melts away and you're back in the 1950s. Perhaps for the first time - or maybe this is a return trip.
First the opening to the three hour Rootie Tootie Thanksgiving Special airing live Thanksgiving Day from Radio City in 1951 hosted by Big Todd Russell. This show featured a plethora of kid show guest stars including Kukla, Fran & Ollie.
Next, pee pickin' good old boy Tennessee Ernie Ford treats us to a musical feast starting out with a traditional singing and dancing variety show opening followed by a funny monologue about down home Thanksgivings.
Let's wrap up at Tennessee Ernie Ford's place for yodeling, some honky tonk country music (the kind I like) and, finally, a prayer before beginning to eat. Remember, Thanksgiving is about giving thanks - if nothing else, thanks that things aren't worse than they are.
Wednesday, November 25, 2008 - 6:43am
WOULD YOU LIKE TO RESPOND?
THIS 'N' THAT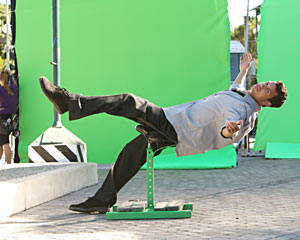 Heroes: Destiny is the offshoot series of Heroes available exclusively online which sprang from last year's "Create Your Hero" contest. The first of four episodes premiered last week exclusively online at NBC.com and on Sprint phones with one episode to be released every Monday at 9PM ET. In Heroes: Destiny, Columbian-born actor, Roberto Urbina, will bring the character Santiago to life. Urbina stars in a story created by the show's award-winning writers and produced in collaboration with the series creators. Lina Esco ("Cane") and Andrea Thompson ("24") will also star in the innovative micro-series, being filmed on location in Los Angeles. Based on the Aspen Comics' online illustrations which brought Santiago to life on NBC.com, the micro-series will be directed by Eagle Egilsson ("CSI: Miami," "The Wire"). Here are some downloads:
Episode 1 - Behind the Scenes / Episode 2 - Behind the Scenes

Episode 3 - Preview

A reader asks: "I hope you can help me. I have searched all over for a Christmas cartoon I saw when I was a kid. Probably in the late 60s or early 70s. It was about a father of a little girl who got really sick just before Christmas, delirious with fever, all she wanted was a book about Santa Claus. He searched everywhere and couldn't find one. His daughter kept getting worse. Finally, out of desperation, he sat down and wrote her a story about Santa. It was T'Was the Night Before Christmas. He read it to her and she came out of her fever and all was well with the world. I can't find this story anywhere! The only one I can find is that stupid one about the mice. That is not it! Please can you help me? My mother remembers it too, so I'm not crazy. I think it was called T'Was the Night Before Christmas... but I am not sure."
Tuesday, November 24, 2008 - 5:03am
WOULD YOU LIKE TO RESPOND?
NOT AGAIN
The Screen Actors Guild said Saturday it will ask its members to authorize a strike after its first contract talks in four months with Hollywood studios failed despite the help of a federal mediator. The story here...
Saturday, November 22, 2008 - 2:18pm
WOULD YOU LIKE TO RESPOND?
FLACK ATTACK!
The Bonnie Hunt Show is a big hit in daytime, here's a glimpse as Bonnie and one of my favorites, Niecy Nash (Reno 911, Clean House), in a parody of The Real Housewives of Atlanta. The full length version of the sketch will air this Monday (11/24) on The Bonnie Hunt Show.
Did you enjoy Thursday night's episode of The Office? if so, or if you missed it, you might want to check out the "producer's cut" of the November 20th episode. From the press release: On Tuesday, November 25th, users can log onto NBC.com to stream the expanded episode, which will include additional scenes and extra footage not shown in the broadcast version. Fans will be able to stream both the broadcast version and the web-only, expanded version on NBC.com. The announcement was made today by Vivi Zigler, President, NBC Universal Digital Entertainment. "What fan of 'The Office' wouldn't want to see more," said Zigler. "There is such great material with 'The Office' and it doesn't always fit into the TV show. We're thrilled to let the online fans see the full version."
Speaking of The Office, here are two fresh Webisodes: What caused Oscar to lose it at the office? Love? Money? Angela? The staff at Dunder Mifflin investigate:
Go behind the scenes as the cast talks about making the latest Office webisodes:
Saturday, November 22, 2008 - 7:42am
WOULD YOU LIKE TO RESPOND?
FRIDAY STUFF
Eli Stone has been cancelled after 13 episodes while Scrubs will be added to ABC's schedule. I liked season one of Eli Stone OK but not enough to care to watch it again. Apparently others agreed.
In a bit of a shock, Bill Maher's Religulous - the highest-grossing documentary film of the year - was not on the list of 15 semi-finalists for the Oscar in that category. Guess God wasn't amused...
Bob Huggins writes: "I just read Kevin Butler's blog entry on Fred Scott and his involvement with Captain Video and His Video Rangers. It's ironic, but Alpha Video is releasing four episodes from the series next Tuesday. To my knowledge, it's the first widely available commercial release of this series, though I don't know if Mr. Scott appears in any of the episodes on this DVD. Amazon carries it. And a full description of the release can be found at the Oldies.com site."
According to the product description I just read: Direct from the year 2254, Captain Video roared onto America's TV screens fighting evil with amazing futuristic weaponry and technology. Aided by the Video Ranger, his teenage sidekick, and an army of Video Rangers around the globe, Captain Video rocketed around the galaxy protecting the weak and defenseless from bizarre cosmic villains, usually led by his nemesis, Dr. Pauli.
Since "Captain Video and His Video Rangers" was shot live, five days a week, breaks were needed for scenery changes and set-ups. To fill the time, the action would shift suddenly to a small TV screen, where" the delayed circuit remote carrier" would pick up the Captain's "agents on earth," who often bore a striking resemblance to western heroes Bob Steele and Johnny Mack Brown! Lacking sponsors in the early years, other breaks would be filled with Video Rangers hawking various tie-in merchandise, such as the famous "Ranger Ring" - proof positive "should anyone question you of your identity as a Video Ranger." In other spots the Rangers would deliver patriotic messages, imploring young Rangers at home to practice racial tolerance and good citizenship.
These four extremely rare episodes feature both Al Hodge and Richard Coogan starring as Captain Video. Some of the originally broadcast commercials included here provide unforgettable, politically incorrect moments, such as when the announcer assures kids that their favorite breakfast cereal is "coated with candy!"
Ken Holet asks, "I found your (Christmas Specials) page, which is the first time I've found some info about two Christmas specials that I remember as a kid. I thought they had aired in the late 50's or early 60's. I saw that The Spirit of Christmas is available on DVD; is The Night Before Christmas also?"
I can still vividly remember that version of Twas The Night Before Christmas which was produced by Bell Systems, the old telephone monopoly, starring the Mabel Beaton marionettes. I could be totally confused but I recall it being shown at school when I was a wee lad. Anyway, here's the film thanks to You Tube:
Whatever happened to that Dallas big screen movie starring John Travolta? Weren't they actually filming at one point?
Friday, November 21, 2008 - 6:49am
WOULD YOU LIKE TO RESPOND?
Your host - Billy Ingram is one of the nation's top Pop Culture Gurus and expert on classic TV.

Seen on VH1,
Trio & Bravo!
PR4 & PR5 Pages for ads - CHEAP!

Actors working in the South / Southern Actors

If you have a TV blog - let's exchange links!
CONTACT ME




TV on DVD/ /Holiday Specials on DVD
TV Commercials on DVD
TV Shows on BLU-RAY