* Classic & Current Television Blog *
WHAT I'M WATCHING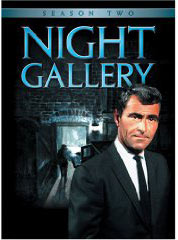 Night Gallery Season 2
For many fans season two was far superior to year one - there are more episodes and many classic stories by Rod Serling like 'The Diary' with Patty Duke as a viscous gossip columnist with a date book that predicts her future and Orson Welles as the narrator of Serling's adaptation of 'Silent Snow, Secret Snow.'
From the product description: Prepare for the unexpected as Season Two of Night Gallery comes to DVD! This 5-disc DVD set contains 61 stories, created and hosted by the master of mystery: The Twilight Zone's Rod Serling. With guest performances by Hollywood legends that reads like a roster of Who's Who in Hollywood, you'll be sure to see sights to amaze! Featuring audio commentaries, behind-the-scenes featurettes, and a gallery presentation of the paintings from the series, this collector's set is the classic anthology of timeless, spine-tingling entertainment you don't dare to miss!
The picture and sound quality are quite fine and many TV favorites turn up in both chilling and humorous storylines - 'Class of '99' with Vincent Price, H.P. Lovecraft's 'Cool Air' with Barbara Rush, John Carradine in Richard Matheson's 'Big Surprise' are just a few of the best.
In addition to the 22 hour long episodes, there are some very informative podcast commentaries by Night Gallery historians Scott Skelton & Jim Benson and 3 commentaries by director Guillermo Del Toro (Hellboy, Pan's Labyrinth).
Night Gallery can be a frustrating experience because of all the poorly executed episodes and silly vignettes but when it works it's a very effective horror anthology.
Sunday, January 18, 2009 - 9:51am
WOULD YOU LIKE TO RESPOND?
SUPER CIRCUS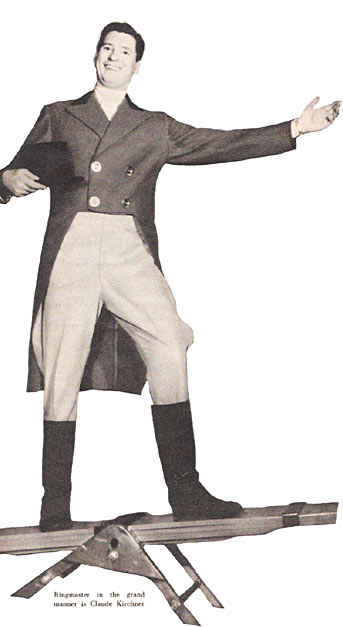 Kevin Butler points out an anniversary - Friday, January 16, 2009 marked the 60th anniversary of the debut of kiddie TV's very first circus show, Super Circus.
Originally, the concept was created for radio as a kids game show set against the backdrop of a traveling circus. Claude Kirchner (who at that time was serving as the announcer of a women's panel discussion program on the ABC TV network called Ladies Be Seated) was hired to MC the program and Mary Hartline (who had just finished appearing on a teen radio music program Teen Town) was hired as the program's pretty young assistant.
The series was going to be sponsored by Super Bubble Gum but the sponsor went out of business and the radio series was dropped. To salvage the format the producer Ed Skotch revamped the show as a kid's circus TV series. Taking on former stage and radio character actor Clifford Sobrier as the lead clown "Cliffy," veteran circus buffoon Nick Francis as "Nicky" The sad faced tramp clown and Bardy Patton as a role model for the kids as "Scampy The Boy Clown" while retaining the services of Ms. Hartline as the show's bandleader and sex symbol. Claude Kirchner remained as the ringmaster/announcer.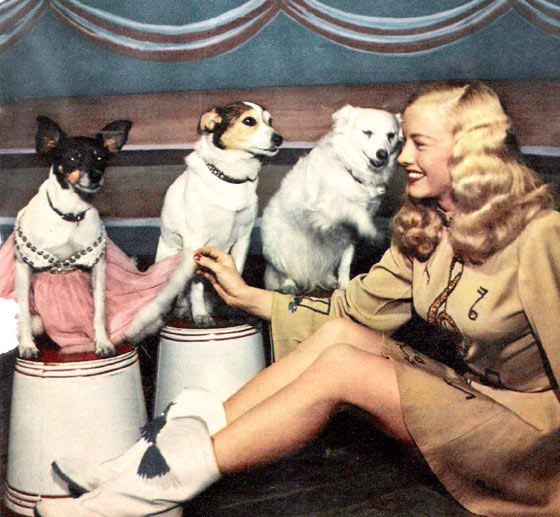 Super Circus the TV series debuted on ABC on Sunday evening January 16, 1949. The show featured performances by visiting circus acts, well known performers, games played by kids in the studio audience for prizes, and comedy skits performed by the program's resident clowns. There was also music performed by Ms. Hartline and the band.
Super Circus became a hit with the family and was broadcast from a small studio that was very small (although it looked big on camera) on WBKB channel 7 In Chicago. Bardy Patton outgrew the role of "Scampy" and was replaced in the part by Sandy Dobritch.
The series remained a hit until a week before Christmas, 1955 when the heads of ABC TV and the producers decided to replace the Chicago cast and move the program to WABC TV 7 in NYC. The series was broadcast beginning Sunday December 25, 1955 from the WABC studios with comic character actor, singer and musician Jerry Colonna serving as the new ringmaster, Will B. Able and Jerry Koslowski as the resident clowns, and Ms. Sandy Wirth as the new Queen of the Super Circus Band.
The NYC edition of the series was not as successful as the original format and went off the air in June, 1956. Ms. Hartline went on to hosted her own kid's shows in Chicago Princess Mary's Castle with magician Don Alan and The Mary Hartline Show.
Nicky Francis moved to Florida in 1960 to host his last kid's TV show, The Nicky The Clown Show, prior to that he briefly starred in the Chicago version of Time For Fun in the early 1950's. Claude Kirchner also moved to NYC where he began a long stint hosting numerous cartoon shows and The Bozo Show / Circus Circus Circus for WOR TV 9 in NYC and he briefly starred in NBC's Marx Magic Midway Saturday mornings during the late 1950's and into the 1960's.
Saturday, January 17, 2009 - 12:33pm
WOULD YOU LIKE TO RESPOND?
DOLLHOUSE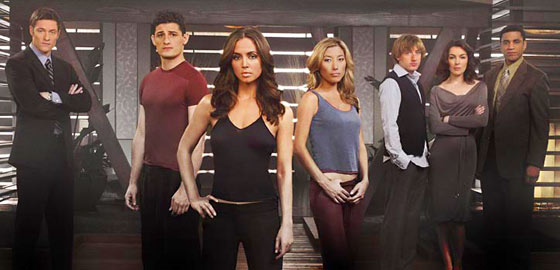 Producer Joss Whedon (Buffy the Vampire Slayer) returns to network television with another science fictiony drama that is one of the worst written, poorly acted series premieres I've seen in a long time.
This Dollhouse is a buzzing hive of wickedly attractive young ladies like Eliza Dushku who have their minds wiped clean and reprogrammed by violent shock treatments in order to be whoever their masters decide they need to be that day.
These perky puppet chicks can be instantly imprinted with abilities it takes a person a lifetime to learn, all the while everything they experience is monitored by the stereotypically snarky nerds back at the office. (Fran Kranz as the dolls' tech support guy doesn't just play an annoying character type he is annoying.)
It's the Bionic Woman with a juiced up mind and fewer parts. Need an expert hostage negotiator or crack crossbow marksman and you need it overnight? Put in your purchase order and a no nonsense superdoll is on the way.
This all too convenient contrivance may hold a rank appeal to henpecked husbands at home watching FOX on Friday nights or dateless dorks who can't get within striking distance of a beautiful, capable woman but there's nothing much to get excited about otherwise.
Every plot point is hammered home with blunt repetitions, as if the potential audience too thick to get what little is going on here. This is cookie cutter not cutting edge. Good thing the entire enterprise is presided over by a woman (Olivia Williams as Adelle DeWitt) or we might get the idea that this is some misguided, misogynistic wet dream.
Put a stake in this one. Dollhouse debuts Friday night, Feb. 13th at 9:00pm ET/PT.
Friday, January 16, 2009 - 9:53am
WOULD YOU LIKE TO RESPOND?
OUT & ABOUT
The Dark Knight Blu-ray sold 600,000 copies on launch day.
Tim Lones responds to a previous post: "Though I never lived in Philadelphia, nor have I ever seen Gene London, it's good that he is taking the initiative to get some of his programs out on DVD. I was at the Ghoulardifest, a Cleveland festival honoring the local horror host tradition in Cleveland, especially Ghoulardi (Ernie Anderson) and Hoolihan/Big Chuck/Lil John in October 2008. A local radio DJ/TV historian (he is writing a Cleveland TV History book due out this year) found a classic TV special from KYW- TV 3 in Cleveland from Linn Sheldon (Barnaby) called Barnaby Goes to Plymouth. Originally aired in 1962 and repeated in 1963, this was shown at the Ghoulardifest and received a warm response. The Sheldon Family would not let this DJ announce the special beforehand and he could only show it once. It seems to me something like this would sell if marketed right."
See the cool 'Wait I Know This' player on the left side of this page? It's a classic TV Podcast you're sure to enjoy. In fact, select the Paul Peterson episode and listen to some of the horror stories about TV kid stars that Eric Chilton and his co-hosts get from the Donna Reed Show star. Like Judy Garland once said, "There's no business like show business - thank God!"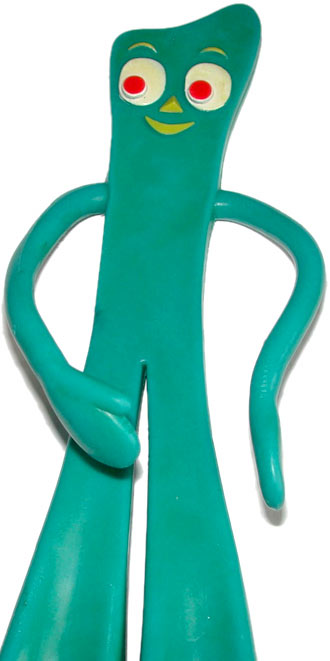 All of these obits lately - Kevin Butler writes: Mrs. Ruth Clokey, the ex-wife of stop motion animator and Gumby creator Art Clokey, is dead. Ruth Parklander Clokey died at her son Joe Clokey's home in Albuquerque, New Mexico on Wednesday, she was 85 years old and lost a long bout with Alzheimer's disease.
Born in 1923, she attended Augustine College in Rock Island, Il. where she trained for a career as a high school teacher. In 1944 she applied for a teacher's position at a high school in Rock Island but eventually left to became a field director for The Augustana Lutheran Church Board's New England-New York Conference. where she would distribute educational materials to the populace.
Following her mission for The Augustana Lutheran Church Board she enrolled into the Hartford Ct. seminary to further her training in religious education.
A chance meeting with Mr. Art Clokey, who was also studying at the seminary, sidetracked her plans. The pair were married in 1948 and left the seminary to move to Hollywood and produce religious films. For a time they taught film techniques at USC under the supervision of filmmaker Slavko Vorkapich. Years later Art Clokey created and produced the film Gumbasia which later evolved into the Gumby puppet films and the rest is history.
Mrs. Clokey worked with her husband as a story editor on Gumby and later on Davey & Goliath until they were divorced in 1966. Mrs. Clokey also produced an extra series of Davey & Goliath films for Premavision in 1969. She continued to work on the series without her ex-husband into the mid-1970's, her last D&G film was Davey & Goliath To The Rescue released in 1975. She served as executive director.
Ms. Clokey retired from film production to return to her studies at Augustana College where she became a literature professor, she taught at the college until her health began to fail; she moved to Albuquerque where her son Joe Clokey could tend to her needs.
Friday, January 16, 2009 - 6:47am
WOULD YOU LIKE TO RESPOND?
WE'RE LOSING SO MANY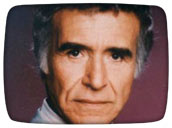 Two television greats have passed on. Kevin Butler tells us: Character actor Ricardo Montalban, best remembered for his role of the mysterious owner and wish giver of Aaron Spelling's Fantasy Island died Wednesday at his Los Angles home.
Mr. Montalban died at the age of 88 and had been in failing health for years. He began his acting career at MGM in 1946 in roles limited to playing charming but crafty villains; he continued to play these roles in films for Universal and other studios and for Walt Disney for his 1957 period adventure series Zorro with Guy Williams, Henry Calvin, Gene Sheldon and Annette Funicello.
He also played Kahn on Gene Roddenberry's sci-fi classic Star Trek and years later reprised the role in the second Star Trek feature film The Wrath Of Kahn.
His best remembered role was that of the mysterious owner and operator of a strange South Seas isle where people paid to have their dreams fulfilled - but at a price. Fantasy Island was the creation of TV producer and scriptwriter the late Aaron Spelling who developed this moralistic anthology series.
Working with dimutive actor Hervey Villachez (and later British character actor Christopher Hewett) Montalban would greet the many famous guests - Sonny Bono, Bob Denver, Phil Silvers, Robert Goulet, John Schuck, Linda Blair, Artie Johnson, to name a few - as they arrived to have their wishes fulfilled.
Ricardo Montalban continued to work after the series ended but an old back injury curtailed his acting efforts to be with his family. One of Mr. Montalban's last TV appearances was in the three part tribute to MGM's 75th anniversary, MGM: When The Lion Roared hosted by Patrick Stewart and featuring clips from old MGM movies and television shows, rare behind the scenes footage, newsreels and interviews.
Mr. Montalban was also interviewed for A&E's Biography show. A theater bears his name is in his neighborhood.
Patrick McGoohan of The Prisoner has also passed away, Mitchell Hadley has a nice obit on My Word & Welcome To It.
Thursday, January 15, 2009 - 7:07am
WOULD YOU LIKE TO RESPOND?
WHAT A GREAT IDEA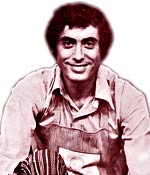 John Baker from the Gene London Yahoo News Group writes: "Gene wanted me to email you and ask if you could post a message on the site to everyone out in Cyber TV land. Gene is adding items to his personal archive and wanted everyone to know about this new endeavour. He's asking that anyone with photo's, home movies or any memorabilia related to his career contact him through the site or at CartoonCorner@aol.com. He's absolutely sure something mutually agreeable can be worked out with anyone willing to contribute. Have you seen our pictures and video clips on the site in the files and photo's section? If you care to here's the group address enjoy!! Also Gene is in the process of transferring select episodes of the show to DVD, more to come!"
I predict a big seller if they release those classic local kid shows on DVD - The Magic Garden is selling like crazy and I'm led to believe by the volume of mail we get that Philly's Gene London is even more popular!
Wednesday, January 14, 2009 - 7:37am
WOULD YOU LIKE TO RESPOND?
STUFF
Bob Huggins writes: "Looks like the $10.99 pre-order price for Room 222 is dead. The price is now $31.49. Hopefully, any of your readers who pre-ordered at the $10.99 price will have that price honored by Amazon."

I'm still looking forward to that one, I haven't seen Room 222 since I was a kid although I know it was running on cable in the 1980s.

Hey, I started a blog entry on Bette Midler in the 1970s - apropos of nothing - but it got too big for this page so you can access it here if you're interested.
CBS pulled Regis Philbin's Password for bad demographics but word is ABC wants to revive Who Wants To Be A Millionaire with Regis back as master of ceremonies. Look for it when the season end this summer or earlier, although I think Meredith Vieira is the better host.
Monday, January 12, 2009 - 10:27am
WOULD YOU LIKE TO RESPOND?
TV ON DVD NEWS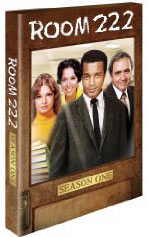 Bob Huggins writes with news of a show I'd like to see on DVD: "I hope this isn't a "misprint" at Amazon, but season 1 of Room 222 is coming on March 24th from Shout! Factory. Amazon has an incredible (if it's legitimate) pre-order price of just $10.99 for this full season release."
I'm inclined to believe it if Amazon is taking orders. Look at the savings - 69% off - this DVD set retails for $34.99 but is available for pre-order at $10.99 - and Amazon will honor that price even if it goes up. Might pay to order now!
Sunday, January 11, 2009 - 12:32pm
WOULD YOU LIKE TO RESPOND?