'TVparty is hands down the best site on the Web for classic TV.'
- Discovery Channel
---
Latest TVparty
Classic TV Blog Entries
TV BLOG - 107
TV BLOG - 106
TV BLOG - 105
TV BLOG - 104
TV BLOG - 103
TV BLOG - 102
TV BLOG - 101
TV BLOG - 100
TV BLOG - 99
TV BLOG - 98
TV BLOG - 97
TV BLOG - 96
TV BLOG - 95
TV BLOG - 94
TV BLOG - 93
TV BLOG - 92
TV BLOG - 92
TV BLOG - 91
TV BLOG - 90
TV BLOG - 89
TV BLOG - 88
TV BLOG - 87
TV BLOG - 86
TV BLOG - 85
TV BLOG - 84
TV BLOG - 83
TV BLOG - 82
TV BLOG - 81
TV BLOG - 80
TV BLOG - 79
TV BLOG - 78
TV BLOG - 77
TV BLOG - 76
TV BLOG - 75
TV BLOG - 74
TV BLOG - 73
TV BLOG - 72
TV BLOG - 71
TV BLOG - 70
TV BLOG - 69
TV BLOG - 68
TV BLOG - 67
TV BLOG - 66
TV BLOG - 65
TV BLOG - 64
TV BLOG - 63
TV BLOG - 62
TV BLOG - 61
TV BLOG - 60
TV BLOG - 59
TV BLOG - 58
TV BLOG - 57
TV BLOG - 56
TV BLOG - 55
TV BLOG - 54
TV BLOG - 53
TV BLOG - 52
TV BLOG - 51
TV BLOG - 50
TV BLOG - 49
TV BLOG - 48
TV BLOG - 47
TV BLOG - 46
TV BLOG - 45
TV BLOG - 44
TV BLOG - 43
TV BLOG - 42
TV BLOG - 41
TV BLOG - 40
TV BLOG - 39
TV BLOG - 38
TV BLOG - 37
TV BLOG - 36
TV BLOG - 35

TV BLOG - 34
TV BLOG - 33
TV BLOG - 32
TV BLOG - 31
TV BLOG - 30
TV BLOG - 29
TV BLOG - 28
TV BLOG - 27
TV BLOG - 30

TV BLOG - 29
TV BLOG - 28
TV BLOG - 27
TV BLOG - 26
TV BLOG - 25

TV BLOG - 24
TV BLOG - 23
TV BLOG - 22
TV BLOG - 21
TV BLOG - 20
TV BLOG - 19
TV BLOG - 18
TV BLOG - 17
TV BLOG - 16
TV BLOG - 15
TV BLOG - 14
TV BLOG - 13
TV BLOG - 12
TV BLOG - 11
TV BLOG - 10
TV BLOG - 9
TV BLOG - 8
TV BLOG - 7
TV BLOG - 6
TV BLOG - 5
TV BLOG - 4
TV BLOG - 3
TV BLOG - 2
TV BLOG - 1
---
'TVParty.com, a TV history website... its links to Amazon.com help sell TV DVDs."
- Boston Globe
"All the coolest, strangest, most absurd shows and peculiar tube trends ever -- they're all part of the wallow that is TVparty!"
- Diane Werts, Newsday
'A twisted walk
down memory lane!'
- Sharon Edry, TV Guide
'Top Five Sites! Interviews and articles... are must reads.'
- London Sunday Times
'It's too good to be true. Put together by Billy Ingram, TVparty.com has gossip, scandal, sex, singing, dancing, action, drama and celebrities with their 'original parts''
- LA Times
'An ingenious tribute that elevates the TV past to artlike proportions. Site guru Billy Ingram has compiled features both over-the-top and museum worthy, blissful nostalgia for those born in the '40s or the '80s. A+
- Entertainment Weekly
'Every decade expresses its kooky collective unconscious on the tube, celebrated affectionately at Billy Ingram's TVparty. Ingram provides a hilarious glimpse into the American pop psyche.'
- Yahoo
'Get the inside scoop on all your favorite classic TV shows at TVParty.'
- USA Today
"...revisits trends and traumas of TV's past."
- Baltimore Sun


* Classic & Current TV Blog *
RANDOM STUFF
Heroes: Destiny is the offshoot series of Heroes available exclusively online which sprang from last year's "Create Your Hero" contest. The first of four episodes premiered exclusively online at NBC.com and on Sprint phones with one episode to be released every Monday at 9PM ET. You can check out these clips below in Windows Media format:

Trailer / Episode 3 Preview
Just how far can one go in making fun of our first African-American president? Jimmy Kimmel attempts to find out.
In case you're interested, this DVD collection is a hot seller right now - TV Sets: Holiday Treats featuring holiday themed episodes of I Love Lucy, The Honeymooners, Andy Griffith Show, Brady Bunch, Taxi, Family Ties, Frasier and Wings. That's quite a varied sampling.
Tuesday, December 2, 2008 - 10:12am
WOULD YOU LIKE TO RESPOND?
MONDAY
Tony Pizza writes in regard to a previous questioner: "I noticed your note in the blog about acquiring the Christmas animated TV special 'Twas The Night Before Christmas.' This show is in public domain and PC Treasures has placed it on a DVD with the infamous 'Santa Claus Conquers the Martians.' You can contact the company to find out more at 877-949-4499. Hope this helps... enjoy the site and keep up the great work!"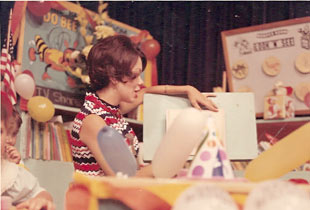 We've heard from another Romper Room teacher: "I was Miss Linda on Romper Room in Charlotte for a short stint in 1970. The reason for my early retirement was born in September of that year. I think the person who followed me was the last Charlotte Romper Room teacher. I substituted some for her before WCCB cancelled the show. The only name I can remember from those days is a cameraman, Art Norman. He went on to become a news anchorman in Charlotte and Chicago. The cameramen were real jokesters. They put masking tape all over my magic mirror. They put Crisco in the do-bee puppet. Of course, I didn't know they had done these things until I was live on air and tried to use my magic mirror or stick my hand in the do-bee puppet!" - Linda Hamel, formerly "Miss Linda"
Just for the fun of it, let's look at some Winston Cigarette ads starring the cast of The Beverly Hillbillies.
Sadly, the actress that played Cousin Pearl, Bea Benaderet, died of lung cancer a few years years later.
Monday, December 1, 2008 - 11:50am
WOULD YOU LIKE TO RESPOND?
SUNDAY MORNINGS 39 YEARS AGO
Click below for a larger image, this is from the Central North Carolina edition of TV Guide, Sunday morning, December 14th 1969: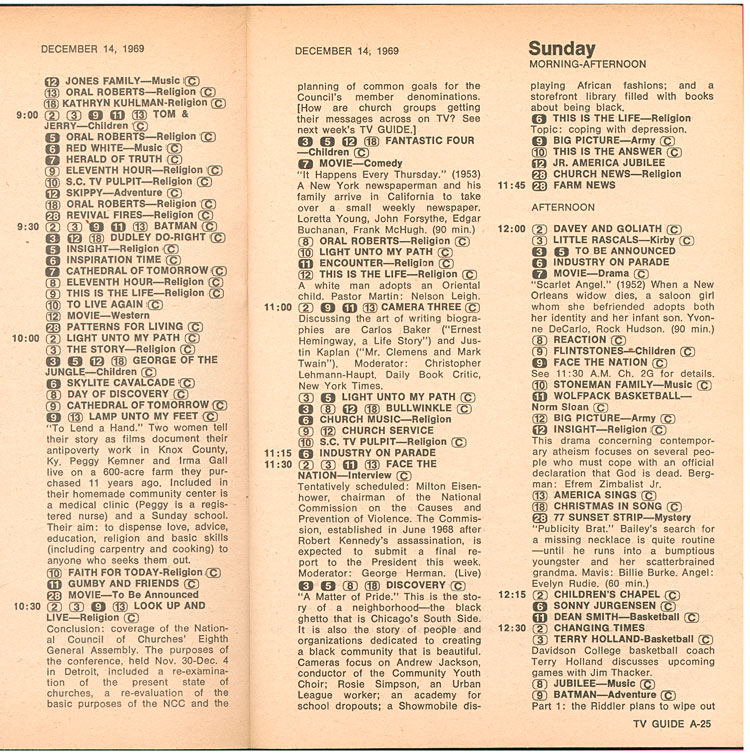 Sunday, November 30, 2008 - 11:50am
WOULD YOU LIKE TO RESPOND?
SUNDAY YOU TUBING
Things are quiet now so I offer a Blog rerun: One of my favorite TV comics was Redd Foxx, raunchy nightclub comic and star of Sanford and Son. As you may know, Redd passed way on the set of his comeback sitcom, The Royal Family. Here's footage shot moments before his tragic death in 1991.
Remember Aunt Ester from Sanford & Son? LaWanda Page was a nightclub comic with a decidedly blue act, here's a bit from one of her outrageous 'party' albums, Preach On Sister, Preach On!
Sunday, November 30, 2008 - 8:03am
WOULD YOU LIKE TO RESPOND?
BLACK FRIDAY
If you're in the mood for shopping, Amazon has some amazing deals today. For instance, Amazon and Sony are offering incredible values on high definition products such as Blu-ray players and movies, as well as PlayStation 3 consoles, games, and accessories. New deals will be debut every week through Feb. 7, 2009.
I didn't catch it myself, but Rosie's live special the other night was a huge flop, both critically and from a ratings standpoint. Variety delivered this stinging rebuke: If Rosie O'Donnell and company were consciously determined to strangle the rebirth of variety shows in the crib, they couldn't have done a better job of it than this pre-holiday turkey.
I just gave an interview to a magazine in Canada about the variety format possibly making a comeback, several of the networks have a variety show in development. What will get people to watch? I had a concept in mind that VH1 was interested in for a time, I still think it's a good idea. No monologues, no silly skits, just solid entertainment. It's the POV that's important, not the host, duets with Liza Minnelli just won't cut it.
Speaking of which, I just loved the musical comic Victor Borge when he would turn up on various variety shows back in the day, like here with Dean Martin for a variation of his hilarious punctuation routine, something he milked for decades on TV and it always killed. Some of you guys will remember the 'Great Dane' from his "Phonetic Punctuation" routine on The Electric Company.
On December 16th at 8:00 pm The Spirit of Christmas from 1950 with the Mabel Beaton marionettes will be shown on My Network TV.
Friday, November 27, 2008 - 8:03am
WOULD YOU LIKE TO RESPOND?
Your host - Billy Ingram is one of the nation's top Pop Culture Gurus and expert on classic TV.

Seen on VH1,
Trio & Bravo!
Classic TV! - Political News Links
Actors working in the South / Southern Actors
Everything you're looking for is here: