* Classic & Current TV Blog *
COMEBACKS
Both George Clooney and Eriq LaSalle will return to E.R. at the conclusion of this, the show's last season. To NBC's surprise, ratings are up this year for the show.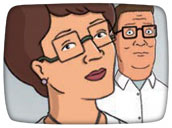 ABC is talking about picking up King of the Hill as reruns of the FOX sitcom head to Adult Swim. Cast member Kathy Najimy (Peggy Hill) told Entertainment Weekly: "Here's the deal -- two things could happen. One, we could continue, and I don't know whether it's here or another network. I have a feeling it's gonna be here. Two, it could not continue, and I had the best time in the world for 13 years. So there's no way in good conscience anybody can act sad. Because we're the luckiest people on Earth. We have good writers, we don't have to dress up or do hair and makeup and don't have to go to Toronto to do a movie or wake up at 6 a.m. It's the best job ever. Either way, I'm thrilled."
Lost will return for season five with a two-hour opener on Wednesday, Jan. 21st. Seventeen episodes are scheduled.
It hasn't aired yet, but Fox has ordered another nine episodes of the Family Guy spin-off The Cleveland Show, that's a full season pickup beginning in Fall, 2009.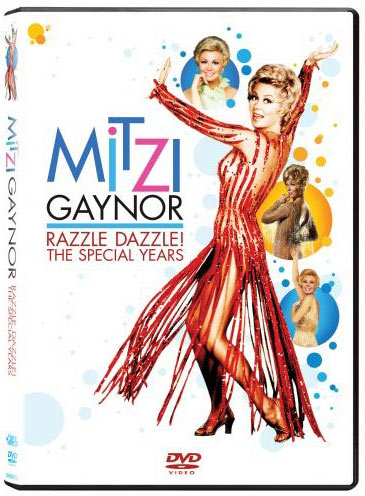 I just watched the most wonderful special that's coming to PBS (during fundraiser week, of course) called Mitzi Gaynor: Razzle Dazzle The Special Years. It's a one hour look at the dancer/singer's TV specials that ran from 1968-1978. It's thoroughly entertaining and packed with great show biz stories and folks like Carl Reiner, choreographer Tony Charmoli, and Bob Mackie talking about Mitzi's fab career.
On the DVD, there are several special features that really sing, like extended musical numbers from each of the 8 specials, Mitzi talking about her experience with The Beatles, and Mitzi and Bob Mackie looking over the incredible fashion designs that were created for her to wear - Mackie later modified some of those designs for Cher's TV shows.
There's also a star-studded slate to Sondheim's Broadway smash Company from 1974 with Mitzi, Doris Roberts, Jerry Orbach, Sid Melton, and Suzanne Pleshette.
I never caught these specials back in the day but anyone who loves the great variety shows of the 1960s & '70s will love love love this! It's only 22 bucks if you order online and it makes a great gift because it's new - no one has it yet. We're having a contest here, maybe you can win a copy.
Tuesday, November 11, 2008 - 7:06am
WOULD YOU LIKE TO RESPOND?
SUNDAY FUNNIES
I was lucky to grow up when I did. Before television became the super slick business it is now, local stations would plug holes in their schedules not with commercials or infomercials but Laurel & Hardy and Little Rascals shorts. I still get a big kick out of those films. Here's a bit from one of L&H's depression era films.
Did you know there was a new Laurel & Hardy movie released (straight to video) in 1999? No, Stan and Babe weren't lured out of retirement, they're long gone after all. This film starred Bronson Pinchot (Perfect Strangers) as Stanley and Gailard Sartain (the Cher show) as Oliver Fattius Hardy. Bad idea!
Sunday, November 9, 2008 - 7:36am
WOULD YOU LIKE TO RESPOND?
TAXICAB CONFESSIONS: NEW YORK, NEW YORK PART 3
"Let us never speak of what happened in this cab."
I'm as voyeuristic as the next guy. I mean I don't go peeking into people's windows but I'm fascinated by other people's lives, maybe because I'm so bored with my own. That's why I like Taxicab Confessions, a boozy, woozy free fall into the seedy core of the Big Apple where random folks swept up off the nighttime streets tell the shocking tales of their sorted lives.
The opening salvo is a stunner, a couple who fell in love at first sight in France suddenly discover where the rifts - and prejudices - are in their relationship. Watch in amazement as their budding love practically falls apart right before your eyes.
It's raw and it's real. A crack addled prostitute who got her start at 14 opens up about her horrific life; a wildly appealing young guy talks about his prodigious sex life and batty ex-girlfriend; a born again prostitute who relies on God for protection from the mean streets; and a couple of African-American guys talk about what it's like to be black in America - it's eye opening to say the least.
There are other lurid confessions, like the off-duty cop reeling from breaking up with his girlfriend minutes before getting in the cab who recounts the nightmarish visions brought on by some of the gory, violent crime scenes he's witnessed over the years.
These people expose deep wounds and splay their emotional innards for all to see with stories that run the emotional gamut to create a hour of compelling television. One thing's for sure - you'll feel a lot better about your own life!
TAXICAB CONFESSIONS: NEW YORK, NEW YORK PART 3 airs tonight and all this month on HBO.
Saturday, November 8, 2008 - 10:20am
WOULD YOU LIKE TO RESPOND?