* Classic & Current Television Blog *
THIS 'N' THAT
Damn, times really are hard! A week before Super Bowl XLIII NBC is still trying to sell its last few commercial spots, there are a whopping 67 time slots open. This time last year the game had been sold out for some time.
I've probably said it before but I'll say it again - Robert Mueller does the greatest film commentary tracks, his specialty is film noir and I really love watching an old Black & White RKO film and then watching again with Mueller's commentaries. He's rich with knowledge, has interesting stories, and often is joined by the directors or stars of the movies.
Reality rapper Flavor Flav will host Nite Tales, a half-hour horror anthology on BET, in a role similar to Tales From the Crypt's Cryptkeeper. He's sure got the face for it.

Check out this AP news story from March of 1973. Mayo Kaan, a bodybuilder from New York state, claimed to be the original model for Superman. His story was that he donned a costume similar to what became the look of Man of Steel and served as the inspiration to cartoonists Jerry Siegel and Joe Shuster. For a thousand dollars Kaan would show the curious his collection of photos he claimed were taken in 1936 (the first Superman appearance was in 1938). The wire service didn't check Kaan's story with Siegel or Shuster, who were still alive at the time, so it was published in newspapers all over the country, including my local paper in Greensboro, NC. I clipped the article because, even at my young age, I didn't buy it. It didn't make sense to this comic book geek and the story has been met with much skepticism over the years. According to Wikipedia the Kaan family maintains to this day that the deceased bodybuilder was telling the truth but a DC Comics spokesperson stated in 1997 when he reasserted his claim, "Kaan played no role in creating the superhero's image, Kaan's billing himself as something he is not." Other problems with the story - one of the buildings in the photos wasn't built until 1940 and Martin Griem, a noted fanzine editor, claims to have correspondence from Joe Shuster stating that the Superman artist never heard of the guy. Kaan died in 2002.
Finally, Don asks: "Help! I'm trying to remember a guy in the 70's. I think he was on children's TV or a semi-mainstream comedian who did the Johnny Carson type circuit. I saw him at Comdex (Las Vegas computer show) many many yeas ago But poor guy wasn't even recognized.
"I picture him 5 ft something, a few extra pounds on him, older, very balding, but white 'Larry Fine' hair on the sides. He was wearing a white scientist smock, kind of a 'goofy' guy. Sheez - need to get a name for this guy."
I guessed Professor Irwin Corey but I as wrong - do you know the answer?
Tuesday, January 27, 2009 - 6:03am
WOULD YOU LIKE TO RESPOND?
KHARMA'S A BITCH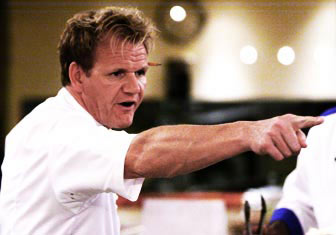 He can sure dish it out but now celebrity chef Gordon Ramsay is taking the heat amid complaints that the food in his eateries has taken a back seat to his famous name. His restaurants are falling by the wayside in London, his extra-marital affairs are causing PR problems, back taxes are dogging him, and ratings are down for his shows in the U.S. He still hasn't posted his financial figures for 2007 which may mean prosecution. This has led to - shudder - discounts. There is a newspaper promotion offering dinner at Ramsay's restaurants for just $21 a head. SHUT IT DOWN! SHUT IT!!! (The season premiere of Hell's Kitchen airs Thursday on Fox, watch it because you feel sorry for Chef. And because it's a really good episode.)
I've been watching season one of Morgan Spurlock's 30 Days and it's a corker. This is the show where they take people and immerse them in a lifestyle they are totally unaccustomed to - like a devout Christian that lives a Muslim life for a month; big city folks who go to live on an organic farm with no electricity, where they even recycle their own manure; and a midwestern, former Marine, farm boy cohabitating with a gay guy in the Castro district in San Fran. It's a real eye opener and supremely entertaining and emotionally fulfilling. Wait 'til you see the suburban mom who tries to out drink her binge drinking teen daughter (and where exactly is the drinking age below 21?!?). Too much!
Monday, January 26, 2009 - 8:20am
WOULD YOU LIKE TO RESPOND?
ROUND AND ROUND
Remember the short-lived TV show Lipstick Jungle? A stage manager that worked on the NBC show has been charged with stealing nearly $30,000 in designer fashions from the production.
After a 20 year run, the John & Marlena storyline came to an end on Days of Our Lives. Maybe that means something to you, it doesn't to me. Now, if Joey Greco left Cheaters THAT would be news.
Watch as FOX News laughs at economist Peter Schiff as he predicts our current economic situation over the last two years. When I read the views of people who turn out to be so spectacularly wrong, I never go to that person again for their view. How Bill Kristol keeps his job is a mystery to me. Do these FOX commentators still have their positions?
Sunday, January 25, 2009 - 8:26am
WOULD YOU LIKE TO RESPOND?
SATURDAY
I apologize for light blogging but I have a family emergency that will take a great deal of my time for the next week or two. I hope.
Veronica Mars, for the first two seasons one of my very favorite shows, will be returning, this time on the big screen. I'm guessing the Nancy Drew movie made money? Producer / writer Rob Thomas made the announcement after the order for his new ABC midseason series (Cupid) was trimmed down from 13 episodes to eight.
Tom and Jerry are also coming to the big screen, in a live action / animated film ala the new Chipmunks feature that will probably cost upwards of 100 million dollars. Does anyone else find that obscene?
The Carol Burnett Show had a bunch of great sketches that became recurring skits that used to put me on the floor with laughter. Can you believe it's been 30 years since the show went off the air? Here's Carol and Tim Conway as Mr. Tudball with his ditzy secretary Mrs. Wiggins in one of the earlier sketches.
Saturday, January 24, 2009 - 6:24am
WOULD YOU LIKE TO RESPOND?