* Classic & Current TV Blog *
NEW SHOW REVIEW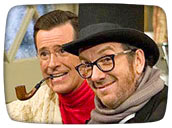 Both a biting satire of the genre and a future standard bearer, A Colbert Christmas rings in the holiday season with abundant laughter and more musical merriment than you've seen since the golden age of TV Christmas specials. Not since the debut episodes of South Park and The Simpsons has there been a show that tweaks the holy day traditions with the just the right amount of sugar and spice to become a true classic.
As a musical performer Stephen Colbert truly rises to the challenge, he's an innate singer and dancer who strikes the perfect chord with his manic prancing and, lo and behold, the original songs are extraordinarily funny, each one is a gem.
This production has all the trappings of the old-school television holiday shows, opening with Stephen, clad in traditional sweater and sherpa boots, huddled in his mountain cabin writing new songs for his Christmas special. But a ferocious bear outside the door keeps him from getting to the studio where Elvis Costello is holding down the fort. That doesn't stop special guests Toby Keith, Willie Nelson, John Legend, Feist, and Jon Stewart from stopping by with holiday greetings and some wicked tunes.
It's been more than 20 years since I added a carol to my Christmas playlist but Colbert's opening number, 'Another Christmas Song,' easily fits the bill, a sassy, brassy caricature that wins you over with it's sheer audaciousness.
Conservative country artist Toby Keith delivers a thoroughly irreverent musical ultimatum for those who don't enjoy Christmas to the fullest (I smell a top ten hit) promising a bloody outcome for any Santa haters.
Then, Willie Nelson gets so high that Stephen hallucinates (!) that the country singer is part of his miniature nativity scene. Willie has a present for the baby Jesus - some kind bud ("that smokes more sweetly than either Frankincense or Mir") and a song that asks mankind not to "bogart love."
Jon Stewart warbles his comical homage to Hannukah before R&B singer John Legend's metaphorically sexy ballad exalting the virtues of his favorite holiday spice, nutmeg. Indie folk singer Feith's heavenly vocals underscore a devastatingly funny message from the angels that will leave you amazed.
In the finale, Elvis and the rest of the cast join Stephen for the only non-original song on the show, 'What's So Funny About Peace Love and Understanding,' before Santa (played by Cheers' George Wendt) shows up to kill the bear and save the day.
You will be on the floor laughing at this hysterical spectacular, the catchy tunes will knock around in your head for days. It's an all-out absudist affair; both cutting and affectionate, irreverent and reverential. Not unlike the holiday itself. Every performance is impressive; Elvis Costello is especially noteworthy, who knew he could be so funny?
I couldn't wait to watch this a second time, A Stephen Colbert Christmas is a rollicking, rocking yuletide special that will be enjoyed year after year, every Holiday season.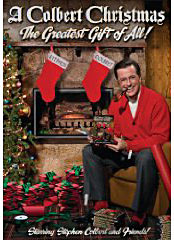 Don't just watch the special when it airs, A Stephen Colbert Christmas is available on DVD where there are some hilarious extras like the Book Burning Yule Log for those of us who lack a fireplace, 3 alternate endings, and a bonus song. There's also a video Advent Calendar where Stephen counts down the days in December until Christmas with daily 'devotionals'.
A portion of the profits from the DVD and iTunes downloads go to the Feeding America charity so this makes a great stocking stuffer.
One sad note - apparently, the Jonas Brothers were killed making this special.
A Stephen Colbert Christmas airs on Comedy Central Sunday, November 23rd at 10:00pm ET/PT. The DVD is available starting November 25th.
Thursday, November 13, 2008 - 6:36am
WOULD YOU LIKE TO RESPOND?
NEWS YOU CAN USE
Jim Longworth clued us in to how talented this guy is in an earlier post - Tony Dow, the actor who played the Beav's big brother Wally in Leave It to Beaver, will have one of his abstract sculptures on display at the Louvre.
From the press release: In seven short years, Ricky Gervais has risen from relative English obscurity to become one of the world's biggest multi-media superstars. This month, the award-winning actor and co-creator of The Office and Extras stars in his first-ever HBO stand-up special, taped live in New York. Ricky Gervais: Out of England – The Stand-Up Special is a high-spirited hour of offbeat observations and understated humor from the actor/comedian/writer/director. The show includes Gervais' unique takes on such disparate (and often politically incorrect) issues as fund-raising, autism, fame, nursery rhymes, Nazis, moronic friends, obesity … and his penis size. Premieres Saturday, November 15 at 9 p.m.
You can check out a clip from the special here:
Here's a special offer for TVparty-ers in the Los Angeles area, discount tickets to see JASON ALEXANDER, PATRICK CASSIDY, VICKI LEWIS and LEA THOMPSON in I love My Wife with music by legendary composer Cy Coleman (Sweet Charity, City of Angels) and book and lyrics by Michael Stewart (Bye, Bye Birdie, Hello, Dolly!). This is a limited engagement, December 2-14, 2008 ONLY. To receive $10 off tickets, click here and enter the code: COUPLE For more information call 213-365-3500 or visit reprise.org *Must mention code COUPLE. Tickets are subject to availability.
Miley Cyrus wants Obama's kids to visit the set of her Hannah Montana mess. How's this for the kiss of death - Cyrus says this about the first kids, "They are kind of like me before I started my own career." Ugh.
Scott Porter, who portrays paraplegic Jason Street on Friday Night Lights, was surprised to find out his storyline was being dropped mid-season.
You think William Shatner's gotten past his ill feelings for former co-star George Takei? Think again! Shatner's got a new video out publicly challenging Takei to come on his TV show to discuss their feud. (I'm assuming that's not an invitation to appear on Boston Legal and have it settled by Chuck McCann.)
Shatner, in between all the nice words and passive aggressive banter, is once again calling Takei a psycho. Doesn't he realize that show business feuds are a great way to boost the lesser star's profile?
60 Minutes, now in its 41st season, was the top rated program last week. The series stayed in the top 10 for 3 decades and was number one for 5 years in the 1980s & '90s but now generally lands in the Nielsen teens.
Here's the top 20 for last week, note SNL's strong showing. Is it time for a primetime SNL spinoff - or the return of The New Show?
1. 60 Minutes
2. CSI
3. Sunday Night Football
4. Dancing With the Stars
5. Desperate Housewives
6. Dancing With the Stars
7. Grey's Anatomy
8. SNL Presidential Bash
9. Criminal Minds
10. Vote 2008
11. Two and a Half Men
12. CSI: Miami
Cold Case
14. Decision '08
15. Survivor: Gabon
16. CSI: NY
17. The Amazing Race
18. Numb3rs
19. NCIS (R)
20. Eleventh Hour
Wednesday, November 12, 2008 - 6:06am
WOULD YOU LIKE TO RESPOND?