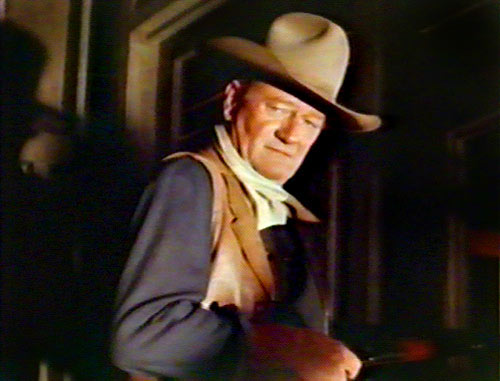 PART THREE: THE SIXTIES -- by Billy Ingram
PART 1 / 2 / 3 / 4 / 5 / 6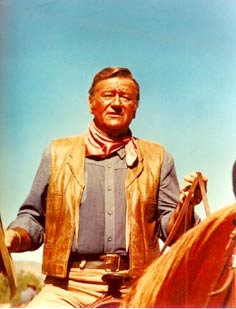 "Courage is being scared to death - and saddling up anyway."
- John Wayne
In 1964, Duke was diagnosed with lung cancer; he was 57 years old.
In Hollywood, perception is everything - and at that time, lung cancer in any form was tantamount to a death sentence. That's why John Wayne tried to conceal the truth from the press at first; the official story was that he was in the hospital treating an old football injury.
After two six-hour operations that left him with a 28-inch gash across his chest, Doctors removed Wayne's left lung.
In a true act of bravery, Duke decided to come clean in an interview with journalists, announcing, "I've had lung cancer, the big C. But I've beaten the son of a bitch. Maybe I can give some poor bastard a little hope by being honest. I want people to know cancer can be licked." While this was far from certain, that statement served two goals - it got him back to work and gave hope to millions of Americans suffering with the same affliction.
"My advisors all told me that the public doesn't want its movie heroes associated with serious illness like cancer, that it destroys their image," Duke told the press. "Well, I don't care much about images, and, anyway, I would have thought there was a lot better image in the fact that John Wayne had cancer and licked it."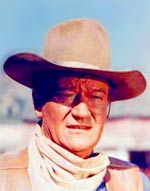 When reporters asked if he was up to resuming his line of work, he replied, "I'd better be. I didn't get famous for making drawing room comedies!"
Less that four months after the operation, still having considerable trouble breathing, John Wayne embarked on one of his most strenuous roles ever, gunfighter John Elder in The Sons of Katie Elder. It was a part that required Wayne to ride hard, fall off horses and repeatedly dive into frigid mountain waters.
"On location in Durango, Mexico, he amazed me," the film's producer Hal Wallis stated in his autobiography. "Even though he was functioning on one lung and had a terrible scar running down his back (sic), he showed no sign of illness or weakness. He did this own riding, roped in steers, rounded up cattle, and handled the fight scenes without a double. Only occasionally, in high country, was he short of breath."
Back at full strength, John Wayne resumed starring in one or two films a year for the rest of the decade but was reticent to do TV again until he appeared on the second episode of The Dean Martin Show in 1965.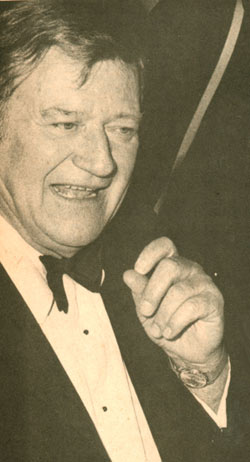 He was reluctant to do the Martin show at first, but Duke and Dean had become close friends when they costarred in Rio Bravo and The Sons of Katie Elder. Needing to kick off his series with all the star power he could muster, Martin asked him to do the show as a favor.
Here's an exchange from that show:
Martin: "You know, one of the biggest kicks of my life was our first picture together."
Wayne: "Yeah, Rio Bravo. He played the part of a drunken sheriff who had lost his nerve - and during the picture I rehabilitated him."
Martin: "And I'll never forgive you for that."

Dean Martin with Duke Wayne.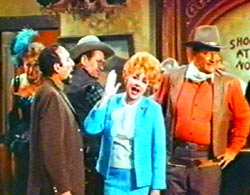 The taping went so well it changed Wayne's viewpoint concerning television from that point forward. He even made time for two major sitcom appearances (on the highest-rated shows, of course) - starring as 'himself' on The Lucy Show in November, 1966 and on a very funny episode of The Beverly Hillbillies in 1967.
Merv Griffin traveled to the set of War Wagon in 1967 to film an interview with a drunken Duke down in Mexico. There was a lot of chatter about Wayne's hard drinking on location, but he played so many inebriated, debaucherous characters it hardly mattered if he was smashed or not.
"I drink for comradeship," Wayne stated plainly, "and when I drink for comradeship, I don't bother to keep count."

John Wayne drunk talking to the Jaycees about patriotism.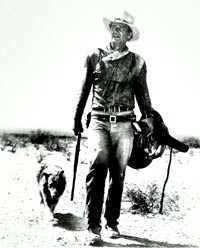 One of Wayne's most popular releases, Hondo (1953), was made into a one-hour weekly series in the fall of 1967 with Ralph Taeger starring as Cavalry scout Hondo Lane.
The series also featured Kathie Brown, Noah Berry, Jr. and Buddy Foster (Mayberry RFD). Michael Pate returned in the role he played in the original film, Chief Vittorio.
Hondo's dog Sam, who ended up on the wrong end of an Indian's lance in the movie, was resurrected in the TV version which was cancelled after only three months. Two episodes were edited together to make a feature film, Hondo and the Apaches.
John Wayne also made another appearance on a Jack Benny program, the first was in 1960, the second on Jack Benny's 20th Anniversary Special at the end of the decade.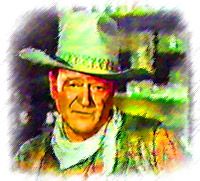 NEXT: PART FOUR:
The Sixties Continued
...and what happened when John Wayne met antiwar protesters on the street?
---
JOHN WAYNE: PART 1

JOHN WAYNE: IN THE 1960's

JOHN WAYNE: MID-SIXTIES

JOHN WAYNE: LATE-1960's

JOHN WAYNE: THE SEVENTIES

JOHN WAYNE: DEATH OF A LEGEND