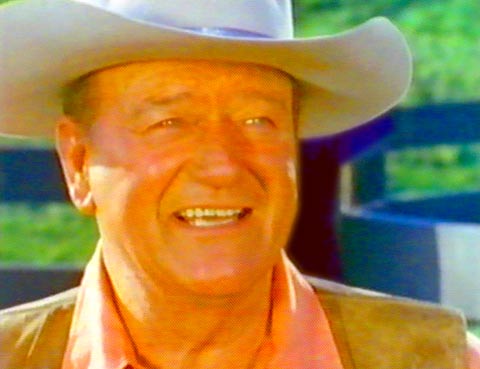 PART FIVE: THE SEVENTIES by Billy Ingram
JOHN WAYNE - PART 1 / 2 / 3 / 4 / 5 / 6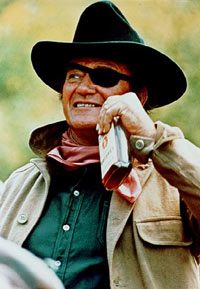 "A man's gotta do
what a man's gotta do."
- John Wayne
John Wayne stepped up the pace of his TV appearances in the seventies to bolster the box-office receipts for his latest detective dramas and rope operas.
As a return favor for Raquel Welch adding a some sizzle to the True Grit premiere, John Wayne showed up as a guest on her TV special, Raquel!, which aired on April 26, 1970.
On the program, Wayne gave Raquel lessons in gunfighting for a sequence shot on a western backlot, interspersed with clips from some of Duke's famous shootouts. They also toured the Our Little Brothers and Sisters Orphanage, a charity Wayne and his wife Pilar supported.
On the 42nd Annual Academy Awards telecast in 1970, John Wayne was presented with the Oscar for his portrayal of Rooster Cogburn in True Grit, his first and only win for Best Actor. He also presented the award for Best Cinematography on the telecast.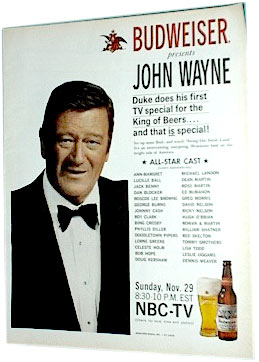 On November 29, 1970, Wayne was front and center for an NBC special sponsored by Budweiser. Swing Out, Sweet Land became one of the top-rated television events of all time, reaching into more than 30 million homes.
It was also the most expensive TV special to date, budgeted at a staggering $2 million. The 90-minute production was a Hollywood parade of stars - Red Skelton, Tom Smothers, Lorne Greene, Dean Martin, Bob Hope, Rowan & Martin and others lined up to praise the good old USA in historical sketches and patriotic songs.
In a segment starring John Wayne, Red Skelton and Tommy Smothers, conservative and liberal messages converged in a recitation of Benjamin Franklin's definition of what it is to be an American.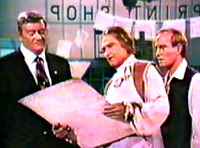 One can't help but think Franklin's words (on the importance of freedom of speech and the right to protest) might be considered too controversial for primetime today: "For, when dissent becomes a crime, hope becomes despair. Dissent, but dissent honorably," Franklin wrote. "Speak out for what you believe in at least as loudly as you speak against the system. For gentlemen, if ours is a generation to say democracy will not administer to the people, let it be a conscious decision arrived at only after every opportunity for man to rule himself has failed."
That same year, John Wayne appeared on the small screen in several TV documentaries including Harry Jackson: A Man and his Art (Jackson was known for his spectacular bronze sculptors of western scenes) and CBS's The American West of John Ford with Henry Fonda and James Stewart. On the latter, Wayne and Ford traveled to the Monument Valley, scene of some of their greatest triumphs, to film recreations of their unique working method.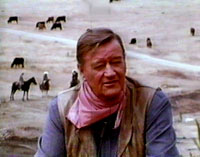 Wayne appeared on another televised tribute to his favorite director in 1971, this time produced by the American Film Institute. Directed by John Ford was narrated by Orson Welles and directed by Peter Bogdanovich.
On a lighter note, Duke turned up on The Super Comedy Bowl (January 10, 1971) hosted by Lucille Ball and Everything You Always Wanted to Know About Jack Benny But Were Afraid to Ask (also in 1971) with George Burns and Lucille Ball.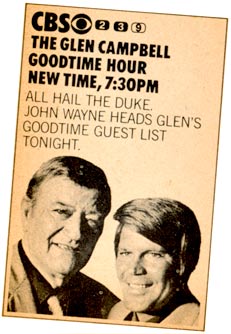 He was the special guest on The Glen Campbell Show recorded September 2, 1971 at CBS Television City for airing September 14th. The highlight of the show was yet another riff on True Grit, along with a lighthearted filmed segment with the two costars touring the John Wayne Theater at Knotts Berry Farm, where Wayne's latest picture Big Jake had its premiere. Props and costumes from a lifetime of work were displayed there.
When asked by Campbell what his favorite project was, Duke replied, "Well, you like... each picture for... a different reason. But I think my favorite will always be the next one."
Naturally, Wayne was expected to participate in the silly comedic banter that was the backbone of TV variety shows: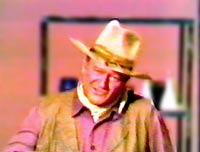 Campbell: "Well, Duke, I can't tell you how flattered I am that you're here to do my opening show."
Wayne: "Well, I was happy to be here. I'm beginning to like TV. I want to thank you for going on that special for me this last year."
Campbell: "Hey, that was fantastic, and what a rating. I guess everyone in America was watching it that night- except for my family, of course."
Wayne: "Why, didn't they see it?"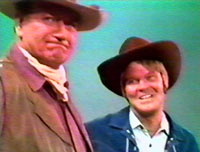 Campbell: "Well, no. You see, it was on opposite my show, and there's a rule at my house, you know, when daddy's show's on, everybody watches daddy's show... or else."
Wayne: "That's funny, 'cause your kids wrote me a fan letter."
Campbell: "Well, two people definitely didn't see it then, my wife and I."
Wayne: "No? Well, she phoned me and said she liked it."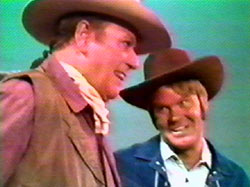 Campbell: "I guess I'm the only one that didn't see your special. I mean, I didn't see all of it. Aww, let's face it, I saw all of your special."
Wayne: "Glen, your mom and dad liked it too."
Campbell: "Well, it just goes to show you. You don't know what lonely is until you've been opposite a John Wayne special."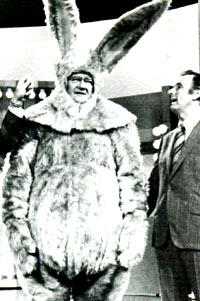 John Wayne sat down for an intimate, one-on-one interview with David Frost in 1972, on September 10, 1972. He was one of the presenters in a Salute to TV's 25th Anniversary where he told the story of getting Jim Arness the role of Matt Dillon on Gunsmoke, and he appeared on the '72-73 season opener of Laugh-in in a ridiculous bunny suit, filming segments over a two day period that would be spliced in at various times during the year.
By now, television was generating millions for Wayne and his company, Batjac - True Grit alone cost ABC over four million dollars for one primetime airing. Wayne did so much promotion around the film's release and at Academy Award time that when True Grit was first broadcast in 1972, nearly half the TVs in the nation were tuned in.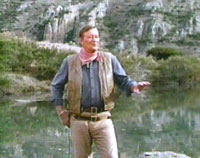 "I don't know if I love it or hate it," John Wayne said about television in 1972, "but there sure has never been any form of entertainment so... so... available to the human race with so little effort since they invented marital sex."
On New Year's Day 1973, Wayne served as Grand Marshal of the Tournament of Roses Parade. The theme was Hollywood and the movies.
Glen Campbell hosted John Wayne on an NBC special which explored The Musical West on March 8, 1974 along with Burl Ives and Michele Lee and Duke turned in a memorable performance on Maude (Maude Meets The Duke, September 9, 1974) where his conservative ideals clashed with the outspoken liberal Maude. It was a seminal television moment that Wayne played with relish.
Meanwhile, another of John Wayne's films was turned into a TV series for the fall of 1974 - The Cowboys. This time, there were four original cast members brought over from the film but the weekly TV western format was a relic of the past by the mid-seventies. The show was cancelled within a few months.
Perpetually on the promotion circuit, John Wayne joked around with Don Rickles' on his 1975 special. On the show, he tried to get Don to read a cue card he had prepared:
Wayne: "Read it, Don!"
Rickles: "OK, Duke. But gee whiz, you're not right for the jokes, Duke. Boy, anything you say. I don't want to upset you..."
Wayne: "Well then, go ahead and read it."
Rickles: "OK (reads) John Wayne's new picture, Branigan, which will soon be showing all over the country... wait a minute, this is no joke."
Wayne: "You bet your life it's no joke, it's bread and butter for me."
While filming a 1975 Bob Hope Special (where he played a western Archie Bunker in a skit, then complained about having to play Bob's father), Wayne, Bing Crosby and Bob Hope surprised Tonight Show guest host Don Rickles by walking out on stage unannounced, sending the shocked audience into hysterics.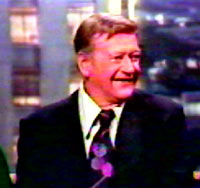 NEXT: PART SIX:
The Final Few Years
for John Wayne
---