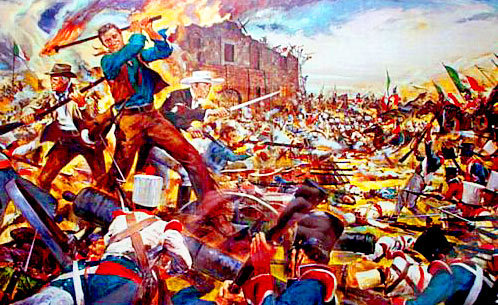 PART TWO: THE SIXTIES --
by
Billy Ingram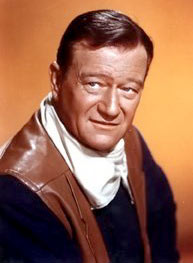 "Talk low, talk slow,
and don't say too much."
- John Wayne on his acting style
John Wayne produced, directed and starred in the 1960 film that he intended to be his epic masterpiece - The Alamo.
Nearly a decade in the making, over budget and plagued with myriad production delays, Duke broke Hollywood rule number one and put up his own money - and every dollar he could borrow - to make the film. "I have everything I own in this picture - except my necktie."
His reasons for making The Alamo were heartfelt and patriotic, "This picture is America. I hope that seeing the battle of the Alamo will remind Americans that liberty and freedom don't come cheap. This picture, well, I guess making it has made me feel useful to my country."
This was similar to what Mel Gibson risked to make The Passion of the Christ in 2004.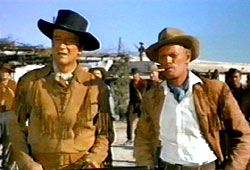 This activity coincided with the discovery that the star had been ill advised (if not blatantly ripped off) by his financial advisor. John Wayne was very nearly broke.
"I suddenly found out after 25 years I was starting out all over again," Wayne confessed to The Saturday Evening Post. "I would just about break even if I sold everything right now."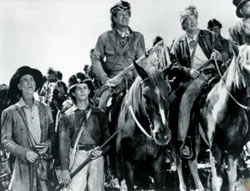 The Alamo was the biggest budgeted movie of the day. The New York Times wrote, "Few Hollywood films, even the great biblical spectacles, have had such extensive preparation for production."
In an all-out effort to promote the film, John Wayne stepped up his TV appearances. In 1960, Wayne was seen in a TV documentary (The Spirit of the Alamo), poked fun at his rock solid image on The Jack Benny Show, and presented the Best Director award at the 32nd Annual Academy Awards.
The Alamo lost millions in its initial run but earned six Oscar nominations.
After his spectacular showing in The Searchers, Wayne's trusty costar / cohort Ward Bond (one of director John Ford's favorite supporting players) launched a hit western series of his own in 1957, Wagon Train.
John Ford despised television. He complained that Ward Bond was a "prostitute" for taking the series, openly ridiculing Wayne's idea to do a small part on Wagon Train in 1960 as "idiotic."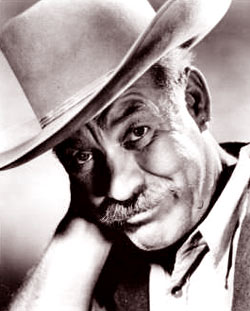 "I've given up on Bond, the big, ugly, stupid gorilla," Ford told stuntman "Bad Chuck" Roberson. "But I thought Mr. Wayne had a bit more intelligence."
That bluster didn't stop Ford from going along with Wayne to direct the Civil War themed episode of Wagon Train. In the storyline, entitled The Colter Craven Story, John Wayne (credited as Michael Morris, his real name) appeared briefly as Gen. William Tecumseh Sherman.
This would turn out to be the last ride for longtime friends Ward Bond (seen right), John Ford and John Wayne. Bond collapsed from a heart attack just days after the filming, midway through the 1960-61 season of Wagon Train.
In 1961, John Wayne was guest host of The Dick Powell Show for an episode called Third Side of the Coin.
Duke always preferred working with people he had a history with, especially on TV. Another example of this was Wayne's appearance on Alcoa Premiere's broadcast of The Flashing Spikes, a comedy costarring Jimmy Stewart, Harry Carey, Jr., and son Pat Wayne.
Again directed by John Ford, Wayne played a boisterous umpire in the small screen production about a scandal-plagued former Major League pitcher who mentors a rookie phenom. It aired in October, 1962.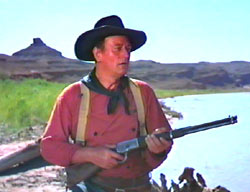 John Wayne's box-office receipts might have been sagging in the early sixties, but many of his motion pictures continued to be genuinely exciting, even if it sometimes looked like they were edited with a tomahawk.

Thanks to the success of How the West Was Won in 1962 and McLintock in 1963, John Wayne was back on top - just in time to face his most serious crisis.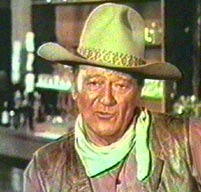 NEXT: PART THREE:
The Sixties Continued
...and John Wayne faces his greatest crisis - the "big C."
---
JOHN WAYNE: PART 1
JOHN WAYNE: IN THE 1960's
JOHN WAYNE: MID-SIXTIES
JOHN WAYNE: LATE-1960's
JOHN WAYNE: THE SEVENTIES
JOHN WAYNE: DEATH OF A LEGEND