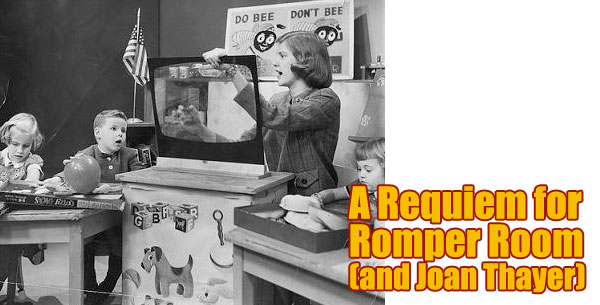 by James H. Burns
(PHOTO CREDIT: Courtesy of www.captainerniesshowboat.com)

With our kids enjoyng their first extended vacation from school, I thought this might be a good time to remember many of our EARLIEST experiences in a classroom, TV's "Romper Room"! For it was also forty-five years ago that I had one of my first experiences with media confusion, and maybe even a little bit of sorrow which--although of the tot type--could well have been nonetheless poignant....
I had been watching "Romper Room" for what seemed like a long while (although it might only have been months), when suddenly the teacher changed.
A Google check reveals the name of someone who's truly become almost a lost New York kid's host, Joan Thayer, who taught the "Romper Room" classroom, for YEARS.
I remembered "Miss Joan" as having a hipper look than depicted above, or at least one that was at the time (!) more fitting to that mid-'60s era. But, more importantly, I recall that there was a gentleness about her, and maybe even some kind of whimsy.
As with many prekindergarteners, Thayer must have been one of the first "teachers" I was exposed to.
It's intriguing that with all the devotion folks will spend rhapsodizing (appropriately!) about the other New York childrens televison hosts of the era--Soupy Sales, Sandy Becker , Chuck McCann , Officer Joe Bolton, Beachcomber Bill (Biery), Carol Corbett, and all the rest--Thayer seems to have virtually vanished from the recollection of local TV lore. Perhaps it has to do with the ubiquity and length of "Romper Room's" run. But Joan Thayer had to be a key part of many New Yorker's formative years.
And on August 25, 1966, she moved on...
As did the show which--in a move I didn't remember--switched three days later from WNEW, Channel 5, to WOR, Channel 9, it's home for the next couple of decades, plus...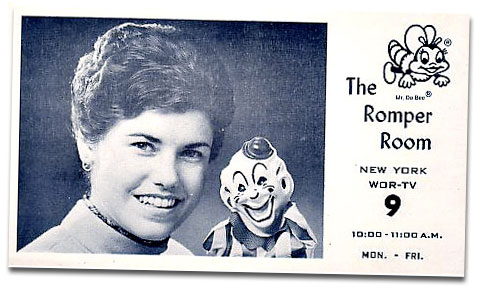 Louise Redfield took over on August 28, 1966, in the new WOR "classroom". It was jarring, as a four year old, to suddenly have a new teacher, just as it would have been, in a "real school."
There was nothing wrong with Miss Louise. She was just different! And terrific enough, in fact, to splendidly hold the gig for--a web check reveals--the next nine years.
(Thayer-to-Redfield wasn't "Romper Room's" first teacher substitution, or even the show's first station swap. "Romper Room" debuted in New York in 1955, on Channel 7, hosted by Gloria Flood, running for almost two years. There was a hiatus of several months, before the series joined the WNEW lineup in the Autumn of 1957.)
"Romper Room" was a SYNDICATED package. Stations around the country would buy the rights to the series, but they were buying the FORMAT. Each local station would hire a host, build the Romper Room set, and get to use the basic "Romper Room" ideas, games, and characters, such as the famous Mr. Do-Bee.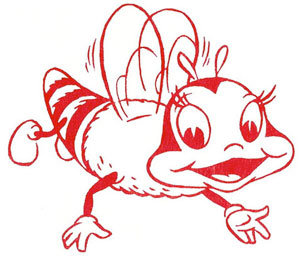 (When it came to discussing manners and other good behavior, one wanted to be a Do-Bee, and not a Don't Bee...)

If you were the right age, one of your fondest goals was to be ON the show. Each program featured a whole bunch of kids who were in the class for the day, and would participate in all the fun activities: that crazy bouncing ball you could sit on; that punching large baloon that attached to your hand; those whacky Romper Room shoes that you could jump with, somehow, and always seemed just a tad dangerous...
If your folks wrote in, you could get on a waiting list to be on the show. But that list must have been tremendous. As I'm sure must have happened with many children, by the time a letter arrived from WOR, telling me I was going to be on the show, I was WELL past the appropriate age... ("Wonderama" had a similarly long waiting list.)
But Channel 9 was terrific at sending out postcards to their audience, telling them mail had been received, and the like. As was the case with a couple of other kids shows of the era, Miss Louise would feature "pictures on the wall," drawings and designs that had been sent by children. Even if your picture wasn't selected, you would usually receive a postcard featuring the Do Bee, or--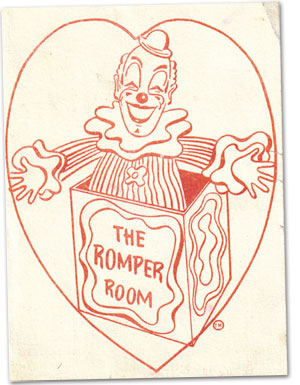 The clown was "Romper Room's" other branding image (reminding me, at the time, of the clown-in--the-box logo for Harvey Comics, and Harvey Cartoons (Casper, Richie Rich, Little Dot...)
Seemingly forgotten now is how active "Romper Room" was in the '60s, with MERCHANDISING. The parent company licensed versions of many of the above mentioned toys, featured on the show, as well as a passel of educational games and the like...
(Ultimately, some childrens television groups would protest the marketing relationship. Did Mr. Do-Bee have something more on his mind, than the welfare of the kids?)
But at the time, all these products were part of the fun of the show. It would be neat to browse in the toy department of A&S, or Klein's, or the toy aisle at Pathmark, and see all the different tie-ins, even when one couldn't afford to buy all of them.
Do kids still have fun, window shopping?
"Romper Room" survived for years beyond this controversy...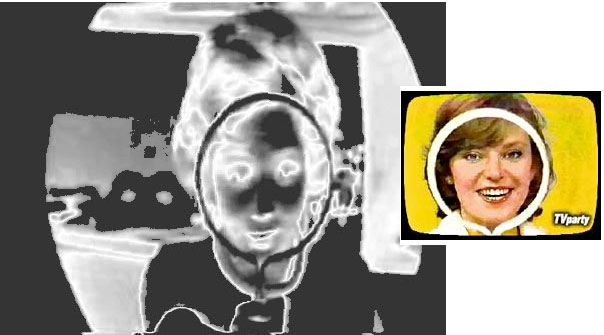 "Miss Mary Ann" (Mary Ann Pedersen) ultimately took over for Louise Redfield around the mid-'70s. The challenges were unique, as "Romper Room" was now fully competing for kids' affections with the new crop of "Sesame Street," "Electric Company".....
But the show's fascination for toddlers could still be immense. By the time Molly McCloskey became the New York "Romper Room" host, my three-year old niece was fascinated when I picked up a hand mirror one day and said, "Looking through the Magic Mirror, I'd like to say Hello to Billy and Bobby and Carol and Barbara, and wish a speedy recovery to Connie..."
After her parents had watched in the '50s, and I had watched in the '60s, she was a fan, in the 1980s! Like many long running programs, "Romper Room" now encompassed a generational factor...
"The Magic Mirror," in fact, was another clever way the show tried to make viewers feel involved. The teacher would pick up a looking glass at the end of the show, and--"peering through it"--see kids at home, and send greetings... (Even as a child, I was pretty sure they just used a list of names, and not monickers selected from the fan mail--but I could have been wrong!)
"Romper Room" would try to make some changes with the times. (In fact, the above image was one I think I forgot, when the series added a psycedlic effect, for the Magic Mirror salute...) But the essentials remained the same.
McCloskey, today, may be the most remembered of "Romper Room" hosts, for the length of time she spent on the program, her other work at WOR, and the fact that at one point, she also hosted a NATIONALLY seen version of the show.
But for me, it's to Miss Joan and Miss Louise that I'll always be personally grateful. Joan Thayer in particular must own a part of my subconcious... (The very first folks you liked as a child always seem to resonate.)
It was with sadness I learned, when writing this article, that Thayer passed away in 1995, at the age of 61, the mother of two, and grandmother to a little boy.
One can only hope that Ms. Redfield continues to have a long and happy life.
The ladies made my earliest days "in a classroom," more than pleasant.
And memorable.
James H. Burns