TV BLOG RERUN - THE DATING GAME
In the 1970s The Dating Game used to book up and coming actors and pop stars for bachelors and bachelorettes, after all they looked good on TV and could deliver a media savvy performance. For instance, Arnold Schwarzenegger selected a lady for that romantic trip to Tijuana, Mexico in 1973.
In 1972 a 14 year old Michael Jackson took the hot seat to select a date in a surreal episode. He likes playing basketball?!? This is one of the rarest clips you'll see on the internet:
Friday, May 13, 2011 - 8:12am
WOULD YOU LIKE TO RESPOND?
STUFF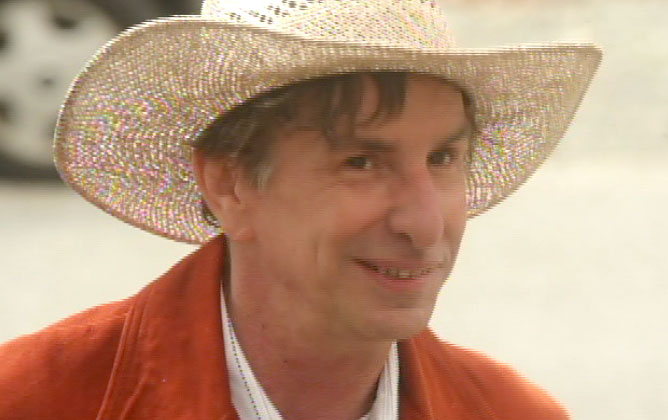 I told you a while back about a movie I starred in last year called Swimming in a Lake of Fire - you can see me in character here. I don't really dress that way, although the costumes were more attractive that what I wear normally. Actually, they dressed me in clothes I used to wear when I was 4 years old, all that was missing were the six shooters on my hips. The film was just accepted into the Breckenridge Festival of Film in Colorado, Swimming premieres in a sweet time slot on Saturday the 11th at 9pm in the Breckenridge Town Hall Videoamphitheater. If you see it let me know what you think (I know, it needs more me).
Kevin Butler points out that, "Jackie Cooper was also interviewed for a 1984 TV documentary about "The Little Rascals films titled "The Little Rascals: Inside The Clubhouse", the show was hosted and narrated by a gentleman named Bob Lang who's credits as a TV host and journalist are unknown to me." (I think Bob Lang was a Northern California radio personality Kev.) Here's a bit of that phenomenal special that focuses on Spanky McFarland and Tommy Bond. All of the documentary is on You Tube and it's a real delight, it was produced when many of the stars were still alive! Spanky really was the greatest child star of all time...
One of the brightest TV and movie comedians alive today, Chuck McCann, has a new video venture called Bits & Pieces on the net where he tells stories from his long and varied career and he'll have guests on that he's worked with in the past. Check it out!

Video streaming by Ustream Monday, May 9, 2011 - 9:42am
WOULD YOU LIKE TO RESPOND?
SAD PASSING
Kevin Butler pays tribute to Jackie Cooper, a remarkable actor who's career spanned the silent era into the modern age. I thought it was brilliant to cast him as Perry White in the Superman movies. It would have been nice if they had found a role for him in Superman Returns but that movie was such a mess I'm surprised they're making a sequel.
Wednesday, May 5, 2011 - 9:12am
WOULD YOU LIKE TO RESPOND?
STUFF
Mitchell Hadley has a new classic TV blog you have to check out - It's About TV. Mitchell has a review of Gerald Nachman's Right Here on Our Stage Tonight! Ed Sullivan's America, a book that looks pretty darn interesting.
Someone, God bless'em, is loading episodes of Match Game from the 1970s in their entirety. Here's an episode of Match Game '73 with Della Reese (who I loved especially on The Gong Show) and Bob Barker. Barker was a gifted and witty guy but never seemed to click on Match Game. Not that he needed to with the number one daytime show, The New Price Is Right.
I have a large library of books, some of them came from my grandmother's shelf after she passed. Occasionally I'll pick one up and read it, I especially loved the book written just after the civil war on what will happen in the South when the slaves are freed. It appears to be written by that era's Bill O'Reilly.
The other day I pulled a really old looking book from the shelf only to discover it was A History of England by Tobias Smollett published in 1753. I figured that would make a great gift for my college English professor, I just hired her to edit the book I'm finishing and she's retiring. She was pleased to receive it and emailed saying that she found some names written in the book, one dated 1845, with the last name Barksdale. She wondered if I had family by that name (I don't) because it is her family name and they date back to the Revolutionary War, having settled in Virginia. I told her that my grandmother likely bought that book at an estate sale in Virginia, that's where she lived. So a book brought over from England around 1776 is now back with the family that brought it! Weird.
Want to see a sneak peek at the book I'm finishing?
Tuesday, May 3, 2011 - 10:12am
WOULD YOU LIKE TO RESPOND?

Read more CLASSIC TV Blog entries here!